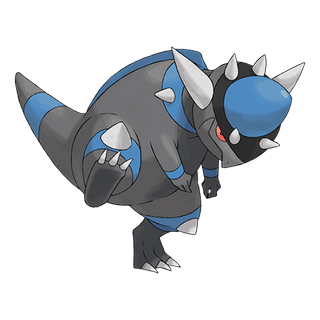 (Image credit: The Pokémon Company)
Name: Rampardos (Japanese: ラムパルド Rampald)
Classification: Head Butt Pokémon
Type: Rock
Generation: Gen IV Sinnoh Region
Gender Ratio: 87.5% Male to 12.5% Female
Height: 5' 3"
Weight: 226 lbs
Evolution:
Evolves from Cranidos at level 30.
Evolves from Cranidos with 50 Candies in Pokémon Go.
Alternate Formes: None
How to catch in Sword/Shield: Not Available Yet
How to catch in Go:
Description: The evolution of Cranidos, Rampardos is a prehistoric Pokémon brought to life in the modern era by science. The spikes protruding below its skull dome are larger with two new ones in the front. It has additional spikes on its shoulders and knees. In addition to the blue streak down its back, it has blue rings around its shoulds, arms, legs, and tail, and a black ring below its dome.
Like its previous stage, Rampardos relies primarily on headbutting attacks both in hunting and battling. As a result, its skull has grown incredibly hard and a foot thick. It's thick skull left very little room for its brain, leading people who discovered its fossils to conclude that it lacked intelligence. In ancient times, humans who found Rampardos fossils would use the skulls as helmets.
Core Games
Rampardos in the core games
Sword Pokédex: Not Available Yet
Shield Pokédex: Not Available Yet
Ultra Sun Pokédex: In ancient times, people would dig up fossils of this Pokémon and use its skull, which is harder than steel, to make helmets.
Ultra Moon Pokédex: This ancient Pokémon used headbutts skillfully. Its brain was really small, so some theories suggest that its stupidity led to its extinction.
Base Stats
97 HP
165 Attack
60 Defense
65 Sp. Attack
50 Sp. Defense
58 Speed
495 Total
Moves by Level
Endeavor (lv 1)
Headbutt (lv 1)
Leer (lv 1)
Focus Energy (lv 1)
Pursuit (lv 1)
Endeavor (Evo)
Focus Energy (lv 6)
Pursuit (lv 10)
Take Down (lv 15)
Scary Face (lv 19)
Assurance (lv 24)
Chip Away (lv 28)
Ancient Power (lv 36)
Zen Headbutt (lv 43)
Screech (lv 51)
Head Smash (lv 58)
Moves by TM/TR
TM05 Roar
TM06 Toxic
TM10 Hidden Power
TM11 Sunny Day
TM13 Ice Beam
TM14 Blizzard
TM15 Hyper Beam
TM17 Protect
TM18 Rain Dance
TM21 Frustration
TM23 Smack Down
TM24 Thunderbolt
TM25 Thunder
TM26 Earthquake
TM27 Return
TM31 Brick Break
TM32 Double Team
TM35 Flamethrower
TM37 Sandstorm
TM38 Fire Blast
TM39 Rock Tomb
TM42 Facade
TM44 Rest
TM45 Attract
TM46 Thief
TM48 Round
TM52 Focus Blast
TM56 Fling
TM66 Payback
TM68 Giga Impact
TM69 Rock Polish
TM71 Stone Edge
TM75 Swords Dance
TM78 Bulldoze
TM80 Rock Slide
TM82 Dragon Tail
TM87 Swagger
TM88 Sleep Talk
TM90 Substitute
TM94 Surf
TM100 Confide
Moves by Breeding
Crunch
Curse
Double-Edge
Hammer Arm
Iron Head
Iron Tail
Leer
Slam
Stomp
Thrash
Whirlwind
Moves by Tutoring
Dragon Pulse
Earth Power
Endeavor
Fire Punch
Focus Punch
Iron Head
Iron Tail
Laser Focus
Outrage
Pain Split
Shock Wave
Snore
Spite
Stealth Rock
Stomping Tantrum
Superpower
Thunder Punch
Uproar
Zen Headbutt
Damaged normally by
Rock 1×
Bug 1×
Ghost 1×
Electric 1×
Psychic 1×
Ice 1×
Dragon 1×
Dark 1×
Fairy 1×
Weak to
Fighting 2×
Ground 2×
Steel 2×
Water 2×
Grass 2×
Immune to
Resistant to
Normal ½×
Flying ½×
Poison ½×
Fire ½×
Pokémon Go
Pokédex: Its skull is as hard as iron. It is a brute that tears down jungle trees while catching prey.
Egg Distance: N/A
Buddy Distance: 5 KM
Base Stats
219 Stamina
295 Attack
109 Defense
Moves
Fast Attacks: Zen Headbutt, Smack Down
Charged Attacks: Rock Slide, Outrage, Flamethrower
Shiny: Not Available Yet
More information
Get the best of iMore in your inbox, every day!
Casian Holly has been writing about gaming at iMore since 2019, but their real passion is Pokémon. From the games to the anime, cards and toys, they eat, sleep, and breathe all things Pokémon. You can check out their many Pokémon Go and Pokémon Sword and Shield guides and coverage here on iMore.