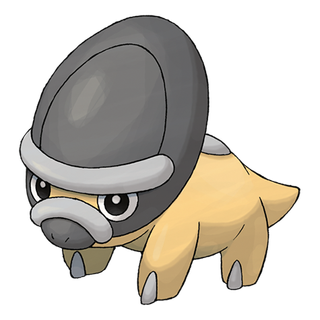 (Image credit: The Pokémon Company)
Name: Shieldon (Japanese: タテトプス Tatetops)
Classification: Shield Pokémon
Type: Rock/Steel
Generation: Gen IV Sinnoh Region
Gender Ratio: 87.5% Male to 12.5% Female
Height: 1' 8"
Weight: 125.7 lbs
Evolution:
Evolves into Bastiodon at level 30.
Evolves into Bastiodon with 50 Candies in Pokémon Go.
Alternate Formes: None
How to catch in Sword/Shield: Not Available Yet
How to catch in Go:
Description: A dinosaur Pokémon from 100 million years ago, Shieldon was resurrected by scientists using an Armor Fossil. It resembled a ceratopsian, having a large saucer-like protrusion on its face. Most of its body is yellow and its face is black, save for two metallic grey stripes. Each of its four feet have a single grey toe and there is a grey bump on the center of its back.
Shieldon made their homes in dense forests and would use trees to polish their faces. They had very few predators due to their thick hide and lived off berries, roots, and foliage. Their facial plates were exceptionally sturdy, protecting them from frontal assault.
Core Games
Shieldon in the core games
Sword Pokédex: Not Available Yet
Shield Pokédex: Not Available Yet
Ultra Sun Pokédex: A mild-mannered, herbivorous Pokémon, it used its face to dig up tree roots to eat. The skin on its face was plenty tough.
Ultra Moon Pokédex: Although its fossils can be found in layers of primeval rock, nothing but its face has ever been discovered.
Base Stats
30 HP
42 Attack
118 Defense
42 Sp. Attack
88 Sp. Defense
30 Speed
350 Total
Moves by Level
Tackle (lv 1)
Protect (lv 1)
Taunt (lv 6)
Metal Sound (lv 10)
Take Down (lv 15)
Iron Defense (lv 19)
Swagger (lv 24)
Ancient Power (lv 28)
Endure (lv 33)
Metal Burst (lv 37)
Iron Head (lv 42)
Heavy Slam (lv 46)
Moves by TM/TR
TM05 Roar
TM06 Toxic
TM10 Hidden Power
TM11 Sunny Day
TM12 Taunt Dark
TM13 Ice Beam
TM14 Blizzard
TM17 Protect
TM18 Rain Dance
TM21 Frustration
TM23 Smack Down
TM24 Thunderbolt
TM25 Thunder
TM26 Earthquake
TM27 Return
TM32 Double Team
TM35 Flamethrower
TM37 Sandstorm
TM38 Fire Blast
TM39 Rock Tomb
TM41 Torment
TM42 Facade
TM44 Rest
TM45 Attract
TM48 Round
TM69 Rock Polish
TM71 Stone Edge
TM78 Bulldoze
TM80 Rock Slide
TM87 Swagger
TM88 Sleep Talk
TM90 Substitute
TM91 Flash Cannon
TM100 Confide
Moves by Breeding
Body Slam
Counter
Curse
Double-Edge
Fissure
Focus Energy
Guard Split
Headbutt
Rock Blast
Scary Face
Screech
Stealth Rock
Wide Guard
Moves by Tutoring
Earth Power
Iron Defense
Iron Head
Iron Tail
Magnet Rise
Shock Wave
Snore
Stealth Rock
Damaged normally by
Ghost 1×
Steel 1×
Fire 1×
Grass 1×
Electric 1×
Dark 1×
Weak to
Fighting 4×
Ground 4×
Water 2×
Immune to
Resistant to
Normal ¼×
Flying ¼×
Rock ½×
Bug ½×
Psychic ½×
Ice ½×
Dragon ½×
Fairy ½×
Pokémon Go
Pokédex: It was generated from a fossil dug out of a layer of clay that was older than anyone knows. It has a sturdy face.
Egg Distance: 7 KM
Buddy Distance: 5 KM
Base Stats
102 Stamina
76 Attack
95 Defense
Moves
Fast Attacks: Tackle, Iron Tail
Charged Attacks: Rock Tomb, Ancient Power, Heavy Slam
Shiny: Not Available Yet
More information
Casian Holly has been writing about gaming at iMore since 2019, but their real passion is Pokémon. From the games to the anime, cards and toys, they eat, sleep, and breathe all things Pokémon. You can check out their many Pokémon Go and Pokémon Sword and Shield guides and coverage here on iMore.
Get the best of iMore in in your inbox, every day!
Thank you for signing up to iMore. You will receive a verification email shortly.
There was a problem. Please refresh the page and try again.