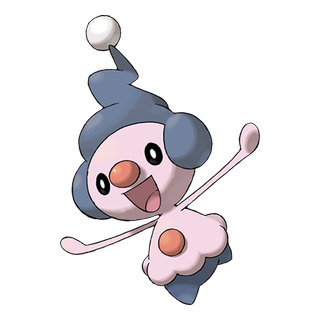 (Image credit: The Pokémon Company)
Name: Mime Jr. (Japanese: マネネ Manene)
Classification: Mime Pokémon
Type: Psychic/Fairy
Generation: Gen IV Sinnoh Region
Gender Ratio: 50% Male to 50% Female
Height: 2'
Weight: 28.7 lbs
Evolution:
Evolves into Mr. Mime when leveled up while knowing the move Mimic.
Evolves into Galarian Mr. Mime when leveled up while knowing the move Mimic in the Galar Region.
Evolves into Mr. Mime with 50 Candies and 15 KM as a Buddy in Pokémon Go.
Alternate Formes: None
How to catch in Sword/Shield:
Bred from Mr. Mime while holding Odd Incense
How to catch in Go:
Description: A small, almost humanoid shaped Pokémon, Mime Jr. is a baby form of Mr. Mime discovered in the Sinnoh Region. Only under special conditions can Mr. Mime produce Mime Jr. - specifically while holding Odd Incense. Mime Jr. has a pink body and blue, stunted legs. It also has a blue "hat" like protrusion atop its head that ends in a white ball. Mime Jr. love to mimic the people and Pokémon they see, and use their mimicry to distract foes so they can escape from battles. They love being around large gatherings and, in the Galar Region, are especially fond of Mr. Rime.
Core Games
Mime Jr. in the core games
Sword Pokédex: It mimics everyone it sees, but it puts extra effort into copying the graceful dance steps of Mr. Rime as practice.
Shield Pokédex: It looks for a Mr. Rime that's a good dancer and carefully copies the Mr. Rime's steps like an apprentice.
Base Stats
20 HP
25 Attack
45 Defense
70 Sp. Attack
90 Sp. Defense
60 Speed
310 Total
Moves by Level
Pound (lv 1)
Copycat (lv 1)
Baton Pass (lv 4)
Encore (lv 8)
Confusion (lv 12)
Role Play (lv 16)
Protect (lv 20)
Recycle (lv 24)
Psybeam (lv 28)
Mimic (lv 32)
Light Screen (lv 36)
Reflect (lv 36)
Safeguard (lv 36)
Sucker Punch (lv 40)
Dazzling Gleam (lv 44)
Psychic (lv 48)
Teeter Dance (lv 52)
Moves by TM/TR
TM11 Solar Beam
TM14 Thunder Wave
TM17 Light Screen
TM18 Reflect
TM19 Safeguard
TM21 Rest
TM23 Thief
TM24 Snore
TM25 Protect
TM27 Icy Wind
TM29 Charm
TM31 Attract
TM33 Rain Dance
TM34 Sunny Day
TM39 Facade
TM41 Helping Hand
TM43 Brick Break
TM59 Fling
TM63 Drain Punch
TM70 Trick Room
TM71 Wonder Room
TM72 Magic Room
TM76 Round
TM89 Misty Terrain
TM91 Psychic Terrain
TR08 Thunderbolt
TR09 Thunder
TR11 Psychic
TR20 Substitute
TR25 Psyshock
TR26 Endure
TR27 Sleep Talk
TR29 Baton Pass
TR30 Encore
TR33 Shadow Ball
TR34 Future Sight
TR35 Uproar
TR37 Taunt
TR38 Trick
TR40 Skill Swap
TR49 Calm Mind
TR68 Nasty Plot
TR77 Grass Knot
TR82 Stored Power
TR83 Ally Switch
TR92 Dazzling Gleam
Moves by Breeding
Confuse Ray
Fake Out
Hypnosis
Power Split
Tickle
Damaged normally by
Normal 1×
Flying 1×
Ground 1×
Rock 1×
Bug 1×
Fire 1×
Water 1×
Grass 1×
Electric 1×
Ice 1×
Dark 1×
Fairy 1×
Weak to
Poison 2×
Ghost 2×
Steel 2×
Immune to
Resistant to
Pokémon Go
Pokédex: It habitually mimics foes. Once mimicked, the foe cannot take its eyes off this Pokémon.
Egg Distance: 5 KM
Buddy Distance: 5 KM
Base Stats
85 Stamina
125 Attack
142 Defense
Moves
Fast Attacks: Confusion, Pound
Charged Attacks: Psybeam, Psychic, Psyshock
Shiny: Yes
More information
Casian Holly has been writing about gaming at iMore since 2019, but their real passion is Pokémon. From the games to the anime, cards and toys, they eat, sleep, and breathe all things Pokémon. You can check out their many Pokémon Go and Pokémon Sword and Shield guides and coverage here on iMore.
Get the best of iMore in in your inbox, every day!
Thank you for signing up to iMore. You will receive a verification email shortly.
There was a problem. Please refresh the page and try again.