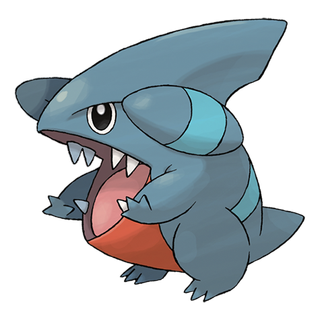 (Image credit: The Pokémon Company)
Name: Gible (Japanese: フカマル Fukamaru)
Classification: Land Shark Pokémon
Type: Dragon/Ground
Generation: Gen IV Sinnoh Region
Gender Ratio: 50% Male to 50% Female
Height: 2' 4"
Weight: 45.2 lbs
Evolution:
Evolves into Gabite at level 24.
Evolves into Gabite with 25 Candies in Pokémon Go.
Alternate Formes: None
How to catch in Sword/Shield: Not Available Yet
How to catch in Go:
Description: A bipedal, shark-like Pokémon, Gible appears to be more mouth than anything else. It's smooth skin is mostly a bluish grey, save for teal stripes on its back and horns, and red from its bottom jaw down its belly. Gible has a large dorsal fin atop its head that is notched in males only, horns that resemble jet engines, and short stubby tail and limbs. Its large mouth houses sharp teeth and powerful jaws, capable of inflicting serious harm, but it often injures itself in attempts to bite anything that moves. Gible enjoy play fighting among themselves and dig deep holes in the cave walls they call home.
Core Games
Sword Pokédex: Not Available Yet
Shield Pokédex: Not Available Yet
Ultra Sun Pokédex: It reacts to anything that moves—flies right at it and bites it. Sometimes it injures itself, but it doesn't care too much.
Ultra Moon Pokédex: Its original home is an area much hotter than Alola. If you're planning to live with one, your heating bill will soar.
Base Stats
58 HP
70 Attack
45 Defense
40 Sp. Attack
45 Sp. Defense
42 Speed
300 Total
Moves by Level
Tackle (lv 1)
Sand Attack (lv 3)
Dragon Rage (lv 7)
Sandstorm (lv 13)
Take Down (lv 15)
Sand Tomb (lv 19)
Slash (lv 25)
Dragon Claw (lv 27)
Dig (lv 31)
Dragon Rush (lv 37)
Moves by TM/TR
TM02 Dragon Claw
TM05 Roar
TM06 Toxic
TM10 Hidden Power
TM11 Sunny Day
TM17 Protect
TM18 Rain Dance
TM21 Frustration
TM26 Earthquake
TM27 Return
TM32 Double Team
TM35 Flamethrower
TM37 Sandstorm
TM38 Fire Blast
TM39 Rock Tomb
TM40 Aerial Ace
TM42 Facade
TM44 Rest
TM45 Attract
TM48 Round
TM65 Shadow Claw
TM71 Stone Edge
TM78 Bulldoze
TM80 Rock Slide
TM87 Swagger
TM88 Sleep Talk
TM90 Substitute
TM100 Confide
Moves by Breeding
Body Slam
Double-Edge
Dragon Breath
Iron Head
Iron Tail
Metal Claw
Mud Shot
Outrage
Rock Climb
Sand Tomb
Scary Face
Thrash
Twister
Moves by Tutoring
Draco Meteor
Dragon Pulse
Earth Power
Iron Head
Iron Tail
Outrage
Snore
Stealth Rock
Damaged normally by
Normal 1×
Fighting 1×
Flying 1×
Ground 1×
Bug 1×
Ghost 1×
Steel 1×
Water 1×
Grass 1×
Psychic 1×
Dark 1×
Weak to
Immune to
Resistant to
Pokémon Go
Pokédex: It nests in small, horizontal holes in cave walls. It pounces to catch prey that stray too close.
Egg Distance: 10 KM
Buddy Distance: 5 KM
Base Stats
151 Stamina
124 Attack
84 Defense
Moves
Fast Attacks: Take Down, Mud Shot
Charged Attacks: Dig, Twister, Body Slam
Shiny: Yes
Source: Niantic
More information
Get the best of iMore in your inbox, every day!
Casian Holly has been writing about gaming at iMore since 2019, but their real passion is Pokémon. From the games to the anime, cards and toys, they eat, sleep, and breathe all things Pokémon. You can check out their many Pokémon Go and Pokémon Sword and Shield guides and coverage here on iMore.