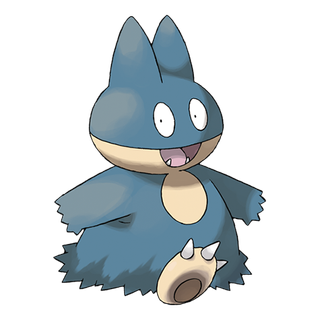 (Image credit: The Pokémon Company)
Name: Muchlax (Japanese: ゴンベ Gonbe)
Classification: Big Eater Pokémon
Type: Normal
Generation: Gen IV Sinnoh Region
Gender Ratio: 87.5% Male to 12.5% Female
Height: 2'
Weight: 231.5 lbs
Evolution:
Evolves into Snorlax when leveld up with high Friendship.
Evolves into Snorlax with 50 Candies in Pokémon Go.
Alternate Formes: None
How to catch in Sword/Shield:
Eggs
Motostoke Riverbank
Bridge Field
Motostoke Riverbank
Stony Wilderness
Max Raid Battles
How to catch in Go:
Description: Much, much smaller than Snorlax, Munchlax has a lot of eating to do before it can evolve. Fortunately, Munchlax has all the energy its evolved self lacks. This small, blue, cat-like Pokémon never stops on its quest for more food and it's not at all picky about what form that food takes. Mold, spoiled food, and even poison, nothing seems to bother Munchlax's stomach. It will even store extra food in its fur for later. The only Pokémon known to eat more than this little guy is its evolved form, Snorlax. As a baby Pokémon, Munchlax was discovered multiple generations after its evolved self and, in most games, can only be hatched, as opposed to caught in the wild.
Core Games
Munchlax in the core games
Sword Pokédex: Stuffing itself with vast amounts of food is its only concern. Whether the food is rotten or fresh, yummy or tasteless—it does not care.
Shield Pokédex: It stores food beneath its fur. It might share just one bite, but only if it really trusts you.
Base Stats
135 HP
85 Attack
40 Defense
40 Sp. Attack
85 Sp. Defense
5 Speed
390 Total
Moves by Level
Lick (lv 1)
Tackle (lv 1)
Defense Curl (lv 4)
Recycle (lv 8)
Covet (lv 12)
Bite (lv 16)
Stockpile (lv 20)
Swallow (lv 20)
Screech (lv 24)
Body Slam (lv 28)
Fling (lv 32)
Amnesia (lv 36)
Metronome (lv 40)
Flail (lv 44)
Belly Drum (lv 48)
Last Resort (lv 52)
Moves by TM/TR
TM00 Mega Punch
TM01 Mega Kick
TM02 Pay Day
TM03 Fire Punch
TM04 Ice Punch
TM05 Thunder Punch
TM11 Solar Beam
TM16 Screech
TM20 Self-Destruct
TM21 Rest
TM22 Rock Slide
TM24 Snore
TM25 Protect
TM27 Icy Wind
TM29 Charm
TM31 Attract
TM32 Sandstorm
TM33 Rain Dance
TM34 Sunny Day
TM36 Whirlpool
TM39 Facade
TM43 Brick Break
TM48 Rock Tomb
TM59 Fling
TM76 Round
TM79 Retaliate
TM81 Bulldoze
TM98 Stomping Tantrum
TR01 Body Slam
TR02 Flamethrower
TR03 Hydro Pump
TR04 Surf
TR05 Ice Beam
TR06 Blizzard
TR08 Thunderbolt
TR09 Thunder
TR10 Earthquake
TR11 Psychic
TR14 Metronome
TR15 Fire Blast
TR17 Amnesia
TR20 Substitute
TR26 Endure
TR27 Sleep Talk
TR30 Encore
TR33 Shadow Ball
TR35 Uproar
TR39 Superpower
TR42 Hyper Voice
TR59 Seed Bomb
TR69 Zen Headbutt
TR73 Gunk Shot
TR85 Work Up
Moves by Breeding
Belch
Counter
Curse
Double-Edge
Fissure
Damaged normally by
Normal 1×
Flying 1×
Poison 1×
Ground 1×
Rock 1×
Bug 1×
Steel 1×
Fire 1×
Water 1×
Grass 1×
Electric 1×
Psychic 1×
Ice 1×
Dragon 1×
Dark 1×
Fairy 1×
Weak to
Immune to
Resistant to
Pokémon Go
Pokédex: It conceals food under the long fur on its body. It carts around this food stash and swallows it without chewing.
Egg Distance: 7 KM
Buddy Distance: 5 KM
Base Stats
286 Stamina
137 Attack
117 Defense
Moves
Fast Attacks: Tackle, Lick
Charged Attacks: Gunk Shot, Body Slam, Bulldoze
Shiny: Not Available Yet
More information
Master your iPhone in minutes
iMore offers spot-on advice and guidance from our team of experts, with decades of Apple device experience to lean on. Learn more with iMore!
Casian Holly has been writing about gaming at iMore since 2019, but their real passion is Pokémon. From the games to the anime, cards and toys, they eat, sleep, and breathe all things Pokémon. You can check out their many Pokémon Go and Pokémon Sword and Shield guides and coverage here on iMore.