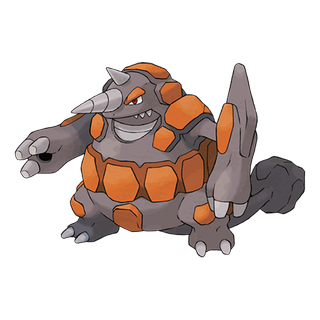 (Image credit: The Pokémon Company)
Name: Rhyperior (Japanese: ドサイドン Dosidon)
Classification: Drill Pokémon
Type: Ground/Rock
Generation: Gen IV Sinnoh Region
Gender Ratio: 50% Male to 50% Female
Height: 7' 10"
Weight: 623.5 lbs
Evolution:
Evolves from Rhydon when traded while holding a Protector.
Evolves from Rhydon with 100 Candies and a Sinnoh Stone in Pokémon Go.
Alternate Formes:
How to catch in Sword/Shield:
Evolve from Rhydon
Max Raid Battles
Bridge Field
Dusty Bowl
Giant's Seat
Rolling Fields
How to catch in Go:
Description: A massive, rock-covered Pokémon with a drill for a nose, Rhyperior is the finaly evolution of Rhyhorn. Its body is a muddy brown color and covered with bright orange rocks that form armor plating. It has large outcroppings on its elbows that it uses like swords and holes in its palms which it can use like cannons to fire rocks at its opponents. On occassion, Rhyperior have even been known to accidentally fire other Pokémon, such as Geodude or Roggenrola from its cannons. Able to withstand the force of volcanic eruptions, Rhyperior is known for its ability to deflect powerful attacks. Although they are rare in the wild, Rhyperior can be found high up in mountains.
Core Games
Rhyperior in the core games
Sword Pokédex: It can load up to three projectiles per arm into the holes in its hands. What launches out of those holes could be either rocks or Roggenrola.
Shield Pokédex: It relies on its carapace to deflect incoming attacks and throw its enemy off balance. As soon as that happens, it drives its drill into the foe.
Base Stats
115 HP
140 Attack
130 Defense
55 Sp. Attack
55 Sp. Defense
40 Speed
535 Total
Moves by Level
Hammer Arm (lv 1)
Tackle (lv 1)
Tail Whip (lv 1)
Smack Down (lv 1)
Bulldoze (lv 1)
Horn Attack (lv 15)
Scary Face (lv 20)
Stomp (lv 25)
Rock Blast (lv 30)
Drill Run (lv 35)
Take Down (lv 40)
Earthquake (lv 47)
Stone Edge (lv 54)
Megahorn (lv 61)
Horn Drill (lv 68)
Rock Wrecker (lv 75)
Moves by TM/TR
TM00 Mega Punch
TM01 Mega Kick
TM02 Pay Day
TM03 Fire Punch
TM04 Ice Punch
TM05 Thunder Punch
TM08 Hyper Beam
TM09 Giga Impact
TM15 Dig
TM21 Rest
TM22 Rock Slide
TM23 Thief
TM24 Snore
TM25 Protect
TM26 Scary Face
TM27 Icy Wind
TM31 Attract
TM32 Sandstorm
TM33 Rain Dance
TM34 Sunny Day
TM36 Whirlpool
TM39 Facade
TM41 Helping Hand
TM43 Brick Break
TM48 Rock Tomb
TM53 Mud Shot
TM54 Rock Blast
TM57 Payback
TM59 Fling
TM64 Avalanche
TM65 Shadow Claw
TM66 Thunder Fang
TM67 Ice Fang
TM68 Fire Fang
TM76 Round
TM81 Bulldoze
TM96 Smart Strike
TM97 Brutal Swing
TM98 Stomping Tantrum
TM99 Breaking Swipe
TR00 Swords Dance
TR01 Body Slam
TR02 Flamethrower
TR03 Hydro Pump
TR04 Surf
TR05 Ice Beam
TR06 Blizzard
TR08 Thunderbolt
TR09 Thunder
TR10 Earthquake
TR15 Fire Blast
TR20 Substitute
TR21 Reversal
TR24 Outrage
TR26 Endure
TR27 Sleep Talk
TR28 Megahorn
TR31 Iron Tail
TR32 Crunch
TR35 Uproar
TR39 Superpower
TR46 Iron Defense
TR57 Poison Jab
TR62 Dragon Pulse
TR64 Focus Blast
TR67 Earth Power
TR70 Flash Cannon
TR74 Iron Head
TR75 Stone Edge
TR76 Stealth Rock
TR79 Heavy Slam
TR87 Drill Run
TR88 Heat Crash
TR94 High Horsepower
TR99 Body Press
Moves by Breeding
Counter
Curse
Dragon Rush
Guard Split
Metal Burst
Rock Polish
Skull Bash
Damaged normally by
Bug 1×
Ghost 1×
Psychic 1×
Dragon 1×
Dark 1×
Fairy 1×
Weak to
Fighting 2×
Ground 2×
Steel 2×
Water 4×
Grass 4×
Ice 2×
Immune to
Resistant to
Normal ½×
Flying ½×
Poison ¼×
Rock ½×
Fire ½×
Pokémon Go
Pokédex: It puts rocks in holes in its palms and uses its muscles to shoot them. Geodude are shot at rare times.
Egg Distance: N/A
Buddy Distance: 3 KM
Base Stats
251 Stamina
241 Attack
190 Defense
Moves
Fast Attacks: Mud-Slap, Smack Down
Charged Attacks: Surf, Earthquake, Stone Edge, Skull Bash
Shiny: Not Available Yet
More information
Get the best of iMore in your inbox, every day!
Casian Holly has been writing about gaming at iMore since 2019, but their real passion is Pokémon. From the games to the anime, cards and toys, they eat, sleep, and breathe all things Pokémon. You can check out their many Pokémon Go and Pokémon Sword and Shield guides and coverage here on iMore.