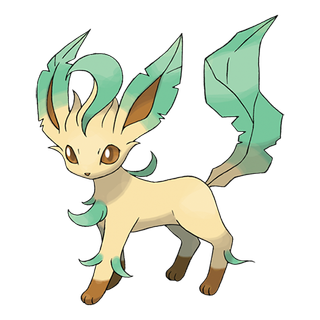 (Image credit: The Pokémon Company)
Name: Leafeon (Japanese: リーフィア Leafia)
Classification: Verdant Pokémon
Type: Grass
Generation: Gen IV Sinnoh Region
Gender Ratio: 82.5% Male to 12.5% Female
Height: 3' 3"
Weight: 56.2 lbs
Evolution:
Evolves from Eevee with Leaf Stone.
Evolves from Eevee with 25 Candies in Pokémon Go after spinning a Poké Stop that has a Mossy Lure Mod equipped Pokémon Go.
Evolves from Eevee with 25 Candies and the nickname Linnea in Pokémon Go.
Alternate Formes:
Costumed, one variant (Pokémon Go)
How to catch in Sword/Shield:
Lake of Outrage
Giant's Mirror
Max Raid Battles
Evolve from Eevee
How to catch in Go:
Description: After exposure to a Leaf Stone, Leafeon is one of the many evolutions (or Eeveelutions if you will) of Eevee. It is similar in shape to Eevee, but instead of fur, it has smooth tan skin with dark brown paws. In place of a fluffy tail and ears, Leafeon has actual leaves. More green sprouts from atop its head, its chest, back and legs. Capable of photosynthesis, this Pokémon can purify the air around it and recharge by simply napping in the sunshine. Leafeon prefer not to fight, being quiet pacifists, but they are plenty capable of fighting if the need be, slicing up their enemies with sharpened leaves.
It is said that Leafeon smell of fresh cut grass when they are young but as they age, that scent shifts to one of fallen leaves. Although they prefer to live in lush forests with clean rivers, Leafeon are more often found with trainers. In Pokémon Go, there are definitely better Grass types and, unlike previous Eeveelutions, it is a little more difficult to evolve.
Core Games
Leafeon in the core games
Sword Pokédex: Galarians favor the distinctive aroma that drifts from this Pokémon's leaves. There's a popular perfume made using that scent.
Shield Pokédex: This Pokémon's tail is blade sharp, with a fantastic cutting edge that can slice right though large trees.
Base Stats
65 HP
110 Attack
130 Defense
60 Sp. Attack
65 Sp. Defense
95 Speed
525 Total
Moves by Level
Razor Leaf (lv 1)
Covet (lv 1)
Swift (lv 1)
Bite (lv 1)
Copycat (lv 1)
Baton Pass (lv 1)
Take Down (lv 1)
Charm (lv 1)
Double-Edge (lv 1)
Helping Hand (lv 1)
Tackle (lv 1)
Growl (lv 1)
Tail Whip (lv 1)
Razor Leaf (Evo)
Sand Attack (lv 5)
Quick Attack (lv 10)
Baby-Doll Eyes (lv 15)
Leech Seed (lv 20)
Magical Leaf (lv 25)
Synthesis (lv 30)
Sunny Day (lv 35)
Giga Drain (lv 40)
Swords Dance (lv 45)
Leaf Blade (lv 50)
Last Resort (lv 55)
Moves by TM/TR
TM02 Pay Day
TM08 Hyper Beam
TM09 Giga Impact
TM10 Magical Leaf
TM11 Solar Beam
TM12 Solar Blade
TM15 Dig
TM21 Rest
TM24 Snore
TM25 Protect
TM28 Giga Drain
TM29 Charm
TM31 Attract
TM33 Rain Dance
TM34 Sunny Day
TM39 Facade
TM40 Swift
TM41 Helping Hand
TM46 Weather Ball
TM47 Fake Tears
TM50 Bullet Seed
TM76 Round
TM79 Retaliate
TR00 Swords Dance
TR01 Body Slam
TR13 Focus Energy
TR20 Substitute
TR26 Endure
TR27 Sleep Talk
TR29 Baton Pass
TR31 Iron Tail
TR33 Shadow Ball
TR42 Hyper Voice
TR50 Leaf Blade
TR59 Seed Bomb
TR60 X-Scissor
TR65 Energy Ball
TR71 Leaf Storm
TR77 Grass Knot
TR82 Stored Power
TR85 Work Up
Moves by Breeding
Curse
Detect
Double Kick
Flail
Mud-Slap
Tickle
Wish
Yawn
Damaged normally by
Normal 1×
Fighting 1×
Rock 1×
Ghost 1×
Steel 1×
Psychic 1×
Dragon 1×
Dark 1×
Fairy 1×
Weak to
Flying 2×
Poison 2×
Bug 2×
Fire 2×
Ice 2×
Immune to
Resistant to
Ground ½×
Water ½×
Grass ½×
Electric ½×
Pokémon Go
Pokédex: It gets its nutrition from photosynthesis. It lives a quiet life in forests where clean rivers flow.
Egg Distance: N/A
Buddy Distance: 5 KM
Base Stats
163 Stamina
216 Attack
219 Defense
Moves
Fast Attacks: Razor Leaf, Quick Attack
Charged Attacks: Solar Beam, Leaf Blade, Energy Ball, Last Resort*
Shiny: Yes
More information
Get the best of iMore in in your inbox, every day!
Casian Holly has been writing about gaming at iMore since 2019, but their real passion is Pokémon. From the games to the anime, cards and toys, they eat, sleep, and breathe all things Pokémon. You can check out their many Pokémon Go and Pokémon Sword and Shield guides and coverage here on iMore.
Thank you for signing up to iMore. You will receive a verification email shortly.
There was a problem. Please refresh the page and try again.