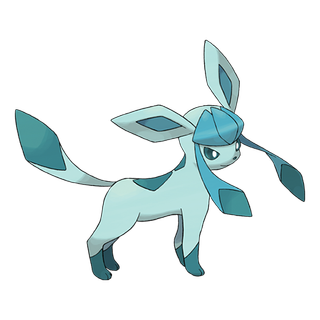 (Image credit: The Pokémon Company)
Name: Glaceon (Japanese: グレイシア Glacia)
Classification: Fresh Snow Pokémon
Type: Ice
Generation: Gen IV Sinnoh Region
Gender Ratio: 87.5% Male to 12.5% Female
Height: 2' 7"
Weight: 57.1 lbs
Evolution:
Evolves from Eevee with Ice Stone.
Evolves from Eevee with 25 Candies in Pokémon Go after spinning a Poké Stop that has a Glacial Lure Mod equipped Pokémon Go.
Evolves from Eevee with 25 Candies and the nickname Rea in Pokémon Go.
Alternate Formes:
Costumed, one variant (Pokémon Go)
How to catch in Sword/Shield:
Lake of Outrage
Hammerlocke Hills
Max Raid Battles
Evolve from Eevee
How to catch in Go:
Description: After exposure to an Ice Stone, Glaceon is one of the many evolutions (or Eeveelutions if you will) of Eevee. Its body is covered with a light blue fur that can freeze, creating razor sharp quills. It has dark blue, diamond markings on its back, tail, and legs and a blue crest resembling hair on its forehead that hangs down to frame its face. Glaceon are capable of dropping their body temperature to -75 degrees Fahrenheit and can freeze any moisture in the air around them, instantly creating pellets of ice to shoot at its enemies.
Rarely found in the wild, most Glaceon live in urban areas with their Trainers. In Pokémon Go, Glaceon's best Ice moves have it second only to Mamoswine. With the abundance of Eevee, it is an easy to acquire Ice type, making it a very popular choice when Ice is needed.
Core Games
Glaceon in the core games
Sword Pokédex: Any who become captivated by the beauty of the snowfall that Glaceon creates will be frozen before they know it.
Shield Pokédex: The coldness emanating from Glaceon causes powdery snow to form, making it quite a popular Pokémon at ski resorts.
Base Stats
65 HP
60 Attack
110 Defense
130 Sp. Attack
95 Sp. Defense
65 Speed
525 Total
Moves by Level
Icy Wind (lv 1)
Covet (lv 1)
Swift (lv 1)
Copycat (lv 1)
Baton Pass (lv 1)
Take Down (lv 1)
Charm Fairy (lv 1)
Double-Edge (lv 1)
Helping Hand (lv 1)
Tackle (lv 1)
Growl (lv 1)
Tail Whip (lv 1)
Icy Wind (Evo)
Sand Attack (lv 5)
Quick Attack (lv 10)
Baby-Doll Eyes (lv 15)
Ice Shard (lv 20)
Bite (lv 25)
Ice Fang (lv 30)
Hail (lv 35)
Freeze-Dry (lv 40)
Mirror Coat (lv 45)
Blizzard (lv 50)
Last Resort (lv 55)
Moves by TM/TR
TM02 Pay Day
TM08 Hyper Beam
TM09 Giga Impact
TM15 Dig
TM21 Rest
TM24 Snore
TM25 Protect
TM27 Icy Wind
TM29 Charm
TM31 Attract
TM33 Rain Dance
TM34 Sunny Day
TM35 Hail
TM39 Facade
TM40 Swift
TM41 Helping Hand
TM46 Weather Ball
TM47 Fake Tears
TM51 Icicle Spear
TM64 Avalanche
TM67 Ice Fang
TM76 Round
TM79 Retaliate
TR01 Body Slam
TR05 Ice Beam
TR06 Blizzard
TR13 Focus Energy
TR20 Substitute
TR26 Endure
TR27 Sleep Talk
TR29 Baton Pass
TR31 Iron Tail
TR33 Shadow Ball
TR42 Hyper Voice
TR82 Stored Power
TR85 Work Up
Moves by Breeding
Curse
Detect
Double Kick
Flail
Mud-Slap
Tickle
Wish
Yawn
Damaged normally by
Normal 1×
Flying 1×
Poison 1×
Ground 1×
Bug 1×
Ghost 1×
Water 1×
Grass 1×
Electric 1×
Psychic 1×
Dragon 1×
Dark 1×
Fairy 1×
Weak to
Fighting 2×
Rock 2×
Steel 2×
Fire 2×
Immune to
Resistant to
Pokémon Go
Pokédex: It can instantaneously freeze any moisture that's around it, creating ice pellets to shoot at its prey.
Egg Distance: N/A
Buddy Distance: 5 KM
Base Stats
163 Stamina
238 Attack
205 Defense
Moves
Fast Attacks: Ice Shard, Frost Breath
Charged Attacks: Avalanche, Icy Wind, Ice Beam, Last Resort*
Shiny: Yes
More information
Get the best of iMore in in your inbox, every day!
Casian Holly has been writing about gaming at iMore since 2019, but their real passion is Pokémon. From the games to the anime, cards and toys, they eat, sleep, and breathe all things Pokémon. You can check out their many Pokémon Go and Pokémon Sword and Shield guides and coverage here on iMore.
Thank you for signing up to iMore. You will receive a verification email shortly.
There was a problem. Please refresh the page and try again.