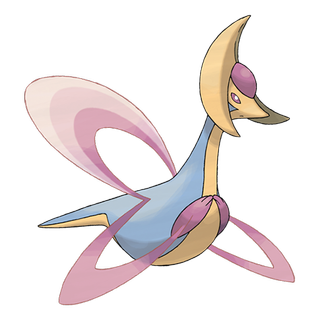 (Image credit: The Pokémon Company)
Name: Cresselia (Japanese: クレセリア Cresselia)
Classification: Lunar Pokémon
Type: Psychic
Generation: Gen IV Sinnoh Region
Gender Ratio: 100% Female
Height: 4' 11"
Weight: 188.7 lbs
Evolution: N/A
Alternate Formes: None
How to catch in Sword/Shield: Not Available Yet
How to catch in Go:
Description: A Legendary Pokémon who forms the Lunar Duo with Darkrai, Cresselia has a roughly Swan shaped body without legs and only the vague shape of wings. She is mostly blue, with a yellow underbelly and face, and pink accents. In addition to pink accents on her forehead and chest, she has pink loops forming wings on her sides and back, as well as pink eyes. She also has a yellow crescent moon-shaped helmet.
Although Cresselia and Darkrai are part of a Legendary duo, she is antagonistic towards the Mythical Dark Pokémon. She has the ability to dispel nightmares, even those caused by Darkrai, and can help heal and recover Pokémon and humans alike. Her feathers bring happiness and pleasant dreams.
Core Games
Cresselia in the core games
Sword Pokédex: Not Available Yet
Shield Pokédex: Not Available Yet
Omega Ruby Pokédex: Shiny particles are released from its wings like a veil. It is said to represent the crescent moon.
Alpha Sapphire Pokédex: Those who sleep holding Cresselia's feather are assured of joyful dreams. It is said to represent the crescent moon.
Base Stats
120 HP
70 Attack
120 Defense
75 Sp. Attack
130 Sp. Defense
85 Speed
600 Total
Moves by Level
Lunar Dance (lv 1)
Psycho Shift (lv 1)
Psycho Cut (lv 1)
Moonlight (lv 1)
Confusion (lv 1)
Double Team (lv 1)
Safeguard (lv 11)
Mist (lv 20)
Aurora Beam (lv 29)
Future Sight (lv 38)
Slash (lv 47)
Moonlight (lv 57)
Psycho Cut (lv 66)
Psycho Shift (lv 75)
Lunar Dance (lv 84)
Psychic (lv 93)
Moonblast (lv 99)
Moves by TM/TR
TM03 Psyshock
TM04 Calm Mind
TM06 Toxic
TM10 Hidden Power
TM11 Sunny Day
TM13 Ice Beam
TM15 Hyper Beam
TM16 Light Screen
TM17 Protect
TM18 Rain Dance
TM20 Safeguard
TM21 Frustration
TM22 Solar Beam
TM27 Return
TM29 Psychic
TM30 Shadow Ball
TM32 Double Team
TM33 Reflect
TM42 Facade
TM44 Rest
TM45 Attract
TM48 Round
TM53 Energy Ball
TM57 Charge Beam
TM68 Giga Impact
TM73 Thunder Wave
TM77 Psych Up
TM85 Dream Eater
TM86 Grass Knot
TM87 Swagger
TM88 Sleep Talk
TM90 Substitute
TM92 Trick Room
TM100 Confide
Moves by Tutoring
Ally Switch
Gravity
Helping Hand
Icy Wind
Magic Coat
Magic Room
Recycle
Signal Beam
Skill Swap
Snore
Telekinesis
Trick
Zen Headbutt
Damaged normally by
Normal 1×
Flying 1×
Poison 1×
Rock 1×
Steel 1×
Fire 1×
Water 1×
Grass 1×
Electric 1×
Ice 1×
Dragon 1×
Fairy 1×
Weak to
Immune to
Resistant to
Pokémon Go
Pokédex: Those who sleep holding Cresselia's feather are assured of joyful dreams. It is said to represent the crescent moon.
Egg Distance: N/A
Buddy Distance: 20 KM
Base Stats
260 Stamina
152 Attack
258 Defense
Moves
Fast Attacks: Psycho Cut, Confusion
Charged Attacks: Aurora Beam, Moonblast, Future Sight
Shiny: Yes
More information
Casian Holly has been writing about gaming at iMore since 2019, but their real passion is Pokémon. From the games to the anime, cards and toys, they eat, sleep, and breathe all things Pokémon. You can check out their many Pokémon Go and Pokémon Sword and Shield guides and coverage here on iMore.
Get the best of iMore in in your inbox, every day!
Thank you for signing up to iMore. You will receive a verification email shortly.
There was a problem. Please refresh the page and try again.