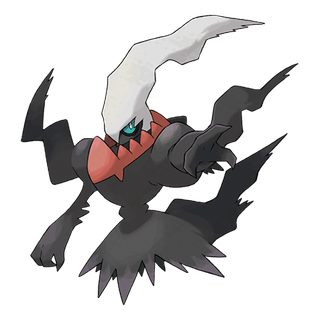 (Image credit: The Pokémon Company)
Name: Darkrai (Japanese: ダークライ Darkrai)
Classification: Pitch-Black Pokémon
Type: Dark
Generation: Gen IV Sinnoh Region
Gender Ratio: Genderless
Height: 4' 11"
Weight: 111.3 lbs
Evolution: N/A
Alternate Formes: None
How to catch in Sword/Shield: Not Available Yet
How to catch in Go:
Description: Although it looks an awful lot like a Ghost, Darkrai is a pure Dark type Pokémon. Most of the time, it appears to be a legless torso of black, with smoky white "hair". It has a spiky collar of bright red, and deep set, glowing blue eyes. Its body seems to be made of shadow and smoke, and sometimes, it will extend long shadows in the shape of thin legs from beneath its waist. Its torso has extreme proportions, making an hourglass figure with massive protrustions atop its shoulders and a frayed skirt of sorts attached to its very narrow waist.
Although it is drawn to and capable of creating nightmares, this is a defense mechanism on Darkrai's part - not a malicious act. It prefers to avoid contact with humans and other Pokémon while they are awake and will dematerialize into shadows to do so. If someone is suffering from Darkrai's nightmares, they can be cured with one of Cresselia's Lunar Wings.
Core Games
Darkrai in the core games
Sword Pokédex: Not Available Yet
Shield Pokédex: Not Available Yet
Omega Ruby Pokédex: It chases people and Pokémon from its territory by causing them to experience deep, nightmarish slumbers.
Alpha Sapphire Pokédex: It can lull people to sleep and make them dream. It is active during nights of the new moon.
Base Stats
70 HP
90 Attack
90 Defense
135 Sp. Attack
90 Sp. Defense
125 Speed
600 Total
Moves by Level
Ominous Wind (lv 1)
Disable (lv 1)
Quick Attack (lv 11)
Hypnosis (lv 20)
Feint Attack (lv 29)
Nightmare (lv 38)
Double Team (lv 47)
Haze (lv 57)
Dark Void (lv 66)
Nasty Plot (lv 75)
Dream Eater (lv 84)
Dark Pulse (lv 93)
Moves by TM/TR
TM04 Calm Mind
TM06 Toxic
TM10 Hidden Power
TM11 Sunny Day
TM12 Taunt
TM13 Ice Beam
TM14 Blizzard
TM15 Hyper Beam
TM17 Protect
TM18 Rain Dance
TM21 Frustration
TM24 Thunderbolt
TM25 Thunder
TM27 Return
TM29 Psychic
TM30 Shadow Ball
TM31 Brick Break
TM32 Double Team
TM36 Sludge Bomb
TM39 Rock Tomb
TM40 Aerial Ace
TM41 Torment
TM42 Facade
TM44 Rest
TM46 Thief
TM48 Round
TM52 Focus Blast
TM56 Fling
TM57 Charge Beam
TM61 Will-O-Wisp
TM63 Embargo
TM65 Shadow Claw
TM66 Payback
TM68 Giga Impact
TM73 Thunder Wave
TM75 Swords Dance
TM77 Psych Up
TM80 Rock Slide
TM81 X-Scissor
TM84 Poison Jab
TM85 Dream Eater
TM87 Swagger
TM88 Sleep Talk
TM90 Substitute
TM95 Snarl
TM97 Dark Pulse
TM100 Confide
Moves by Tutoring
Drain Punch
Focus Punch
Foul Play
Icy Wind
Knock Off
Last Resort
Shock Wave
Snatch
Snore
Spite
Throat Chop
Trick
Wonder Room
Damaged normally by
Normal 1×
Flying 1×
Poison 1×
Ground 1×
Rock 1×
Steel 1×
Fire 1×
Water 1×
Grass 1×
Electric 1×
Ice 1×
Dragon 1×
Weak to
Fighting 2×
Bug 2×
Fairy 2×
Immune to
Resistant to
Pokémon Go
Pokédex: It can lull people to sleep and make them dream. It is active during nights of the new moon.
Egg Distance: N/A
Buddy Distance: 20 KM
Base Stats
172 Stamina
285 Attack
198 Defense
Moves
Fast Attacks: Snarl, Feint Attack
Charged Attacks: Focus Blast, Shadow Ball, Dark Pulse
Shiny:
More information
Get the best of iMore in your inbox, every day!
Casian Holly has been writing about gaming at iMore since 2019, but their real passion is Pokémon. From the games to the anime, cards and toys, they eat, sleep, and breathe all things Pokémon. You can check out their many Pokémon Go and Pokémon Sword and Shield guides and coverage here on iMore.