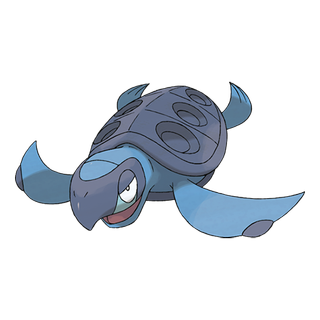 (Image credit: The Pokémon Company)
Name: Tirtouga (Japanese: プロトーガ Protoga)
Classification: Prototurtle Pokémon
Type: Water/Rock
Generation: Gen V Unova Region
Gender Ratio: 87.5% Male to 12.5% Female
Height: 2' 4"
Weight: 36.4 lbs
Evolution:
Evolves into Carracosta at level 37.
Evolves into Carracosta with 50 Candies in Pokémon Go.
Alternate Formes: None
How to catch in Sword/Shield: Not Available Yet
How to catch in Go:
Description: A blue sea turtle with a black shell, Tirtouga is a prehistoric Pokémon brought to life in modern times using a Cover Fossil. It has black spots on its flippers and a black mask over its eyes and beak. Tirtouga can swim to depths of 1000, and hunt their prey both on land and in the water with ease. Scientist in Alola believe Tirtouga to be the ancestor of all turtle Pokémon.
Core Games
Tirtouga in the core games
Sword Pokédex: Not Available Yet
Shield Pokédex: Not Available Yet
Ultra Sun Pokédex: It was restored from an ancient fossil. Tirtouga lived in the sea but came up onto the land to search for prey.
Ultra Moon Pokédex: Its hunting grounds encompassed a broad area, from the land to more than half a mile deep in the ocean.
Base Stats
54 HP
78 Attack
103 Defense
53 Sp. Attack
45 Sp. Defense
22 Speed
355 Total
Moves by Level
Bide (lv 1)
Withdraw (lv 1)
Water Gun (lv 1)
Rollout (lv 5)
Bite (lv 8)
Protect (lv 11)
Aqua Jet (lv 15)
Ancient Power (lv 18)
Crunch (lv 21)
Wide Guard (lv 25)
Brine (lv 28)
Smack Down (lv 31)
Curse (lv 35)
Shell Smash (lv 38)
Aqua Tail (lv 41)
Rock Slide (lv 45)
Rain Dance (lv 48)
Hydro Pump (lv 50)
Moves by TM/TR
TM06 Toxic
TM10 Hidden Power
TM13 Ice Beam
TM14 Blizzard
TM17 Protect
TM18 Rain Dance
TM21 Frustration
TM23 Smack Down
TM26 Earthquake
TM27 Return
TM32 Double Team
TM37 Sandstorm
TM39 Rock Tomb
TM42 Facade
TM44 Rest
TM45 Attract
TM48 Round
TM55 Scald
TM69 Rock Polish
TM71 Stone Edge
TM78 Bulldoze
TM80 Rock Slide
TM87 Swagger
TM88 Sleep Talk
TM90 Substitute
TM94 Surf
TM98 Waterfall
TM100 Confide
Moves by Breeding
Bide
Body Slam
Flail
Guard Swap
Iron Defense
Knock Off
Liquidation
Rock Throw
Slam
Water Pulse
Whirlpool
Moves by Tutoring
Aqua Tail
Block
Earth Power
Icy Wind
Iron Defense
Iron Tail
Knock Off
Liquidation
Snore
Stealth Rock
Water Pulse
Zen Headbutt
Damaged normally by
Rock 1×
Bug 1×
Ghost 1×
Steel 1×
Water 1×
Psychic 1×
Dragon 1×
Dark 1×
Fairy 1×
Weak to
Fighting 2×
Ground 2×
Grass 4×
Electric 2×
Immune to
Resistant to
Normal ½×
Flying ½×
Poison ½×
Fire ¼×
Ice ½×
Pokémon Go
Pokédex: Restored from a fossil, this Pokémon can dive to depths beyond half a mile.
Egg Distance: 7 KM
Buddy Distance: 5 KM
Base Stats
144 Stamina
134 Attack
146 Defense
Moves
Fast Attacks: Water Gun, Bite
Charged Attacks: Surf, Ancient Power, Body Slam
Shiny: Not Available Yet
More information
Casian Holly has been writing about gaming at iMore since 2019, but their real passion is Pokémon. From the games to the anime, cards and toys, they eat, sleep, and breathe all things Pokémon. You can check out their many Pokémon Go and Pokémon Sword and Shield guides and coverage here on iMore.
Get the best of iMore in in your inbox, every day!
Thank you for signing up to iMore. You will receive a verification email shortly.
There was a problem. Please refresh the page and try again.