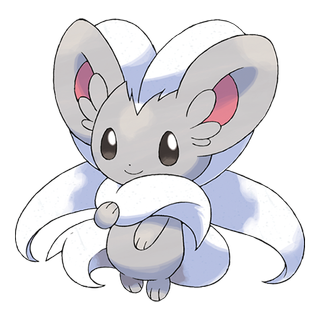 (Image credit: The Pokémon Company)
Name: Cinccino (Japanese: チラチーノ Chillaccino)
Classification: Scarf Pokémon
Type: Normal
Generation: Gen V Unova Region
Gender Ratio: 25% Male to 75% Female
Height: 1' 8"
Weight: 16.5 lbs
Evolution:
Evolves from Minccino with a Shiny Stone.
Evolves from Minccino with 50 Candies and an Unova Stone in Pokémon Go.
Alternate Formes: None
How to catch in Sword/Shield:
How to catch in Go:
Description: A furry, grey chinchilla, Cinccino looks very similar to its previous stage, Minccino. The most significant change is the addition of two long tufts of white fur coming from the top of its head. It wraps this fur around itself like a luxurious scarf. Its tail is also entirely white now, although it still uses it in much the same way as Minccino, including performing its signature move, Tail Slap. Cinccino's fur is exceptionally soft and coated in a natural oil that repels everything from dust to enemy attacks, as well as preventing static electricity.
Core Games
Cinccino in the core games
Sword Pokédex: Its body secretes oil that this Pokémon spreads over its nest as a coating to protect it from dust. Cinccino won't tolerate even a speck of the stuff.
Shield Pokédex: A special oil that seeps through their fur helps them avoid attacks. The oil fetches a high price at market.
Base Stats
75 HP
95 Attack
60 Defense
65 Sp. Attack
60 Sp. Defense
115 Speed
470 Total
Moves by Level
Bullet Seed (lv 1)
Rock Blast (lv 1)
Sing (lv 1)
Charm (lv 1)
Swift (lv 1)
Encore (lv 1)
After You (lv 1)
Tail Slap (lv 1)
Tickle (lv 1)
Slam (lv 1)
Hyper Voice (lv 1)
Last Resort (lv 1)
Pound (lv 1)
Baby-Doll Eyes (lv 1)
Helping Hand (lv 1)
Echoed Voice (lv 1)
Moves by TM/TR
TM08 Hyper Beam
TM09 Giga Impact
TM14 Thunder Wave
TM15 Dig
TM17 Light Screen
TM19 Safeguard
TM21 Rest
TM23 Thief
TM24 Snore
TM25 Protect
TM29 Charm
TM31 Attract
TM33 Rain Dance
TM34 Sunny Day
TM39 Facade
TM40 Swift
TM41 Helping Hand
TM47 Fake Tears
TM50 Bullet Seed
TM54 Rock Blast
TM56 U-turn
TM59 Fling
TM76 Round
TM79 Retaliate
TM84 Tail Slap
TR08 Thunderbolt
TR09 Thunder
TR20 Substitute
TR26 Endure
TR27 Sleep Talk
TR30 Encore
TR31 Iron Tail
TR35 Uproar
TR42 Hyper Voice
TR49 Calm Mind
TR59 Seed Bomb
TR64 Focus Blast
TR73 Gunk Shot
TR77 Grass Knot
TR85 Work Up
TR90 Play Rough
TR92 Dazzling Gleam
Moves by Breeding
Aqua Tail
Flail
Knock Off
Tail Whip
Damaged normally by
Normal 1×
Flying 1×
Poison 1×
Ground 1×
Rock 1×
Bug 1×
Steel 1×
Fire 1×
Water 1×
Grass 1×
Electric 1×
Psychic 1×
Ice 1×
Dragon 1×
Dark 1×
Fairy 1×
Weak to
Immune to
Resistant to
Pokémon Go
Pokédex: Cinccino's body is coated in a special oil that helps it deflect attacks, such as punches.
Egg Distance: N/A
Buddy Distance: 3 KM
Image Coming Soon
Base Stats
181 Stamina
198 Attack
130 Defense
Moves
Fast Attacks: Pound, Charm
Charged Attacks: Hyper Beam, Thunderbolt, Aqua Tail
Shiny:
Shiny Image Coming Soon
More information
Casian Holly has been writing about gaming at iMore since 2019, but their real passion is Pokémon. From the games to the anime, cards and toys, they eat, sleep, and breathe all things Pokémon. You can check out their many Pokémon Go and Pokémon Sword and Shield guides and coverage here on iMore.
Get the best of iMore in in your inbox, every day!
Thank you for signing up to iMore. You will receive a verification email shortly.
There was a problem. Please refresh the page and try again.