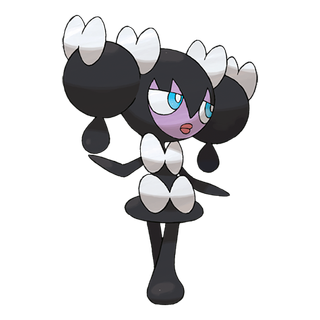 (Image credit: The Pokémon Company)
Name: Gothorita (Japanese: ゴチミル Gothimiru)
Classification: Manipulate Pokémon
Type: Psychic
Generation: Gen V Unova Region
Gender Ratio: 25% Male to 75% Female
Height: 2' 4"
Weight: 39.7 lbs
Evolution:
Evolves from Gothita at level 32.
Evolves from Gothita with 25 Candies in Pokémon Go.
Evolves into Gothitelle at level 41.
Evolves into Gothitelle with 100 Candies in Pokémon Go.
Alternate Formes: None
How to catch in Sword/Shield:
Trade (Sword Exclusive)
Evolve Gothita
Dusty Bowl
Giant's Cap
Max Raid Battles
Stony Wilderness
Watchtower Ruins
How to catch in Go:
Description: A small, humanoid Pokémon, Gothorita looks like a little goth doll. Its body is mostly black, with a light purple face. It also has several white, bow-shaped protrustions in its hair and on its torso. It has poofy black hair drawn up into buns on either side of its head, and it looks to be wearing a black dress. Its blue eyes aren't so wide as its former stage, but its lips are still very red.
While Gothorita's bows amplify their Psychic abilities, the source of their power is starlight. As an homage to that source, they are often seen telekinetically moving rocks about into the shapes of stars. Skilled at hypnosis, Gothorita can take control of other Pokémon with a mere thought, forcing their opponents to lose the match.
Core Games
Gothorita in the core games
Sword Pokédex: It's said that when stars shine in the night sky, this Pokémon will spirit away sleeping children. Some call it the Witch of Punishment.
Shield Pokédex: On nights when the stars shine, this Pokémon's psychic power is at its strongest. It's unknown just what link Gothorita has to the greater universe.
Base Stats
60 HP
45 Attack
70 Defense
75 Sp. Attack
85 Sp. Defense
55 Speed
390 Total
Moves by Level
Pound (lv 1)
Confusion (lv 1)
Play Nice (lv 1)
Tickle (lv 1)
Psybeam (lv 12)
Charm (lv 16)
Psyshock (lv 20)
Hypnosis (lv 24)
Fake Tears (lv 28)
Psych Up (lv 35)
Psychic (lv 40)
Flatter (lv 46)
Future Sight (lv 52)
Magic Room (lv 58)
Moves by TM/TR
TM14 Thunder Wave
TM17 Light Screen
TM18 Reflect
TM19 Safeguard
TM21 Rest
TM22 Rock Slide
TM23 Thief
TM24 Snore
TM25 Protect
TM29 Charm
TM31 Attract
TM33 Rain Dance
TM39 Facade
TM41 Helping Hand
TM47 Fake Tears
TM48 Rock Tomb
TM57 Payback
TM59 Fling
TM61 Guard Swap
TM70 Trick Room
TM72 Magic Room
TM76 Round
TR08 Thunderbolt
TR11 Psychic
TR20 Substitute
TR25 Psyshock
TR26 Endure
TR27 Sleep Talk
TR33 Shadow Ball
TR34 Future Sight
TR35 Uproar
TR37 Taunt
TR38 Trick
TR40 Skill Swap
TR49 Calm Mind
TR58 Dark Pulse
TR65 Energy Ball
TR68 Nasty Plot
TR69 Zen Headbutt
TR77 Grass Knot
TR81 Foul Play
TR82 Stored Power
TR83 Ally Switch
Moves by Breeding
Fake Out
Heal Pulse
Mean Look
Mirror Coat
Torment
Damaged normally by
Normal 1×
Flying 1×
Poison 1×
Ground 1×
Rock 1×
Steel 1×
Fire 1×
Water 1×
Grass 1×
Electric 1×
Ice 1×
Dragon 1×
Fairy 1×
Weak to
Immune to
Resistant to
Pokémon Go
Pokédex: According to many old tales, it creates friends for itself by controlling sleeping children on starry nights.
Egg Distance: 5 KM
Buddy Distance: 3 KM
Image Coming Soon!
Base Stats
155 Stamina
137 Attack
153 Defense
Moves
Fast Attacks: Pound, Confusion
Charged Attacks: Psybeam, Future Sight, Psychic
Shiny: Not Available Yet
Shiny Image Coming Soon!
More information
Casian Holly has been writing about gaming at iMore since 2019, but their real passion is Pokémon. From the games to the anime, cards and toys, they eat, sleep, and breathe all things Pokémon. You can check out their many Pokémon Go and Pokémon Sword and Shield guides and coverage here on iMore.
Get the best of iMore in in your inbox, every day!
Thank you for signing up to iMore. You will receive a verification email shortly.
There was a problem. Please refresh the page and try again.