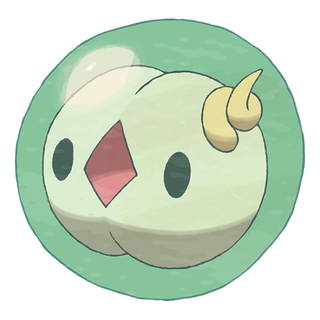 (Image credit: The Pokémon Company)
Name: Solosis (Japanese: ユニラン Uniran)
Classification: Cell Pokémon
Type: Psychic
Generation: Gen V Unova Region
Gender Ratio: 50% Male to 50% Female
Height: 1'
Weight: 2.2 kbs
Evolution:
Evolves into Duosion at level 32.
Evolves into Duosion with 25 Candies in Pokémon Go.
Alternate Formes: None
How to catch in Sword/Shield:
Trade (Shield Exclusive)
Giant's Cap
Max Raid Battles
Stony Wilderness
Watchtower Ruins
How to catch in Go:
Spawns during Daytime (boosted during the Psychic Spectacular.)
Eggs (also boosted during the Psychic Spectacular.)
Description: A green, translucent ball of gel with a lighter green ball inside, Solosis is an odd looking Psychic Pokémon. It has small, oval eyes, and a much larger diamond shaped mouth. On either side of its face, it has yellow spiral protrusions that resemble endoplasmic reticulum. The gel surrounding Solosis protect it under a variety of conditions, enabling it to thrive in any enviroment. It is able to communicate telepathically, as well as defend itself with its Psychic energy.
Core Games
Solosis in the core games
Sword Pokédex: It communicates with others telepathically. Its body is encapsulated in liquid, but if it takes a heavy blow, the liquid will leak out.
Shield Pokédex: Many say that the special liquid covering this Pokémon's body would allow it to survive in the vacuum of space.
Base Stats
45 HP
30 Attack
40 Defense
105 Sp. Attack
50 Sp. Defense
20 Speed
290 Total
Moves by Level
Protect (lv 1)
Confusion (lv 1)
Recover (lv 4)
Endeavor (lv 8)
Psybeam (lv 12)
Charm (lv 16)
Psyshock (lv 20)
Light Screen (lv 24)
Reflect (lv 24)
Ally Switch (lv 28)
Pain Split (lv 33)
Psychic (lv 36)
Skill Swap (lv 40)
Future Sight (lv 44)
Wonder Room (lv 48)
Moves by TM/TR
TM14 Thunder Wave
TM17 Light Screen
TM18 Reflect
TM19 Safeguard
TM21 Rest
TM22 Rock Slide
TM24 Snore
TM25 Protect
TM29 Charm
TM31 Attract
TM33 Rain Dance
TM39 Facade
TM41 Helping Hand
TM44 Imprison
TM48 Rock Tomb
TM60 Power Swap
TM61 Guard Swap
TM70 Trick Room
TM71 Wonder Room
TM76 Round
TM91 Psychic Terrain
TR09 Thunder
TR11 Psychic
TR20 Substitute
TR25 Psyshock
TR26 Endure
TR27 Sleep Talk
TR30 Encore
TR33 Shadow Ball
TR34 Future Sight
TR38 Trick
TR40 Skill Swap
TR46 Iron Defense
TR49 Calm Mind
TR52 Gyro Ball
TR65 Energy Ball
TR69 Zen Headbutt
TR70 Flash Cannon
TR82 Stored Power
TR83 Ally Switch
Moves by Breeding
Acid Armor
Astonish
Confuse Ray
Damaged normally by
Normal 1×
Flying 1×
Poison 1×
Ground 1×
Rock 1×
Steel 1×
Fire 1×
Water 1×
Grass 1×
Electric 1×
Ice 1×
Dragon 1×
Fairy 1×
Weak to
Immune to
Resistant to
Pokémon Go
Pokédex: They drive away attackers by unleashing psychic power. They can use telepathy to talk with others.
Egg Distance: 2 KM
Buddy Distance: 3 KM
Images Coming Soon!
Base Stats
128 Stamina
170 Attack
83 Defense
Moves
Fast Attacks: Hidden Power, Zen Headbutt
Charged Attacks: Psyshock, Night Shade, Thunder
Shiny: Not Available Yet
Shiny Images Coming Soon!
More information
Casian Holly has been writing about gaming at iMore since 2019, but their real passion is Pokémon. From the games to the anime, cards and toys, they eat, sleep, and breathe all things Pokémon. You can check out their many Pokémon Go and Pokémon Sword and Shield guides and coverage here on iMore.
Get the best of iMore in in your inbox, every day!
Thank you for signing up to iMore. You will receive a verification email shortly.
There was a problem. Please refresh the page and try again.