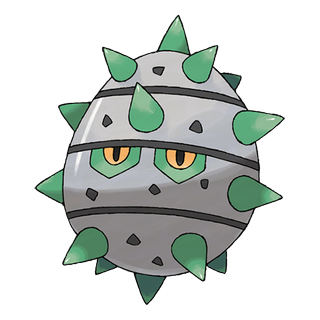 (Image credit: The Pokémon Company)
Name: Ferroseed (Japanese: テッシード Tesseed)
Classification: Thorn Seed Pokémon
Type: Grass/Steel
Generation: Gen V Unova Region
Gender Ratio: 50% Male to 50% Female
Height: 2"
Weight: 41.4 lbs
Evolution:
Evolves into Ferrothorn at level 40.
Evolves into Ferrothorn with 50 Candies in Pokémon Go.
Alternate Formes: None
How to catch in Sword/Shield:
Route 4
Bridge Field
Motostoke Riverbank
Stony Wilderness
Max Raid Battles
Bridge Field
Dappled Grove
Dusty Bowl
Giant's Mirror
Giant's Seat
Hammerlocke Hills
Stony Wilderness
How to catch in Go:
Spawns
Raids
Eggs
Research Breakthrough Reward
Description: Ferroseed is an actual seed encased in a metal shell and covered with green spikes. Its yellow eyes and some green of its body is visible but everything else is protected beneath its shell. Ferroseed use their spikes to adhere to cave walls where it can absorb minerals to strengthen its metal body. It prefers to spend its time in the dark of Moss Caves and can produce different types of moss for oxygen, as well as a variety of effects.
Core Games
Ferroseed in the core games
Sword Pokédex: It defends itself by launching spikes, but its aim isn't very good at first. Only after a lot of practice will it improve.
Shield Pokédex: Mossy caves are their preferred dwellings. Enzymes contained in mosses help Ferroseed's spikes grow big and strong.
Base Stats
44 HP
50 Attack
91 Defense
24 Sp. Attack
86 Sp. Defense
10 Speed
305 Total
Moves by Level
Tackle (lv 1)
Harden (lv 1)
Metal Claw (lv 5)
Pin Missile (lv 10)
Ingrain (lv 15)
Flash Cannon (lv 20)
Iron Head (lv 25)
Self-Destruct (lv 30)
Iron Defense (lv 35)
Curse (lv 41)
Gyro Ball (lv 45)
Explosion (lv 50)
Moves by TM/TR
TM07 Pin Missile
TM11 Solar Beam
TM14 Thunder Wave
TM20 Self-Destruct
TM21 Rest
TM24 Snore
TM25 Protect
TM28 Giga Drain
TM31 Attract
TM34 Sunny Day
TM39 Facade
TM42 Revenge
TM50 Bullet Seed
TM57 Payback
TM58 Assurance
TM76 Round
TR08 Thunderbolt
TR20 Substitute
TR23 Spikes
TR26 Endure
TR27 Sleep Talk
TR46 Iron Defense
TR52 Gyro Ball
TR57 Poison Jab
TR59 Seed Bomb
TR65 Energy Ball
TR70 Flash Cannon
TR74 Iron Head
TR76 Stealth Rock
Moves by Breeding
Acid Spray
Gravity
Knock Off
Leech Seed
Toxic
Moves by Tutoring
Damaged normally by
Flying 1×
Ground 1×
Bug 1×
Ghost 1×
Ice 1×
Dark 1×
Weak to
Immune to
Resistant to
Normal ½×
Rock ½×
Steel ½×
Water ½×
Grass ¼×
Electric ½×
Psychic ½×
Dragon ½×
Fairy ½×
Pokémon Go
Pokédex: It absorbs the iron it finds in the rock while clinging to the ceiling. It shoots spikes when in danger.
Egg Distance: 10 KM
Buddy Distance: 3 Km
Base Stats
127 Stamina
82 Attack
155 Defense
Moves
Fast Attacks: Tackle, Metal Claw
Charged Attacks: Gyro Ball, Flash Cannon, Iron Head
Shiny: Not Available Yet
More information
Casian Holly has been writing about gaming at iMore since 2019, but their real passion is Pokémon. From the games to the anime, cards and toys, they eat, sleep, and breathe all things Pokémon. You can check out their many Pokémon Go and Pokémon Sword and Shield guides and coverage here on iMore.
Get the best of iMore in in your inbox, every day!
Thank you for signing up to iMore. You will receive a verification email shortly.
There was a problem. Please refresh the page and try again.