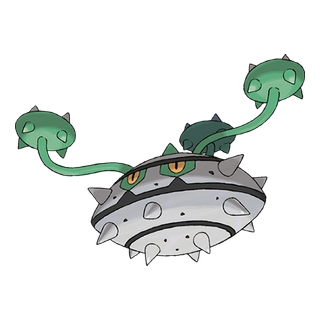 (Image credit: The Pokémon Company)
Name: Ferrothorn (Japanese: ナットレイ Nutrey)
Classification: Thorn Pod Pokémon
Type: Grass/Steel
Generation: Gen V Unova Region
Gender Ratio: 50% Male to 50% Female
Height: 3' 3"
Weight: 242.5 lbs
Evolution:
Evolves from Ferroseed at level 40.
Evolves from Ferroseed with 50 Candies in Pokémon Go.
Alternate Formes: None
How to catch in Sword/Shield:
Evolve Ferroseed
Bridge Field
Dusty Bowl
Max Raid Battles
Bridge Field
Dappled Grove
Dusty Bowl
Giant's Mirror
Giant's Seat
Hammerlocke Hills
Stony Wilderness
How to catch in Go:
Description: Similar in appearance to a flattened durian, Ferrothorn's body is mostly covered by its metallic shell. Even its spikes, which were green as Ferroseed are covered in metal, save for one on top its head. Three green vines also protrude from the top of its head and end with mace-like spike covered orbs. Its spikes are as hard as steel, and can be fired at opponents. Like its previous stage, Ferrothorn adhere to cave walls from which they absorb their nutrients. Although it is capable of levitation, Ferrothorn usually move about using their feelers as limbs, either as legs to walk on, or as arms, attaching to walls.
Core Games
Ferrothorn in the core games
Sword Pokédex: This Pokémon scrapes its spikes across rocks, and then uses the tips of its feelers to absorb the nutrients it finds within the stone.
Shield Pokédex: Its spikes are harder than steel. This Pokémon crawls across rock walls by stabbing the spikes on its feelers into the stone.
Base Stats
74 HP
94 Attack
131 Defense
54 Sp. Attack
116 Sp. Defense
20 Speed
489 Total
Moves by Level
Power Whip (lv 1)
Tackle (lv 1)
Harden (lv 1)
Metal Claw (lv 1)
Pin Missile (lv 1)
Power Whip (Evo)
Ingrain (lv 15)
Flash Cannon (lv 20)
Iron Head (lv 25)
Self-Destruct (lv 30)
Iron Defense (lv 35)
Curse (lv 43)
Gyro Ball (lv 49)
Explosion (lv 56)
Moves by TM/TR
TM07 Pin Missile
TM08 Hyper Beam
TM09 Giga Impact
TM11 Solar Beam
TM14 Thunder Wave
TM20 Self-Destruct
TM21 Rest
TM24 Snore
TM25 Protect
TM28 Giga Drain
TM31 Attract
TM32 Sandstorm
TM34 Sunny Day
TM39 Facade
TM42 Revenge
TM50 Bullet Seed
TM57 Payback
TM58 Assurance
TM65 Shadow Claw
TM76 Round
TM81 Bulldoze
TM97 Brutal Swing
TR00 Swords Dance
TR08 Thunderbolt
TR09 Thunder
TR20 Substitute
TR23 Spikes
TR26 Endure
TR27 Sleep Talk
TR46 Iron Defense
TR52 Gyro Ball
TR57 Poison Jab
TR59 Seed Bomb
TR65 Energy Ball
TR70 Flash Cannon
TR72 Power Whip
TR74 Iron Head
TR76 Stealth Rock
TR77 Grass Knot
TR79 Heavy Slam
TR99 Body Press
Moves by Breeding
Acid Spray
Gravity
Knock Off
Leech Seed
Toxic
Moves by Tutoring
Damaged normally by
Flying 1×
Ground 1×
Bug 1×
Ghost 1×
Ice 1×
Dark 1×
Weak to
Immune to
Resistant to
Normal ½×
Rock ½×
Steel ½×
Water ½×
Grass ¼×
Electric ½×
Psychic ½×
Dragon ½×
Fairy ½×
Pokémon Go
Pokédex: They attach themselves to cave ceilings, firing steel spikes at targets passing beneath them.
Egg Distance: N/A
Buddy Distance: 3 KM
Base Stats
179 Stamina
158 Attack
223 Defense
Moves
Fast Attacks: Metal Claw, Bullet Seed
Charged Attacks: Power Whip, Flash Cannon, Acid Spray, Thunder, Mirror Shot
Shiny: Not Available Yet
More information
Casian Holly has been writing about gaming at iMore since 2019, but their real passion is Pokémon. From the games to the anime, cards and toys, they eat, sleep, and breathe all things Pokémon. You can check out their many Pokémon Go and Pokémon Sword and Shield guides and coverage here on iMore.
Get the best of iMore in in your inbox, every day!
Thank you for signing up to iMore. You will receive a verification email shortly.
There was a problem. Please refresh the page and try again.