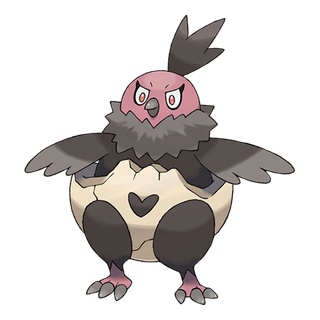 (Image credit: The Pokémon Company)
Name: Vullaby (Japanese: バルチャイ Valchai)
Classification: Diapered Pokémon
Type: Dark/Flying
Generation: Gen V Unova Region
Gender Ratio: 100% Female
Height: 1' 8"
Weight: 19.8 lbs
Evolution:
Evolves into Mandibuzz at level 54.
Evolves into Mandibuzz with 50 Candies in Pokémon Go.
Alternate Formes: None
How to catch in Sword/Shield:
Trade (Shield Exclusive)
Route 8
Bridge Field
Stony Wilderness
Max Raid Battles
Bridge Field
Dusty Bowl
East Lake Axewell
Giant's Mirror
Rolling Fields
Stony Wilderness
West Lake Axewell
How to catch in Go: Not Available Yet
Description: Similar in appearance to a baby vulture, Vullaby is known as the Diapered Pokémon because of the broken skull it wears that resembles a diaper. Its body is almost entirely covered is black and grey feathers, with a prominent collar of gray feathers around its neck. Its head is bald and pink save for a small tuft of black feathers protruding from the top of its head. The skull it wears is provided by its Mandibuzz mother or found by the Vullaby herself, though they will pass them down to younger Vullaby as they outgrow them.
Core Games
Vullaby in the core games
Sword Pokédex: It wears a bone to protect its rear. It often squabbles with others of its kind over particularly comfy bones.
Shield Pokédex: Vullaby grow quickly. Bones that have gotten too small for older Vullaby to wear often get passed down to younger ones in the nest.
Base Stats
70 HP
50 Attack
75 Defense
45 Sp. Attack
65 Sp. Defense
60 Speed
370 Total
Moves by Level
Gust (lv 1)
Leer (lv 1)
Flatter (lv 6)
Pluck (lv 12)
Tailwind (lv 18)
Knock Off (lv 24)
Iron Defense (lv 30)
Whirlwind (lv 36)
Air Slash (lv 42)
Dark Pulse (lv 48)
Nasty Plot (lv 54)
Defog (lv 60)
Attract (lv 66)
Brave Bird (lv 72)
Moves by TM/TR
TM06 Fly
TM21 Rest
TM23 Thief
TM24 Snore
TM25 Protect
TM26 Scary Face
TM30 Steel Wing
TM31 Attract
TM33 Rain Dance
TM34 Sunny Day
TM39 Facade
TM40 Swift
TM47 Fake Tears
TM48 Rock Tomb
TM56 U-turn
TM57 Payback
TM58 Assurance
TM76 Round
TM79 Retaliate
TM85 Snarl
TM95 Air Slash
TR20 Substitute
TR26 Endure
TR27 Sleep Talk
TR33 Shadow Ball
TR36 Heat Wave
TR37 Taunt
TR46 Iron Defense
TR58 Dark Pulse
TR66 Brave Bird
TR68 Nasty Plot
TR81 Foul Play
Moves by Breeding
Damaged normally by
Normal 1×
Fighting 1×
Flying 1×
Poison 1×
Bug 1×
Steel 1×
Fire 1×
Water 1×
Dragon 1×
Weak to
Rock 2×
Electric 2×
Ice 2×
Fairy 2×
Immune to
Resistant to
Pokémon Go
Pokédex: Their wings are too tiny to allow them to fly. They guard their posteriors with bones that were gathered by Mandibuzz.
Egg Distance: N/A
Buddy Distance: 5 KM
Images Coming Soon!
Base Stats
172 Stamina
105 Attack
139 Defense
Moves
Fast Attacks: Feint Attack, Wing Attack
Charged Attacks: Dark Pulse, Brave Bird, Foul Play
Shiny: Not Available Yet
Shiny Images Coming Soon!
More information
Casian Holly has been writing about gaming at iMore since 2019, but their real passion is Pokémon. From the games to the anime, cards and toys, they eat, sleep, and breathe all things Pokémon. You can check out their many Pokémon Go and Pokémon Sword and Shield guides and coverage here on iMore.
Get the best of iMore in in your inbox, every day!
Thank you for signing up to iMore. You will receive a verification email shortly.
There was a problem. Please refresh the page and try again.