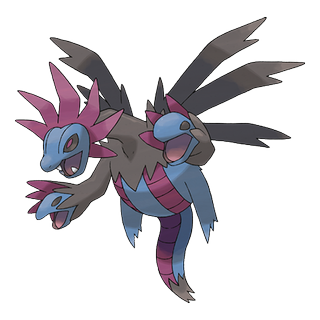 (Image credit: The Pokémon Company)
Name: Hydreigon (Japanese: サザンドラ Sazandora)
Classification: Brutal Pokémon
Type: Dark/Dragon
Generation: Gen V Unova Region
Gender Ratio: 50% Male to 50% Female
Height: 5' 11"
Weight: 352.7
Evolution:
Evolves from Zweilous at level 64.
Evolves from Zweilous with 100 Candies in Pokémon Go.
Alternate Formes: None
How to catch in Sword/Shield:
Trade (Sword Exclusive)
Evolve from Zweilous
Max Raid Battles
Bridge Field
Dusty Bowl
Giant's Mirror
Stony Wilderness
West Lake Axewell
How to catch in Go:
Description: A three-headed Dragon with six, thin wings, Hydreigon is violent and ill-tempered. The black fur that covered its heads as Zweilous and Deino has split to reveal its faces, each blue, like the bulk of its body and framed by a fuchsia collar. Each head has a pair of black eyes with fuchsia pupils but only the center one moves independently. This is because, unlike Zweilous, Hydreigon only has a single brain located in its center head, while its right and left heads act as its hands. Its legs have atrophied from lack of use as Hydreigon moves mostly by flying.
Hydreigon are extremely volatile and will not hesitate to attack anything that moves. As a result, they are quite difficult to train and are considered pseudo-Legendary. There are many stories of Hydreigon destroying entire villages and it is believe that they can eat anything they manage to get in their mouths.
Core Games
Hydreigon in the core games
Sword Pokédex: There are a slew of stories about villages that were destroyed by Hydreigon. It bites anything that moves.
Shield Pokédex: The three heads take turns sinking their teeth into the opponent. Their attacks won't slow until their target goes down.
Base Stats
92 HP
105 Attack
90 Defense
125 Sp. Attack
90 Sp. Defense
98 Speed
600 Total
Moves by Level
Tackle (lv 1)
Double Hit (lv 1)
Tri Attack (lv 1)
Focus Energy (lv 1)
Dragon Breath (lv 1)
Bite (lv 1)
Roar (lv 12)
Assurance (lv 16)
Headbutt (lv 20)
Work Up (lv 24)
Slam (lv 28)
Crunch (lv 32)
Scary Face (lv 36)
Dragon Pulse (lv 40)
Body Slam (lv 44)
Hyper Voice (lv 48)
Dragon Rush (lv 54)
Nasty Plot (lv 60)
Outrage (lv 68)
Hyper Beam (lv 76)
Moves by TM/TR
TM06 Fly
TM08 Hyper Beam
TM09 Giga Impact
TM13 Fire Spin
TM14 Thunder Wave
TM16 Screech
TM18 Reflect
TM21 Rest
TM22 Rock Slide
TM23 Thief
TM24 Snore
TM25 Protect
TM26 Scary Face
TM30 Steel Wing
TM31 Attract
TM33 Rain Dance
TM34 Sunny Day
TM37 Beat Up
TM39 Facade
TM41 Helping Hand
TM48 Rock Tomb
TM56 U-turn
TM57 Payback
TM58 Assurance
TM66 Thunder Fang
TM67 Ice Fang
TM68 Fire Fang
TM76 Round
TM78 Acrobatics
TM81 Bulldoze
TM85 Snarl
TM97 Brutal Swing
TM99 Breaking Swipe
TR01 Body Slam
TR02 Flamethrower
TR03 Hydro Pump
TR04 Surf
TR10 Earthquake
TR13 Focus Energy
TR15 Fire Blast
TR19 Tri Attack
TR20 Substitute
TR24 Outrage
TR26 Endure
TR27 Sleep Talk
TR31 Iron Tail
TR32 Crunch
TR35 Uproar
TR36 Heat Wave
TR37 Taunt
TR39 Superpower
TR42 Hyper Voice
TR51 Dragon Dance
TR58 Dark Pulse
TR62 Dragon Pulse
TR64 Focus Blast
TR67 Earth Power
TR68 Nasty Plot
TR69 Zen Headbutt
TR70 Flash Cannon
TR75 Stone Edge
TR85 Work Up
TR95 Throat Chop
Moves by Breeding
Astonish
Belch
Double Hit
Head Smash
Moves by Tutoring
Damaged normally by
Normal 1×
Flying 1×
Poison 1×
Rock 1×
Steel 1×
Weak to
Fighting 2×
Bug 2×
Ice 2×
Dragon 2×
Fairy 4×
Immune to
Resistant to
Ghost ½×
Fire ½×
Water ½×
Grass ½×
Electric ½×
Dark ½×
Pokémon Go
Pokédex: It responds to movement by attacking. This scary, three-headed Pokémon devours everything in its path!
Egg Distance: N/A
Buddy Distance: 5 KM
Base Stats
211 Stamina
256 Attack
188 Defense
Moves
Fast Attacks: Bite, Dragon Breath
Charged Attacks: Dragon Pulse, Dark Pulse, Flash Cannon
Shiny: Not Available Yet
More information
Get the best of iMore in in your inbox, every day!
Casian Holly has been writing about gaming at iMore since 2019, but their real passion is Pokémon. From the games to the anime, cards and toys, they eat, sleep, and breathe all things Pokémon. You can check out their many Pokémon Go and Pokémon Sword and Shield guides and coverage here on iMore.
Thank you for signing up to iMore. You will receive a verification email shortly.
There was a problem. Please refresh the page and try again.