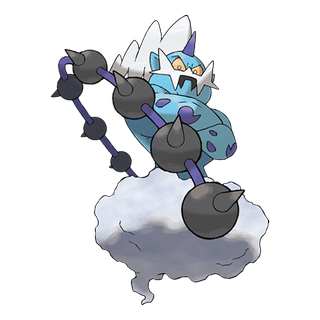 (Image credit: The Pokémon Company)
Name: Thundurus (Japanese: ボルトロス Voltolos)
Classification: Bolt Strike Pokémon
Type: Electric/Flying
Generation: Gen V Unova Region
Gender Ratio: 100% Male
Height:
4' 11" (Incarnate Forme)
9' 10" (Therian Forme)
Weight:
134.5 lbs (Incarnate Forme)
134.5 lbs (Therian Forme)
Evolution: N/A
Alternate Formes:
Incarnate Forme
Therian Forme
How to catch in Sword/Shield: Not Available Yet
How to catch in Go:
Description: Resembling a muscular, blue genie, Thundurus' top half is a humanoid torso, while is bottom half is obscured by a cloud. He has purple markings on his blue skin, a single purple horn, and a long, thin purple tail with black, spiked orbs along the length. In addition to the cloud that covers his lower body, he also has cloudy hair, and a cloudy moustache. He is capable of shooting lightning bolts from his tail and can summon storms. In his Therian Forme, Thundurus looks more like a dragon, his lower body entirely purple. The cloud that obscured his lower half in his Incarnate Forme has taken the shape of massive paws where his hands once were and a large, blue gem rests on his navel.
One of the Legendary Trio, the Forces of Nature, Thundurus, along with Tornadus and Landorus have also been called the Legendary Genies, the Kami Trio, and the Cloud Trio. Legends tell of Landorus, the strongest of the three, punishing Tornadus and Thundurus for wreaking devastation across the Unova Region. In more recent years, the Mythical Pokémon, Meloetta, was able to tame all three of the Forces of Nature and put a stop to their destructive rampage across the same region.
Core Games
Thundurus in the core games
Sword Pokédex: Not Available Yet
Shield Pokédex: Not Available Yet
Omega Ruby Pokédex: The spikes on its tail discharge immense bolts of lightning. It flies around the Unova region firing off lightning bolts.
Alpha Sapphire Pokédex: As it flies around, it shoots lightning all over the place and causes forest fires. It is therefore disliked.
Base Stats
79 HP
115 Attack
70 Defense
125 Sp. Attack
80 Sp. Defense
111 Speed
580 Total
Therian Forme
Base Stats
79 HP
105 Attack
70 Defense
145 Sp. Attack
80 Sp. Defense
101 Speed
580 Total
Moves by Level
Thrash (lv 1)
Hammer Arm (lv 1)
Nasty Plot (lv 1)
Uproar (lv 1)
Astonish (lv 1)
Thunder Shock (lv 1)
Swagger (lv 1)
Bite (lv 7)
Revenge (lv 13)
Shock Wave (lv 19)
Heal Block (lv 25)
Agility (lv 31)
Discharge (lv 37)
Crunch (lv 43)
Charge (lv 49)
Nasty Plot (lv 55)
Thunder (lv 61)
Dark Pulse (lv 67)
Hammer Arm (lv 73)
Thrash (lv 79)
Moves by TM/TR
TM06 Toxic
TM08 Bulk Up
TM10 Hidden Power
TM12 Taunt
TM15 Hyper Beam
TM17 Protect
TM18 Rain Dance
TM21 Frustration
TM23 Smack Down
TM24 Thunderbolt
TM25 Thunder
TM27 Return
TM29 Psychic
TM31 Brick Break
TM32 Double Team
TM34 Sludge Wave
TM36 Sludge Bomb
TM41 Torment
TM42 Facade
TM44 Rest
TM45 Attract
TM46 Thief
TM48 Round
TM52 Focus Blast
TM56 Fling
TM57 Charge Beam
TM58 Sky Drop
TM59 Brutal Swing
TM63 Embargo
TM66 Payback
TM67 Smart Strike
TM68 Giga Impact
TM72 Volt Switch
TM73 Thunder Wave
TM76 Fly
TM86 Grass Knot
TM87 Swagger
TM88 Sleep Talk
TM89 U-turn
TM90 Substitute
TM91 Flash Cannon
TM93 Wild Charge
TM97 Dark Pulse
TM100 Confide
Moves by Tutoring
Defog
Electroweb
Foul Play
Iron Tail
Knock Off
Role Play
Shock Wave
Snore
Superpower
Thunder Punch
Uproar
Damaged normally by
Normal 1×
Poison 1×
Ghost 1×
Fire 1×
Water 1×
Electric 1×
Psychic 1×
Dragon 1×
Dark 1×
Fairy 1×
Weak to
Immune to
Resistant to
Fighting ½×
Flying ½×
Bug ½×
Steel ½×
Grass ½×
Pokémon Go
Pokédex: As it flies around, it shoots lightning all over the place and causes forest fires. It is therefore disliked.
Egg Distance: N/A
Buddy Distance: 20 KM
Base Stats
188 Stamina
266 Attack
164 Defense
Moves
Fast Attacks: Astonish, Thundershock
Charged Attacks: Crunch, Thunder, Brick Break, Thunder Punch
Therian Forme (Not Available Yet)
Base Stats
188 Stamina
295 Attack
161 Defense
Shiny: Not Available Yet
Source: Niantic
More information
Get the best of iMore in in your inbox, every day!
Casian Holly has been writing about gaming at iMore since 2019, but their real passion is Pokémon. From the games to the anime, cards and toys, they eat, sleep, and breathe all things Pokémon. You can check out their many Pokémon Go and Pokémon Sword and Shield guides and coverage here on iMore.
Thank you for signing up to iMore. You will receive a verification email shortly.
There was a problem. Please refresh the page and try again.