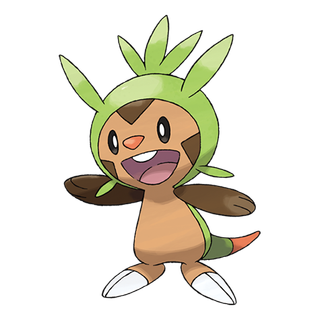 (Image credit: The Pokémon Company)
Name: Chespin (Japanese: ハリマロン Harimaron)
Classification: Spiny Nut Pokémon
Type: Grass
Generation: Gen VI Kalos Region
Gender Ratio: 87.5% Male to 12.5% Female
Height: 1'4"
Weight: 19.8 lbs
Evolution:
Evolves into Quilladin at level 16.
Evolves into Quilladin with 25 Candies in Pokémon Go.
Alternate Formes: None
How to catch in Sword/Shield: Not Available Yet
How to catch in Go:
Description: A small, brown and tan bipedal mammal, Chespin is the Grass type starter from the Kalos region. Its body is covered in dark brown and tan fur, save for its orange tail and the light green shell that covers its head and back. It has several spikes on its shell and two large claws on each foot. Chespin are known to be incredibly curious and easy going. The spikes on their shell are usually soft, but can be hardened for both defensive and offensive purposes. Its shell is mostly wood and protects it from attacks as well.
Core Games
Chespin in the core games
Sword Pokédex: Not Available Yet
Shield Pokédex: Not Available Yet
Omega Ruby Pokédex: The quills on its head are usually soft. When it flexes them, the points become so hard and sharp that they can pierce rock.
Alpha Sapphire Pokédex: Such a thick shell of wood covers its head and back that even a direct hit from a truck wouldn't faze it.
Base Stats
56 HP
61 Attack
65 Defense
48 Sp. Attack
45 Sp. Defense
38 Speed
313 Total
Moves by Level
Growl (lv. 1)
Vine Whip (lv 1)
Rollout (lv 8)
Bite (lv 11)
Leech Seed (lv 15)
Pin Missile (lv 18)
Take Down (lv 27)
Seed Bomb (lv 32)
Mud Shot (lv 35)
Bulk Up (lv 39)
Body Slam (lv 42)
Pain Split (lv 45)
Wood Hammer (lv 48)
Moves by TM/TR
TM01 Work Up
TM05 Roar
TM06 Toxic
TM08 Bulk Up
TM10 Hidden Power
TM11 Sunny Day
TM12 Taunt
TM17 Protect
TM21 Frustration
TM22 Solar Beam
TM23 Smack Down
TM27 Return
TM31 Brick Break
TM32 Double Team
TM33 Reflect
TM36 Sludge Bomb
TM39 Rock Tomb
TM40 Aerial Ace
TM42 Facade
TM44 Rest
TM45 Attract
TM47 Low Sweep
TM48 Round
TM53 Energy Ball
TM56 Fling
TM65 Shadow Claw
TM66 Payback
TM71 Stone Edge
TM74 Gyro Ball
TM75 Swords Dance
TM78 Bulldoze
TM80 Rock Slide
TM84 Poison Jab
TM86 Grass Knot
TM87 Swagger
TM88 Sleep Talk
TM90 Substitute
TM96 Nature Power
TM100 Confide
Moves by Breeding
Belly Drum
Curse
Defense Curl
Power-Up Punch
Quick Guard
Rollout
Spikes
Synthesis
Moves by Tutoring
Drain Punch
Dual Chop
Endeavor
Focus Punch
Giga Drain
Grass Pledge
Helping Hand
Iron Defense
Iron Head
Iron Tail
Low Kick
Pain Split
Seed Bomb
Snore
Stomping Tantrum
Super Fang
Superpower
Synthesis
Thunder Punch
Worry Seed
Zen Headbutt
Damaged normally by
Normal 1×
Fighting 1×
Rock 1×
Ghost 1×
Steel 1×
Psychic 1×
Dragon 1×
Dark 1×
Fairy 1×
Weak to
Flying 2×
Poison 2×
Bug 2×
Fire 2×
Ice 2×
Immune to
Resistant to
Ground ½×
Water ½×
Grass ½×
Electric ½×
Pokémon Go
Pokédex: The quills on its head are usually soft. When it flexes them, the points become so hard and sharp that they can pierce rock.
Egg Distance: 5KM
Buddy Distance: 3KM
Base Stats
148 Stamina
110 Attack
106 Defense
Moves
Fast Attacks: Take Down, Vine Whip
Charged Attacks: Gyro Ball, Seed Bomb, Body Slam
Shiny: Not Available Yet
More information
Get the best of iMore in your inbox, every day!
Casian Holly has been writing about gaming at iMore since 2019, but their real passion is Pokémon. From the games to the anime, cards and toys, they eat, sleep, and breathe all things Pokémon. You can check out their many Pokémon Go and Pokémon Sword and Shield guides and coverage here on iMore.