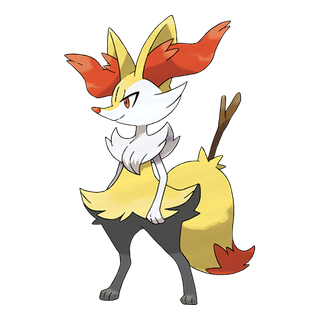 (Image credit: The Pokémon Company)
Name: Braixen (Japanese: テールナー Tairenar)
Classification: Fox Pokémon
Type: Fire
Generation: Gen VI Kalos Region
Gender Ratio: 87.5% Male to 12.5% Female
Height: 3'3"
Weight: 32 lbs
Evolution:
Evolves from Fennekin at level 16.
Evolves from Fennekin with 25 Candies in Pokémon Go.
Evolves into Delphox at level 36.
Evolves into Delphox with 100 Candies in Pokémon Go.
Alternate Formes: None
How to catch in Sword/Shield: Not Available Yet
How to catch in Go:
Description: An anthropomorphic fox, Braixen is the first evolution of the Fire starter in the Kalos region. Braixen stand on two legs that are covered in black fur. The fur around its torso is yellow and flares out at the hips, resembling a skirt. It has a collar of white fur which extends down its arms. The tufts of orange fur it had in its ears as Fennekin have grown out even longer, stretching out past the line of its skirt. Its tail has also grown considerably and has a stick peeking out of the top.
When ready to attack, Braixen will whip the stick out of its bushy tail, the friction easily lighting the stick on fire. Braixen are also known to use this flaming stick for communication. Combining the flame from its stick with its fiery breath, Braixen can create whirlwinds of flames for taking down its enemies.
Core Games
Braixen in the core games
Sword Pokédex: Not Available Yet
Shield Pokédex: Not Available Yet
Omega Ruby Pokédex: It has a twig stuck in its tail. With friction from its tail fur, it sets the twig on fire and launches into battle.
Alpha Sapphire Pokédex: When the twig is plucked from its tail, friction sets the twig alight. The flame is used to send signals to its allies.
Base Stats
59 HP
59 Attack
58 Defense
90 Sp. Attack
70 Sp. Defense
73 Speed
409 Total
Moves by Level
Scratch (lv 1)
Tail Whip (lv 1)
Ember (lv 1)
Howl (lv 11)
Flame Charge (lv 14)
Psybeam (lv 18)
Fire Spin (lv 22)
Lucky Chant (lv 28)
Light Screen (lv 31)
Psyshock (lv 36)
Flamethrower (lv 41)
Will-O-Wisp (lv 45)
Psychic (lv 49)
Sunny Day (lv 52)
Magic Room (lv 56)
Fire Blast (lv 59)
Moves by TM/TR
TM01 Work Up
TM03 Psyshock
TM06 Toxic
TM10 Hidden Power
TM11 Sunny Day
TM16 Light Screen
TM17 Protect
TM18 Rain Dance
TM20 Safeguard
TM21 Frustration
TM22 Solar Beam
TM27 Return
TM29 Psychic
TM32 Double Team
TM35 Flamethrower
TM38 Fire Blast
TM42 Facade
TM43 Flame Charge
TM44 Rest
TM45 Attract
TM46 Thief
TM48 Round
TM49 Echoed Voice
TM50 Overheat
TM61 Will-O-Wisp
TM63 Embargo
TM77 Psych Up
TM85 Dream Eater
TM86 Grass Knot
TM87 Swagger
TM88 Sleep Talk
TM90 Substitute
TM100 Confide
Moves by Breeding
Heat Wave
Hypnosis
Magic Coat
Psychic Terrain
Wish
Moves by Tutoring
Ally Switch
Covet
Fire Pledge
Fire Punch
Foul Play
Heat Wave
Iron Tail
Laser Focus
Low Kick
Magic Coat
Magic Room
Recycle
Shock Wave
Skill Swap
Snatch
Snore
Telekinesis
Thunder Punch
Trick
Wonder Room
Zen Headbutt
Damaged normally by
Normal 1×
Fighting 1×
Flying 1×
Poison 1×
Ghost 1×
Electric 1×
Psychic 1×
Dragon 1×
Dark 1×
Weak to
Immune to
Resistant to
Bug ½×
Steel ½×
Fire ½×
Grass ½×
Ice ½×
Fairy ½×
Pokémon Go
Pokédex: It has a twig stuck in its tail. With friction from its tail fur, it sets the twig on fire and launches into battle.
Egg Distance: N/A
Buddy Distance: 3KM
Base Stats
153 Stamina
171 Attack
130 Defense
Moves
Fast Attacks: Scratch, Ember
Charged Attacks: Psyshock, Flamethrower, Flame Charge
Shiny: Not Available Yet
More information
Get the best of iMore in your inbox, every day!
Casian Holly has been writing about gaming at iMore since 2019, but their real passion is Pokémon. From the games to the anime, cards and toys, they eat, sleep, and breathe all things Pokémon. You can check out their many Pokémon Go and Pokémon Sword and Shield guides and coverage here on iMore.