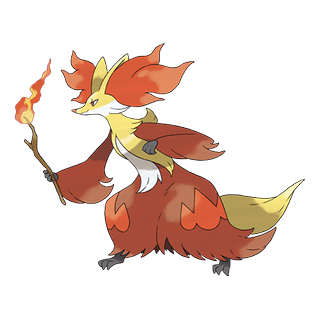 (Image credit: The Pokémon Company)
Name: Delphox (Japanese: マフォクシー Mahoxy)
Classification: Fox Pokémon
Type: Fire/Psychic
Generation: Gen VI Kalos Region
Gender Ratio: 87.5% Male to 12.5% Female
Height: 4'11"
Weight: 86 lbs
Evolution:
Evolves from Braixen at level 36.
Evolves from Braixen with 100 Candies in Pokémon Go.
Alternate Formes: None
How to catch in Sword/Shield: Not Available Yet.
How to catch in Go:
Description: An anthropomorphic fox Pokémon, Delphox is the final evolution of the Fire type starter in the Kalos region. Standing on two legs, most of Delphox's body is covered in long, bushy, dark red fur that resembles robes. There are two lighter patches of red around its knees and a white patch over its stomach. Its head and shoulders are covered with yellow fur that drapes down like a scarf or sash. The orange fur it had from both previous stages has grown to resemble massive flames out of each ear. Its long, yellow tail drags the ground behind it and it keeps a branch in the fur forming its sleeves.
The branch kept in Delphox's fur serves as a magic wand of sorts and a focus for its Psychic powers. It can stare into the flames in order to see the future. Using its Psychic powers, Delphox can amplify its flames, reaching temperatures in excess of 3,000° C.
Core Games
Delphox in the core games
Sword Pokédex: Not Available Yet
Shield Pokédex: Not Available Yet
Omega Ruby Pokédex: It gazes into the flame at the tip of its branch to achieve a focused state, which allows it to see into the future.
Alpha Sapphire Pokédex: Using psychic power, it generates a fiery vortex of 5,400 degree Fahrenheit, incinerating foes swept into this whirl of flame.
Base Stats
75 HP
69 Attack
72 Defense
114 Sp. Attack
100 Sp. Defense
104 Speed
534 Total
Moves by Level
Mystical Fire (lv 1)
Future Sight (lv 1)
Role Play (lv 1)
Switcheroo (lv 1)
Shadow Ball (lv 1)
Scratch (lv 1)
Tail Whip (lv 1)
Ember (lv 1)
Howl (lv 1)
Ember (lv 5)
Howl (lv 11)
Flame Charge (lv 14)
Psybeam (lv 18)
Fire Spin (lv 22)
Lucky Chant (lv 28)
Light Screen (lv 31)
Psyshock (lv 38)
Flamethrower (lv 45)
Will-O-Wisp (lv 51)
Psychic (lv 57)
Sunny Day (lv 62)
Magic Room (lv 68)
Fire Blast (lv 74)
Future Sight (lv 80)
Moves by TM/TR
TM01 Work Up
TM03 Psyshock
TM04 Calm Mind
TM06 Toxic
TM10 Hidden Power
TM11 Sunny Day
TM15 Hyper Beam
TM16 Light Screen
TM17 Protect
TM18 Rain Dance
TM20 Safeguard
TM21 Frustration
TM22 Solar Beam
TM27 Return
TM29 Psychic
TM30 Shadow Ball
TM32 Double Team
TM35 Flamethrower
TM38 Fire Blast
TM42 Facade
TM43 Flame Charge
TM44 Rest
TM45 Attract
TM46 Thief
TM48 Round
TM49 Echoed Voice
TM50 Overheat
TM61 Will-O-Wisp
TM63 Embargo
TM68 Giga Impact
TM77 Psych Up
TM85 Dream Eater
TM86 Grass Knot
TM87 Swagger
TM88 Sleep Talk
TM90 Substitute
TM92 Trick Room
TM99 Dazzling Gleam
TM100 Confide
Moves by Breeding
Heat Wave
Hypnosis
Magic Coat
Psychic Terrain
Wish
Moves by Tutoring
Ally Switch
Blast Burn
Covet
Fire Pledge
Fire Punch
Foul Play
Heat Wave
Iron Tail
Laser Focus
Low Kick
Magic Coat
Magic Room
Recycle
Role Play
Shock Wave
Signal Beam
Skill Swap
Snatch
Snore
Telekinesis
Thunder Punch
Trick
Wonder Room
Zen Headbutt
Damaged normally by
Normal 1×
Flying 1×
Poison 1×
Bug 1×
Electric 1×
Dragon 1×
Weak to
Ground 2×
Rock 2×
Ghost 2×
Water 2×
Dark 2×
Immune to
Resistant to
Fighting ½×
Steel ½×
Fire ½×
Grass ½×
Psychic ½×
Ice ½×
Fairy ½×
Pokémon Go
Pokédex: It gazes into the flame at the tip of its branch to achieve a focused state, which allows it to see into the future.
Egg Distance: N/A
Buddy Distance: 3KM
Base Stats
181 Stamina
230 Attack
189 Defense
Moves
Fast Attacks: Fire Spin, Scratch, Zen Headbutt
Charged Attacks: Fire Blast, Flame Charge, Flamethrower, Psychic
Shiny: Not Available Yet
More information
Get the best of iMore in your inbox, every day!
Casian Holly has been writing about gaming at iMore since 2019, but their real passion is Pokémon. From the games to the anime, cards and toys, they eat, sleep, and breathe all things Pokémon. You can check out their many Pokémon Go and Pokémon Sword and Shield guides and coverage here on iMore.