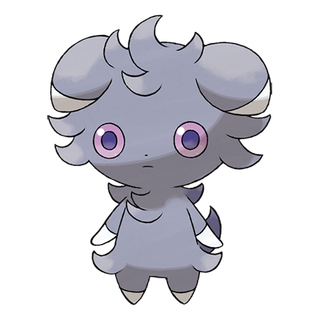 (Image credit: The Pokémon Company)
Name: Espurr (Japanese: ニャスパー Nyasper)
Classification: Restraint Pokémon
Type: Psychic
Generation: Gen VI Kalos Region
Gender Ratio: 50% Male to 50% Female
Height: 1'
Weight: 7.7 lbs
Evolution:
Evolves into Meowstic at level 25.
Evolves into Meowstic with 50 Candies in Pokémon Go.
Alternate Formes: None
How to catch in Sword/Shield:
Route 5
Hammerlocke Hills
Motostoke Riverbank
Watchtower Ruins
Stony Wilderness
How to catch in Go:
Description: A small, feline-like Pokémon, Espurr is covered in scruffy grey fur with white paws and white tips on its ears. Its wide purple eyes rarely show any expression whatsoever. Although it doesn't look like much, beneath its vacant star lies enough Psychic energy to blast everything within 300 feet. It has very poor control over its Psychic energy and so finds it more troublesome than anything else.
Core Games
Sword Pokédex: Though Espurr's expression never changes, behind that blank stare is an intense struggle to contain its devastating psychic power.
Shield Pokédex: There's enough psychic power in Espurr to send a wrestler flying, but because this power can't be controlled, Espurr finds it troublesome.
Base Stats
62 HP
48 Attack
54 Defense
63 Sp. Attack
60 Sp. Defense
68 Speed
355 Total
Moves by Level
Scratch (lv 1)
Leer (lv 1)
Fake Out (lv 3)
Disarming Voice (lv 6)
Confusion (lv 9)
Covet (lv 18)
Psybeam (lv 21)
Light Screen (lv 30)
Reflect (lv 30)
Psyshock (lv 33)
Moves by TM/TR
TM02 Pay Day
TM14 Thunder Wave
TM17 Light Screen
TM18 Reflect
TM19 Safeguard
TM21 Rest
TM24 Snore
TM25 Protect
TM31 Attract
TM33 Rain Dance
TM34 Sunny Day
TM39 Facade
TM40 Swift
TM41 Helping Hand
TM47 Fake Tears
TM57 Payback
TM70 Trick Room
TM71 Wonder Room
TM72 Magic Room
TM76 Round
TR08 Thunderbolt
TR11 Psychic
TR20 Substitute
TR25 Psyshock
TR26 Endure
TR27 Sleep Talk
TR31 Iron Tail
TR38 Trick
TR40 Skill Swap
TR49 Calm Mind
TR58 Dark Pulse
TR65 Energy Ball
TR68 Nasty Plot
TR69 Zen Headbutt
TR83 Ally Switch
TR85 Work Up
TR90 Play Rough
Moves by Breeding
Moves by Tutoring
Damaged normally by
Normal 1×
Flying 1×
Poison 1×
Ground 1×
Rock 1×
Steel 1×
Fire 1×
Water 1×
Grass 1×
Electric 1×
Ice 1×
Dragon 1×
Fairy 1×
Weak to
Immune to
Resistant to
Pokémon Go
Pokédex: The organ that emits its intense psychic power is sheltered by its ears to keep power from leaking out.
Egg Distance: N/A
Buddy Distance: 3 KM
Base Stats
158 Stamina
120 Attack
114 Defense
Moves
Fast Attacks: Confusion, Scratch
Charged Attacks: Psyshock, Energy Ball, Psychic
Shiny: Not Available Yet
More information
Master your iPhone in minutes
iMore offers spot-on advice and guidance from our team of experts, with decades of Apple device experience to lean on. Learn more with iMore!
Casian Holly has been writing about gaming at iMore since 2019, but their real passion is Pokémon. From the games to the anime, cards and toys, they eat, sleep, and breathe all things Pokémon. You can check out their many Pokémon Go and Pokémon Sword and Shield guides and coverage here on iMore.