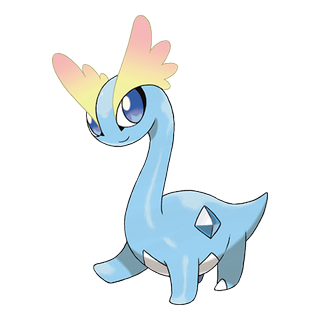 (Image credit: The Pokémon Company)
Name: Amaura (Japanese: アマルス Amarus)
Classification: Tundra Pokémon
Type: Rock/Ice
Generation: Gen VI Kalos Region
Gender Ratio: 87.5% Male to 12.5% Female
Height: 4' 3"
Weight: 55.6 lbs
Evolution:
Evolves into Aurorus at level 39 when leveled up at Night.
Alternate Formes: None
How to catch in Sword/Shield: Not Available Yet
How to catch in Go: Not Available Yet
Description: Similar in shape to a young brontosaurus, Amaura is a fossil Pokémon brought into the modern age by scientists using a Sail Fossil. This tiny dinosaur is mostly blue with a white belly, and iridescent sails above each of its large, expressive eyes. It also has a blue diamond-like protrusion on either side of its torso.
Having lived more than 100 million years ago, Amaura were gentle Pokémon that kept to the frozen tundras to avoid predators, such as Tyrantrum. Their sails change color with their mood and the crystals in their sides always remain frozen. Although scientists were able to successfully restore Amaura, their bodies are not built to withstand the higher temperatures in the modern age, limiting their survivability.
Core Games
Sword Pokédex: Not Available Yet
Shield Pokédex: Not Available Yet
Ultra Sun Pokédex: It lived in cold areas in ancient times. It's said that when Amaura whinnies, auroras appear in the night sky.
Ultra Moon Pokédex: Amaura was restored successfully, but it's not expected to live long because of the heat of the current environment.
Base Stats
77 HP
59 Attack
50 Defense
67 Sp. Attack
63 Sp. Defense
46 Speed
362 Total
Moves by Level
Growl (lv 1)
Powder Snow (lv 1)
Thunder Wave (lv 5)
Rock Throw (lv 10)
Icy Wind (lv 13)
Take Down (lv 15)
Mist (lv 18)
Aurora Beam (lv 20)
Ancient Power (lv 26)
Round (lv 30)
Avalanche (lv 34)
Hail (lv 38)
Nature Power (lv 41)
Encore (lv 44)
Light Screen (lv 47)
Ice Beam (lv 50)
Hyper Beam (lv 57)
Blizzard (lv 65)
Moves by TM/TR
TM04 Calm Mind
TM05 Roar
TM06 Toxic
TM07 Hail
TM10 Hidden Power
TM13 Ice Beam
TM14 Blizzard
TM15 Hyper Beam
TM16 Light Screen
TM17 Protect
TM18 Rain Dance
TM20 Safeguard
TM21 Frustration
TM24 Thunderbolt
TM27 Return
TM32 Double Team
TM33 Reflect
TM37 Sandstorm
TM39 Rock Tomb
TM42 Facade
TM44 Rest
TM45 Attract
TM48 Round
TM49 Echoed Voice
TM57 Charge Beam
TM69 Rock Polish
TM71 Stone Edge
TM73 Thunder Wave
TM77 Psych Up
TM78 Bulldoze
TM79 Frost Breath
TM80 Rock Slide
TM82 Dragon Tail
TM85 Dream Eater
TM87 Swagger
TM88 Sleep Talk
TM90 Substitute
TM91 Flash Cannon
TM96 Nature Power
TM97 Dark Pulse
TM100 Confide
Moves by Breeding
Barrier
Discharge
Haze
Magnet Rise
Mirror Coat
Moves by Tutoring
Aqua Tail
Earth Power
Hyper Voice
Icy Wind
Iron Defense
Iron Head
Iron Tail
Magnet Rise
Outrage
Snore
Stealth Rock
Water Pulse
Zen Headbutt
Damaged normally by
Bug 1×
Ghost 1×
Fire 1×
Electric 1×
Psychic 1×
Dragon 1×
Dark 1×
Fairy 1×
Weak to
Fighting 4×
Ground 2×
Rock 2×
Steel 4×
Water 2×
Grass 2×
Immune to
Resistant to
Normal ½×
Flying ½×
Poison ½×
Ice ½×
Pokémon Go
Pokédex: Not Available Yet
More information
Master your iPhone in minutes
iMore offers spot-on advice and guidance from our team of experts, with decades of Apple device experience to lean on. Learn more with iMore!
Casian Holly has been writing about gaming at iMore since 2019, but their real passion is Pokémon. From the games to the anime, cards and toys, they eat, sleep, and breathe all things Pokémon. You can check out their many Pokémon Go and Pokémon Sword and Shield guides and coverage here on iMore.