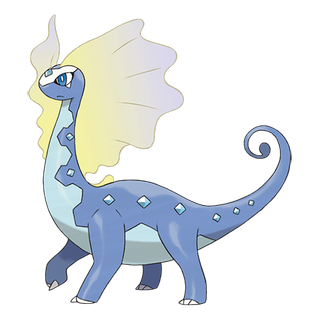 (Image credit: The Pokémon Company)
Name: Aurorus (Japanese: アマルルガ Amaruruga)
Classification: Tundra Pokémon
Type: Rock/Ice
Generation: Gen VI Kalos Region
Gender Ratio: 87.5% Male to 12.5% Female
Height: 8' 10"
Weight: 496 lbs
Evolution:
Evolves from Amaura at level 39 when leveled up during the Night.
Alternate Formes: None
How to catch in Sword/Shield: Not Available Yet
How to catch in Go: Not Available Yet
Description: A mostly blue brontosaurus-like Pokémon, Aurorus had a light blue underside, eight blue diamond-like crystals along its sides, and another on its forehead. Most notably, however, were Aurorus' massive iridecent sails which began just behind its big, blue eyes and trailed all the way down its long neck. Although the sails were generally yellow with light purple edges, like Amaura, they changed color with its moods.
A gentle giant, Aurorus prefer to avoid conflict and will encase enemies in ice or trap them behind giant ice walls, rather than fight. Using the crystals embedded along their body, Aurorus can drop the temperature in the air around it to -240 degrees Fahrenheit. One specimen was found by scientist, frozen in ice, proving that the resurrected version of Aurorus had been brought back successfully.
Core Games
Aurorus in the core games
Sword Pokédex: Not Available Yet
Shield Pokédex: Not Available Yet
Ultra Sun Pokédex: An Aurorus was found frozen solid within a glacier, just as it appeared long ago, which became quite a big event in the news.
Ultra Moon Pokédex: This usually quiet and kindly Pokémon has a surface temperature of around –240 degrees Fahrenheit.
Base Stats
123 HP
77 Attack
72 Defense
99 Sp. Attack
92 Sp. Defense
58 Speed
521 Total
Moves by Level
Freeze-Dry (lv 1)
Growl (lv 1)
Powder Snow (lv 1)
Thunder Wave (lv 1)
Rock Throw (lv 1)
Freeze-Dry (Evo)
Thunder Wave (lv 5)
Rock Throw (lv 10)
Icy Wind (lv 13)
Take Down (lv 15)
Mist (lv 18)
Aurora Beam (lv 20)
Ancient Power (lv 26)
Round (lv 30)
Avalanche (lv 34)
Hail (lv 38)
Nature Power (lv 43)
Encore (lv 46)
Light Screen (lv 50)
Ice Beam (lv 56)
Hyper Beam (lv 63)
Blizzard (lv 74)
Moves by TM/TR
TM04 Calm Mind
TM05 Roar
TM06 Toxic
TM07 Hail
TM10 Hidden Power
TM13 Ice Beam
TM14 Blizzard
TM15 Hyper Beam
TM16 Light Screen
TM17 Protect
TM18 Rain Dance
TM20 Safeguard
TM21 Frustration
TM24 Thunderbolt
TM25 Thunder
TM26 Earthquake
TM27 Return
TM29 Psychic
TM32 Double Team
TM33 Reflect
TM37 Sandstorm
TM39 Rock Tomb
TM42 Facade
TM44 Rest
TM45 Attract
TM48 Round
TM49 Echoed Voice
TM57 Charge Beam
TM68 Giga Impact
TM69 Rock Polish
TM71 Stone Edge
TM73 Thunder Wave
TM77 Psych Up
TM78 Bulldoze
TM79 Frost Breath
TM80 Rock Slide
TM82 Dragon Tail
TM85 Dream Eater
TM87 Swagger
TM88 Sleep Talk
TM90 Substitute
TM91 Flash Cannon
TM96 Nature Power
TM97 Dark Pulse
TM100 Confide
Moves by Breeding
Barrier
Discharge
Haze
Magnet Rise
Mirror Coat
Moves by Tutoring
Aqua Tail
Earth Power
Hyper Voice
Icy Wind
Iron Defense
Iron Head
Iron Tail
Magnet Rise
Outrage
Snore
Stealth Rock
Water Pulse
Zen Headbutt
Damaged normally by
Bug 1×
Ghost 1×
Fire 1×
Electric 1×
Psychic 1×
Dragon 1×
Dark 1×
Fairy 1×
Weak to
Fighting 4×
Ground 2×
Rock 2×
Steel 4×
Water 2×
Grass 2×
Immune to
Resistant to
Normal ½×
Flying ½×
Poison ½×
Ice ½×
Pokémon Go
Pokédex: Not Available Yet
More information
Casian Holly has been writing about gaming at iMore since 2019, but their real passion is Pokémon. From the games to the anime, cards and toys, they eat, sleep, and breathe all things Pokémon. You can check out their many Pokémon Go and Pokémon Sword and Shield guides and coverage here on iMore.
Get the best of iMore in in your inbox, every day!
Thank you for signing up to iMore. You will receive a verification email shortly.
There was a problem. Please refresh the page and try again.