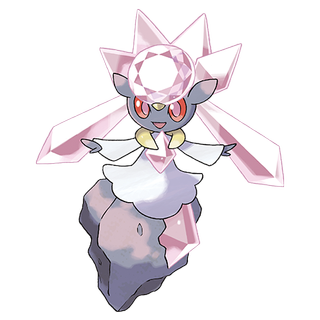 (Image credit: The Pokémon Company)
Name: Diancie (Japanese: ディアンシー Diancie)
Classification: Jewel Pokémon
Type: Rock/Fairy
Generation: Gen VII Kalos Region
Gender Ratio: Genderless
Height:
2' 4" (Diancie)
3' 7" (Mega Diancie)
Weight:
19.4 lbs (Diancie)
61.3 lbs (Mega Diancie)
Evolution:
Mega Evolves into Mega Diancie with Diancite.
Alternate Formes:
How to catch in Sword/Shield: Not Available Yet
How to catch in Go: Not Available Yet
Description: Although the top half of Diancie looks vaguely humanoid, the bottom half is a solid chunk of grey rock. Embedded in that rock, however, is a massive, pink diamond. Similarly large pink diamonds adorn this Mythical Pokémon's head, forming a crown and headdress, as well as the pendant of a necklace. Diancie has a white material covering most of its upper half that resembles a dress, and gold fixtures around its neck and on its forehead that look like jewelry. It has large, red eyes, a sweet smile, and short, grey ears.
Capable of Mega Evolution, Mega Diancie's dress is longer and ruffled. Instead of grey stone, layers of perfectly cut pink diamonds form the lower half of its body. The pink diamond at the center of its headdress is now heart shaped and long, flowing ribbons trail down its back, ending with more pink diamonds. A new gold fixture forms a belt around its waist, while the one around its nect has grown larger.
Legends tell that Diancie is formed under mysterious circumstances when a special Carbink undergoes a rare mutation. The Carbink colony where this occurs will protect Diancie as their queen who rules over their jewel kingdom known as the Diamond Domain. Diancie are said to be able to extract carbon from the air and compress those molecules between their hands, literally creating diamonds out of thin air.
Core Games
Diancie in the core games
Sword Pokédex: Not Available Yet
Shield Pokédex: Not Available Yet
Omega Ruby Pokédex: A sudden transformation of Carbink, its pink, glimmering body is said to be the loveliest sight in the whole world.
Alpha Sapphire Pokédex: It can instantly create many diamonds by compressing the carbon in the air between its hands.
Base Stats
50 HP
100 Attack
150 Defense
100 Sp. Attack
150 Sp. Defense
50 Speed
600 Total
Mega Diancie
Base Stats
50 HP
160 Attack
110 Defense
160 Sp. Attack
110 Sp. Defense
110 Speed
700 Total
Moves by Level
Tackle (lv 1)
Harden (lv 1)
Rock Throw (lv 1)
Sharpen (lv 5)
Smack Down (lv 8)
Reflect (lv 12)
Stealth Rock (lv 18)
Guard Split (lv 21)
Ancient Power (lv 27)
Flail (lv 31)
Skill Swap (lv 35)
Power Gem (lv 40)
Trick Room (lv 46)
Stone Edge (lv 49)
Moonblast (lv 50)
Diamond Storm (lv 50)
Light Screen (lv 60)
Safeguard (lv 70)
Moves by TM/TR
TM03 Psyshock
TM04 Calm Mind
TM06 Toxic
TM07 Hail
TM10 Hidden Power
TM11 Sunny Day
TM15 Hyper Beam
TM16 Light Screen
TM17 Protect
TM20 Safeguard
TM21 Frustration
TM23 Smack Down
TM27 Return
TM29 Psychic
TM32 Double Team
TM33 Reflect
TM37 Sandstorm
TM39 Rock Tomb
TM42 Facade
TM44 Rest
TM48 Round
TM64 Explosion
TM68 Giga Impact
TM69 Rock Polish
TM71 Stone Edge
TM74 Gyro Ball
TM77 Psych Up
TM80 Rock Slide
TM87 Swagger
TM88 Sleep Talk
TM90 Substitute
TM92 Trick Room
TM96 Nature Power
TM99 Dazzling Gleam
TM100 Confide
Moves by Tutoring
After You
Covet
Earth Power
Endeavor
Gravity
Heal Bell
Helping Hand
Iron Defense
Last Resort
Magnet Rise
Skill Swap
Snore
Stealth Rock
Telekinesis
Wonder Room
Damaged normally by
Fighting 1×
Poison 1×
Rock 1×
Ghost 1×
Electric 1×
Psychic 1×
Ice 1×
Fairy 1×
Weak to
Ground 2×
Steel 4×
Water 2×
Grass 2×
Immune to
Resistant to
Normal ½×
Flying ½×
Bug ½×
Fire ½×
Dark ½×
Pokémon Go
Pokédex: Not Available Yet
More information
Casian Holly has been writing about gaming at iMore since 2019, but their real passion is Pokémon. From the games to the anime, cards and toys, they eat, sleep, and breathe all things Pokémon. You can check out their many Pokémon Go and Pokémon Sword and Shield guides and coverage here on iMore.
Get the best of iMore in in your inbox, every day!
Thank you for signing up to iMore. You will receive a verification email shortly.
There was a problem. Please refresh the page and try again.