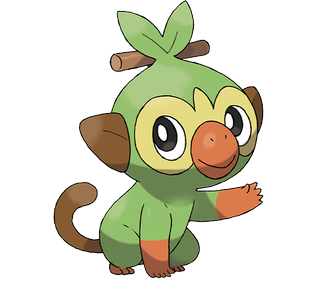 (Image credit: The Pokémon Company)
Name: Grookey (Japanese: サルノリ Sarunori)
Classification: Chimp Pokémon
Type: Grass
Generation: Gen VIII Galar Region
Gender Ratio: 87.5% Male to 12.5% Female
Height: 1'
Weight: 11 lbs
Evolution:
Evolves into Thwackey at level 16
Alternate Formes: None
How to catch in Sword/Shield:
How to catch in Go: Not Available Yet
Description: A green chimp with an orange snout, arms, and legs, Grookey is the Grass type starter Pokémon trainers can choose in the Galar Region. It has a short brown tail, brown ears and a brown stick in its leaf-like hair. Grookey are known to remove the stick from their hair to drum on objects. Its drumming can restore life to wilting plants and make new grass grow. Although the stick came off an ordinary tree, its extended close proximity to Grookey is responsible for it restorative powers. Exceptionally curious, Grookey are found in forests and alongside their trainers. Their green fur is capable of photosynthesis, providing Grookey energy so long as the sun is out.
Core Games
Grookey in the core games
Sword Pokédex: When it uses its special stick to strike up a beat, the sound waves produced carry revitalizing energy to the plants and flowers in the area.
Shield Pokédex: It attacks with rapid beats of its stick. As it strikes with amazing speed, it gets more and more pumped.
Base Stats
50 HP
65 Attack
50 Defense
40 Sp. Attack
40 Sp. Defense
65 Speed
310 Total
Moves by Level
Scratch (lv 1)
Growl (lv 1)
Branch Poke (lv 6)
Taunt (lv 8)
Razor Leaf (lv 12)
Screech (lv 17)
Knock Off (lv 20)
Slam (lv 24)
Uproar (lv 28)
Wood Hammer (lv 32)
Endeavor (lv 36)
Moves by TM/TR
TM00 Mega Punch
TM01 Mega Kick
TM10 Magical Leaf
TM11 Solar Beam
TM12 Solar Blade
TM16 Screech
TM21 Rest
TM24 Snore
TM25 Protect
TM28 Giga Drain
TM31 Attract
TM34 Sunny Day
TM39 Facade
TM40 Swift
TM56 U-turn
TM58 Assurance
TM59 Fling
TM63 Drain Punch
TM76 Round
TM78 Acrobatics
TM94 False Swipe
TR00 Swords Dance
TR07 Low Kick
TR13 Focus Energy
TR20 Substitute
TR26 Endure
TR27 Sleep Talk
TR35 Uproar
TR37 Taunt
TR65 Energy Ball
TR77 Grass Knot
TR85 Work Up
Moves by Breeding
Growth
Hammer Arm
Fake Out
Strength
Nature Power
Worry Seed
Leech Seed
Moves by Tutoring
Damaged normally by
Normal 1×
Fighting 1×
Rock 1×
Ghost 1×
Steel 1×
Psychic 1×
Dragon 1×
Dark 1×
Fairy 1×
Weak to
Flying 2×
Poison 2×
Bug 2×
Fire 2×
Ice 2×
Immune to
Resistant to
Ground ½×
Water ½×
Grass ½×
Electric ½×
Pokémon Go
Pokédex: Not Available Yet
More information
Master your iPhone in minutes
iMore offers spot-on advice and guidance from our team of experts, with decades of Apple device experience to lean on. Learn more with iMore!
Casian Holly has been writing about gaming at iMore since 2019, but their real passion is Pokémon. From the games to the anime, cards and toys, they eat, sleep, and breathe all things Pokémon. You can check out their many Pokémon Go and Pokémon Sword and Shield guides and coverage here on iMore.