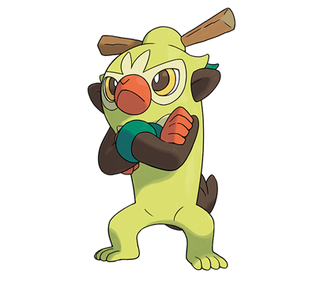 (Image credit: The Pokémon Company)
Name: Thwackey (Japanese: バチンキー Bachinkī)
Classification: Beat Pokémon
Type: Grass
Generation: Gen VIII Galar Region
Gender Ratio: 87.5% Male to 12.5% Female
Height: 2' 4"
Weight: 40.9 lbs
Evolution:
Evolves from Grookey at level 16.
Evolves into Rillaboom at level 35.
Alternate Formes: None
How to catch in Sword/Shield:
How to catch in Go: Not Available Yet
Description: A green monkey with brown arms, ears, and tail, Thwackey is the first evolution of the Grass starter Pokémon in the Galar Region, Grookey. Thwackey has a light gree face mask, and an orange snout and hands. A few dark green leaves sprout from the top of its head, but they are usually held down by a pair of sticks. Thwackey removes the sticks to drum on objects and the leaves pop up in a fan of "hair".
Thwackey drum for more than just their attacks and healing like Grookey. Their drumming is a social custom that earns them respect among their peers. Even when Thwackey are not drumming, they can still feel the beat coursing through their bodies. They often get so caught up in the beat that they don't even notice when they've knocked out their opponents.
Core Games
Thwackey in the core games
Sword Pokédex: The faster a Thwackey can beat out a rhythm with its two sticks, the more respect it wins from its peers.
Shield Pokédex: When it's drumming out rapid beats in battle, it gets so caught up in the rhythm that it won't even notice that it's already knocked out its opponent.
Base Stats
70 HP
85 Attack
70 Defense
55 Sp. Attack
60 Sp. Defense
80 Speed
420 Total
Moves by Level
Double Hit (lv 1)
Scratch (lv 1)
Growl (lv 1)
Branch Poke (lv 1)
Taunt (lv 1)
Double Hit (Evo)
Razor Leaf (lv 12)
Screech (lv 19)
Knock Off (lv 24)
Slam (lv 30)
Uproar (lv 36)
Wood Hammer (lv 42)
Endeavor (lv 48)
Moves by TM/TR
TM00 Mega Punch
TM01 Mega Kick
TM10 Magical Leaf
TM11 Solar Beam
TM12 Solar Blade
TM16 Screech
TM21 Rest
TM24 Snore
TM25 Protect
TM28 Giga Drain
TM31 Attract
TM34 Sunny Day
TM39 Facade
TM40 Swift
TM56 U-turn
TM58 Assurance
TM59 Fling
TM63 Drain Punch
TM76 Round
TM78 Acrobatics
TM94 False Swipe
TR00 Swords Dance
TR07 Low Kick
TR13 Focus Energy
TR20 Substitute
TR26 Endure
TR27 Sleep Talk
TR35 Uproar
TR37 Taunt
TR65 Energy Ball
TR77 Grass Knot
TR85 Work Up
Moves by Breeding
Growth
Hammer Arm
Fake Out
Strength
Nature Power
Worry Seed
Leech Seed
Moves by Tutoring
Damaged normally by
Normal 1×
Fighting 1×
Rock 1×
Ghost 1×
Steel 1×
Psychic 1×
Dragon 1×
Dark 1×
Fairy 1×
Weak to
Flying 2×
Poison 2×
Bug 2×
Fire 2×
Ice 2×
Immune to
Resistant to
Ground ½×
Water ½×
Grass ½×
Electric ½×
Pokémon Go
Pokédex: Not Available Yet
More information
Casian Holly has been writing about gaming at iMore since 2019, but their real passion is Pokémon. From the games to the anime, cards and toys, they eat, sleep, and breathe all things Pokémon. You can check out their many Pokémon Go and Pokémon Sword and Shield guides and coverage here on iMore.
Get the best of iMore in in your inbox, every day!
Thank you for signing up to iMore. You will receive a verification email shortly.
There was a problem. Please refresh the page and try again.