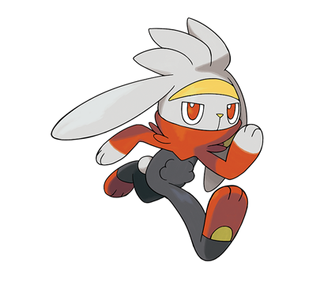 (Image credit: The Pokémon Company)
Name: Raboot (Japanese: ラビフット Rabifutto)
Classification: Rabbit Pokémon
Type: Fire
Generation: Gen VIII Galar Region
Gender Ratio: 87.5% Male to 12.5% Female
Height: 2'
Weight: 19.8 lbs
Evolution:
Evolves from Scorbunny at level 16.
Evolves into Cinderace at level 35.
Alternate Formes: None
How to catch in Sword/Shield:
Evolve from Scorbunny
Trade
How to catch in Go: Not Available Yet
Description: A grey rabbit with black and red markings that look almost like a ninja's outfit, Raboot is the first evolution of the Galar region's Fire type starter. Raboot has a yellow marking across its forehead that looks like a bandana and a red collar that covers its mouth. It's eyes are bright red and it's fluffy white tail peeks out of the black markings on its core. This Pokémon focuses primarily on kicking, practicing by kicking berries out of trees, and even juggling them with its feet. Between its thick fur and the way it keeps its arms close to its body, it retains a lot of heat to boost its Fire attacks.
Core Games
Sword Pokédex: Its thick and fluffy fur protects it from the cold and enables it to use hotter fire moves.
Shield Pokédex: It kicks berries right off the branches of trees and then juggles them with its feet, practicing its footwork.
Base Stats
65 HP
86 Attack
60 Defense
55 Sp. Attack
60 Sp. Defense
94 Speed
420 Total
Moves by Level
Tackle (lv 1)
Growl (lv 1)
Ember (lv 1)
Quick Attack (lv 1)
Double Kick (lv 12)
Flame Charge (lv 19)
Agility (lv 24)
Headbutt (lv 30)
Counter (lv 36)
Bounce (lv 42)
Double-Edge (lv 48)
Moves by TM/TR
TM01 Mega Kick
TM21 Rest
TM24 Snore
TM25 Protect
TM31 Attract
TM34 Sunny Day
TM39 Facade
TM40 Swift
TM52 Bounce
TM53 Mud Shot
TM56 U-turn
TM58 Assurance
TM68 Fire Fang
TM75 Low Sweep
TM76 Round
TM78 Acrobatics
TR02 Flamethrower
TR07 Low Kick
TR12 Agility
TR13 Focus Energy
TR15 Fire Blast
TR20 Substitute
TR21 Reversal
TR26 Endure
TR27 Sleep Talk
TR29 Baton Pass
TR36 Heat Wave
TR37 Taunt
TR41 Blaze Kick
TR43 Overheat
TR48 Bulk Up
TR55 Flare Blitz
TR73 Gunk Shot
TR80 Electro Ball
TR83 Ally Switch
TR85 Work Up
Moves by Breeding
High Jump Kick
Sand Attack
Sucker Punch
Super Fang
Moves by Tutoring
Damaged normally by
Normal 1×
Fighting 1×
Flying 1×
Poison 1×
Ghost 1×
Electric 1×
Psychic 1×
Dragon 1×
Dark 1×
Weak to
Immune to
Resistant to
Bug ½×
Steel ½×
Fire ½×
Grass ½×
Ice ½×
Fairy ½x
Pokémon Go
Pokédex: Not Available Yet
More information
Casian Holly has been writing about gaming at iMore since 2019, but their real passion is Pokémon. From the games to the anime, cards and toys, they eat, sleep, and breathe all things Pokémon. You can check out their many Pokémon Go and Pokémon Sword and Shield guides and coverage here on iMore.
Get the best of iMore in in your inbox, every day!
Thank you for signing up to iMore. You will receive a verification email shortly.
There was a problem. Please refresh the page and try again.