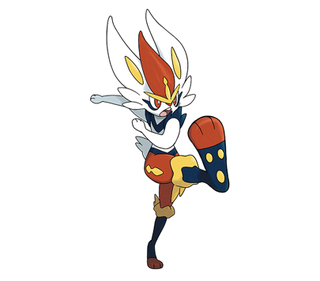 (Image credit: The Pokémon Company)
Name: Cinderace (Japanese: エースバーン Ēsubān)
Classification: Striker Pokémon
Type: Fire
Generation: Gen VIII Galar Region
Gender Ratio: 87.5% Male to 12.5% Female
Height:
4' 7" (Cinderace)
88' 7"+ (Gigantamax)
Weight:
72.8 lbs (Cinderace)
??? lbs (Gigantamax)
Evolution:
Evolves from Raboot at level 35
Alternate Formes:
How to catch in Sword/Shield:
How to catch in Go: Not Available Yet
Description: Larger and more humanoid shaped, Cinderace's torso and arms are covered with white fur, while the fir on its legs is shaped and colored to look like red pants. It has yellow markings on the pants and on its forehead and black around its calves to look like leggings. It has a bright red tuft of fur between its ears and black markings around its shoulders to resemble a tank top. It also has three yellow dots of fur on the sole of each foot that can shoot fire.
The final evolution of the Galar Fire starter Scorbunny, Cinderace juggles stones between its feet, charging them up with Fire energy until they transform into flaming soccer balls. It focuses most of its attacking on kicks and responds well to being cheered on. It has great balance, a strong core, and both excellent offense and defense.
Capable of Gigantamaxing, Cinderace can soar up to nearly 90 foot tall. It's ears grow even longer than the rest of its body and it rides atop a massive Pyro Ball attack. This new Gigantamax form will be available with the Isle of Armor expansion DLC due out in June, 2020.
Core Games
Cinderace in the core games
Sword Pokédex: It juggles a pebble with its feet, turning it into a burning soccer ball. Its shots strike opponents hard and leave them scorched.
Shield Pokédex: It's skilled at both offense and defense, and it gets pumped up when cheered on. But if it starts showboating, it could put itself in a tough spot.
Base Stats
80 HP
116 Attack
75 Defense
65 Sp. Attack
75 Sp. Defense
119 Speed
530 Total
Moves by Level
Pyro Ball (lv 1)
Feint (lv 1)
Tackle (lv 1)
Growl (lv 1)
Ember (lv 1)
Quick Attack (lv 1)
Pyro Ball (lv Evo)
Double Kick (lv 12)
Flame Charge (lv 19)
Agility (lv 24)
Headbutt (lv 30)
Counter (lv 38)
Bounce (lv 46)
Double-Edge (lv 54)
Court Change (lv 62)
Moves by TM/TR
TM01 Mega Kick
TM03 Fire Punch
TM08 Hyper Beam
TM09 Giga Impact
TM13 Fire Spin
TM21 Rest
TM24 Snore
TM25 Protect
TM31 Attract
TM34 Sunny Day
TM39 Facade
TM40 Swift
TM41 Helping Hand
TM42 Revenge
TM52 Bounce
TM53 Mud Shot
TM56 U-turn
TM58 Assurance
TM68 Fire Fang
TM75 Low Sweep
TM76 Round
TM78 Acrobatics
TM85 Snarl
TR02 Flamethrower
TR07 Low Kick
TR12 Agility
TR13 Focus Energy
TR15 Fire Blast
TR20 Substitute
TR21 Reversal
TR26 Endure
TR27 Sleep Talk
TR29 Baton Pass
TR33 Shadow Ball
TR36 Heat Wave
TR37 Taunt
TR41 Blaze Kick
TR43 Overheat
TR48 Bulk Up
TR55 Flare Blitz
TR64 Focus Blast
TR69 Zen Headbutt
TR73 Gunk Shot
TR74 Iron Head
TR80 Electro Ball
TR83 Ally Switch
TR85 Work Up
Moves by Breeding
High Jump Kick
Sand Attack
Sucker Punch
Super Fang
Moves by Tutoring
Damaged normally by
Normal 1×
Fighting 1×
Flying 1×
Poison 1×
Ghost 1×
Electric 1×
Psychic 1×
Dragon 1×
Dark 1×
Weak to
Immune to
Resistant to
Bug ½×
Steel ½×
Fire ½×
Grass ½×
Ice ½×
Fairy ½×
Gigantamax
Pokémon Go
Pokédex: Not Available Yet
More information
Master your iPhone in minutes
iMore offers spot-on advice and guidance from our team of experts, with decades of Apple device experience to lean on. Learn more with iMore!
Casian Holly has been writing about gaming at iMore since 2019, but their real passion is Pokémon. From the games to the anime, cards and toys, they eat, sleep, and breathe all things Pokémon. You can check out their many Pokémon Go and Pokémon Sword and Shield guides and coverage here on iMore.