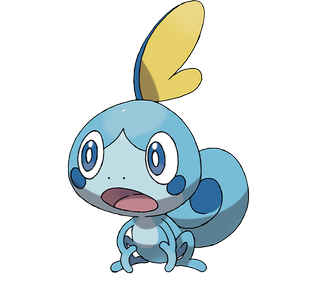 (Image credit: The Pokémon Company)
Name: Sobble (Japanese: メッソン Messon)
Classification: Water Lizard Pokémon
Type: Water
Generation: Gen VIII Galar Region
Gender Ratio: 87.5% Male to 12.5% Female
Height: 1'
Weight: 8.8 lbs
Evolution:
Evolves into Drizzile at level 16
Alternate Formes: None
How to catch in Sword/Shield:
How to catch in Go: Not Available Yet
Description: A tiny, light blue lizard with dark blue spots, Sobble is the Water type starter Pokémon for the Galar Region. It has a long, curled tail and a yellow fin atop its head. Its tiny feet have two toes each and can stick to most any surface. Sobble runs on both two legs and four, and is capable of camouflaging itself when in contact with water. Extremely timid, Sobble secretes water when nervous or scared so it can disappear. Named for its sobs, Sobble's tears are as potent as 100 onions and make anyone nearby also burst into tears. If threatened, Sobble will cry uncontrollably, forcing those around it to also cry, and use that as a distraction so it can make an escape.
Core Games
Sword Pokédex: When scared, this Pokémon cries. Its tears pack the chemical punch of 100 onions, and attackers won't be able to resist weeping.
Shield Pokédex: When it gets wet, its skin changes color, and this Pokémon becomes invisible as if it were camouflaged.
Base Stats
50 HP
40 Attack
40 Defense
70 Sp. Attack
40 Sp. Defense
70 Speed
310 Total
Moves by Level
Pound (lv 1)
Growl (lv 1)
Water Gun (lv 6)
Bind (lv 8)
Water Pulse (lv 12)
Tearful Look (lv 17)
Sucker Punch (lv 20)
U-turn (lv 24)
Liquidation (lv 28)
Soak (lv 32)
Rain Dance (lv 36)
Moves by TM/TR
TM17 Light Screen
TM18 Reflect
TM19 Safeguard
TM21 Rest
TM24 Snore
TM25 Protect
TM31 Attract
TM33 Rain Dance
TM36 Whirlpool
TM39 Facade
TM40 Swift
TM45 Dive
TM46 Weather Ball
TM52 Bounce
TM53 Mud Shot
TM56 U-turn
TM76 Round
TR04 Surf Water
TR20 Substitute
TR26 Endure
TR27 Sleep Talk
TR29 Baton Pass
TR45 Muddy Water
TR85 Work Up
TR98 Liquidation
Moves by Breeding
Aqua Jet
Double Team
Aqua Ring
Mist
Haze
Ice Shard
Fell Stinger
Moves by Tutoring
Damaged normally by
Normal 1×
Fighting 1×
Flying 1×
Poison 1×
Ground 1×
Rock 1×
Bug 1×
Ghost 1×
Psychic 1×
Dragon 1×
Dark 1×
Fairy 1×
Weak to
Immune to
Resistant to
Steel ½×
Fire ½×
Water ½×
Ice ½×
Pokémon Go
Pokédex: Not Available Yet
More information
Casian Holly has been writing about gaming at iMore since 2019, but their real passion is Pokémon. From the games to the anime, cards and toys, they eat, sleep, and breathe all things Pokémon. You can check out their many Pokémon Go and Pokémon Sword and Shield guides and coverage here on iMore.
Thank you for signing up to iMore. You will receive a verification email shortly.
There was a problem. Please refresh the page and try again.