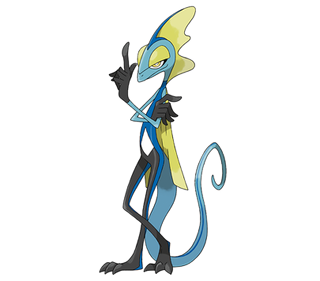 (Image credit: The Pokémon Company)
Name: Inteleon (Japanese: インテレオン Intereon)
Classification: Secret Agent Pokémon
Type: Water
Generation: Gen VIII Galar Region
Gender Ratio: 87.5% Male to 12.5% Female
Height:
6' 3" (Inteleon)
131' 3" (Gigantamax)
Weight: 99.6 lbs
Evolution:
Evolves from Drizzile at level 35
Alternate Formes:
How to catch in Sword/Shield:
Evolve from Drizzile
Trade
How to catch in Go: Not Available Yet
Description: A tall and thin, humanoid lizard, Inteleon is the final evolution of Sobble, the Water type starter for the Galar Region. Inteleon's body is light blue with dark blue markings, a white belly and black limbs. It has the yellow fin atop its head that Sobble had, as well as a yellow cape-like appendage. It's feet now have three clawed toes and its hands have five digits each. It's long, blue tail has a secret knife hidden inside and it hides an extendable yellow membrane on its back that it can use to fly. Inteleon also have transparent third eyelids that allow it to analyze their opponents' weak spots. It can shoot water from it's fingertips at Mach 3.
Capable of Gigantamaxing, Inteleon's tail grows to enormous lengths, lifting it up more that 130 feet into the air! Gigantamax Inteleon also gains a blue harpoon gun which it uses to snipe its opponents. It's third eyelids gain the ability to detect temperature, air pressure, and humidity, and its precision knows no bounds. A Gigantamaxed Inteleon can hit the tiniest of targets over 9 miles away. This new Gigantamax form will be available with the Isle of Armor expansion DLC due out in June, 2020.
Core Games
Inteleon in the core games
Sword Pokédex: It has many hidden capabilities, such as fingertips that can shoot water and a membrane on its back that it can use to glide through the air.
Shield Pokédex: Its nictitating membranes let it pick out foes' weak points so it can precisely blast them with water that shoots from its fingertips at Mach 3.
Base Stats
70 HP
85 Attack
65 Defense
125 Sp. Attack
65 Sp. Defense
120 Speed
530 Total
Moves by Level
Snipe Shot (lv 1)
Acrobatics (lv 1)
Pound (lv 1)
Growl (lv 1)
Water Gun (lv 1)
Bind (lv 1)
Snipe Shot (Evo)
Water Pulse (lv 12)
Tearful Look (lv 19)
Sucker Punch (lv 24)
U-turn (lv 30)
Liquidation (lv 38)
Soak (lv 46)
Rain Dance (lv 54)
Hydro Pump (lv 62)
Moves by TM/TR
TM08 Hyper Beam
TM09 Giga Impact
TM17 Light Screen
TM18 Reflect
TM19 Safeguard
TM21 Rest
TM24 Snore
TM25 Protect
TM27 Icy Wind
TM31 Attract
TM33 Rain Dance
TM36 Whirlpool
TM39 Facade
TM40 Swift
TM45 Dive
TM46 Weather Ball
TM51 Icicle Spear
TM52 Bounce
TM53 Mud Shot
TM56 U-turn
TM59 Fling
TM76 Round
TM78 Acrobatics
TM95 Air Slash
TM99 Breaking Swipe
TR00 Swords Dance
TR03 Hydro Pump
TR04 Surf
TR05 Ice Beam
TR06 Blizzard
TR12 Agility
TR13 Focus Energy
TR14 Metronome
TR16 Waterfall
TR20 Substitute
TR26 Endure
TR27 Sleep Talk
TR29 Baton Pass
TR33 Shadow Ball
TR45 Muddy Water
TR58 Dark Pulse
TR84 Scald
TR85 Work Up
TR98 Liquidation
Moves by Breeding
Aqua Jet
Double Team
Aqua Ring
Mist
Haze
Ice Shard
Fell Stinger
Moves by Tutoring
Damaged normally by
Normal 1×
Fighting 1×
Flying 1×
Poison 1×
Ground 1×
Rock 1×
Bug 1×
Ghost 1×
Psychic 1×
Dragon 1×
Dark 1×
Fairy 1×
Weak to
Immune to
Resistant to
Steel ½×
Fire ½×
Water ½×
Ice ½×
Gigantamax
Pokémon Go
Pokédex: Not Available Yet
More information
Casian Holly has been writing about gaming at iMore since 2019, but their real passion is Pokémon. From the games to the anime, cards and toys, they eat, sleep, and breathe all things Pokémon. You can check out their many Pokémon Go and Pokémon Sword and Shield guides and coverage here on iMore.
Thank you for signing up to iMore. You will receive a verification email shortly.
There was a problem. Please refresh the page and try again.