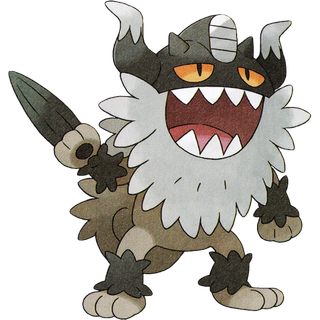 (Image credit: The Pokémon Company)
Name: Perrserker (Japanese: ニャイキング Nyaikingu)
Classification: Viking Pokémon
Type: Steel
Generation: Gen VIII Galar Region
Gender Ratio: 50% Male to 50% Female
Height: 2' 7"
Weight: 51.7 lbs
Evolution:
Evolves from Galarian Meowth at level 28.
Alternate Formes: None
How to catch in Sword/Shield:
Evolve from Galarian Meowth
Route 7
Route 9
Giant's Mirror
Lake of Outrage
Dusty Bowl
Giant's Seat
Stony Wilderness
Max Raid Battles
How to catch in Go: Not Available Yet
Description: The harsh conditions of generations at sea altered Galarian Meowth so much that it no longer evolves into any form of Persian at all. Instead, it evolves into Perrserker. Violent and gruff, Perrserker is nothing like Persian. Perrserker is bipedal and covered in brown, black, and grey fur that looks raggy but is, in fact, hard as steel. The fur on its head taks the shape of a horned viking helmet, while the fur on its arms acts as armor. Its claws are much longer and can form daggers. Perrserker hate Persians, abhorring their long lost genetic ties. Where Persian are crafty and underhanded, Perrserker fight with all they have, living for the thrill of battle.
Core Games
Perrserker in the core games
Sword Pokédex: What appears to be an iron helmet is actually hardened hair. This Pokémon lives for the thrill of battle.
Shield Pokédex: After many battles, it evolved dangerous claws that come together to form daggers when extended.
Base Stats
70 HP
110 Attack
100 Defense
50 Sp. Attack
60 Sp. Defense
50 Speed
440 Total
Moves by Level
Iron Head (lv 1)
Metal Burst (lv 1)
Iron Defense (lv 1)
Fake Out (lv 1)
Growl (lv 1)
Hone Claws (lv 1)
Scratch (lv 1)
Iron Head (Evo)
Pay Day (lv 12)
Metal Claw (lv 16)
Taunt (lv 20)
Swagger (lv 24)
Fury Swipes (lv 31)
Screech (lv 36)
Slash (lv 42)
Metal Sound (lv 48)
Thrash (lv 54)
Moves by TM/TR
TM02 Pay Day
TM08 Hyper Beam
TM09 Giga Impact
TM15 Dig
TM16 Screech
TM21 Rest
TM23 Thief
TM24 Snore
TM25 Protect
TM31 Attract
TM33 Rain Dance
TM34 Sunny Day
TM39 Facade
TM56 U-turn
TM57 Payback
TM58 Assurance
TM59 Fling
TM65 Shadow Claw
TM76 Round
TM79 Retaliate
TR00 Swords Dance
TR01 Body Slam
TR08 Thunderbolt
TR09 Thunder
TR17 Amnesia
TR20 Substitute
TR26 Endure
TR27 Sleep Talk
TR29 Baton Pass
TR31 Iron Tail
TR32 Crunch
TR33 Shadow Ball
TR35 Uproar
TR37 Taunt
TR42 Hyper Voice
TR46 Iron Defense
TR52 Gyro Ball
TR53 Close Combat
TR58 Dark Pulse
TR59 Seed Bomb
TR68 Nasty Plot
TR73 Gunk Shot
TR74 Iron Head
TR79 Heavy Slam
TR81 Foul Play
TR85 Work Up
TR90 Play Rough
TR95 Throat Chop
Moves by Breeding
Covet
Curse
Double-Edge
Flail
Night Slash
Spite
Moves by Tutoring
Damaged normally by
Ghost 1×
Water 1×
Electric 1×
Dark 1×
Weak to
Fighting 2×
Ground 2×
Fire 2×
Immune to
Resistant to
Normal ½×
Flying ½×
Rock ½×
Bug ½×
Steel ½×
Grass ½×
Psychic ½×
Ice ½×
Dragon ½×
Fairy ½×
Pokémon Go
Pokédex: Not Available Yet
More information
Casian Holly has been writing about gaming at iMore since 2019, but their real passion is Pokémon. From the games to the anime, cards and toys, they eat, sleep, and breathe all things Pokémon. You can check out their many Pokémon Go and Pokémon Sword and Shield guides and coverage here on iMore.
Get the best of iMore in in your inbox, every day!
Thank you for signing up to iMore. You will receive a verification email shortly.
There was a problem. Please refresh the page and try again.