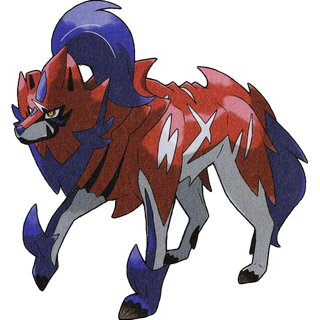 (Image credit: The Pokémon Company)
Name: Zamazenta (Japanese: ザマゼンタ Zamazenta)
Classification: Warrior Pokémon
Type:
Fighting (Hero of Many Battles)
Fighting/Steel (Crowned Shield)
Generation: Gen VIII Galar Region
Gender Ratio: Genderless
Height: 9' 6"
Weight:
463 lbs (Hero of Many Battles)
1730.6 lbs (Crowned Shield)
Evolution: None
Alternate Formes:
Hero of Many Battles
Crowned Shield
How to catch in Sword/Shield:
How to catch in Go: Not Available Yet
Description: A massive magenta wolf with piercing yellow eyes, Zamazenta is the bulkier of the Sword and Shield mascots. It has a dark blue ponytail atop its head, as well as a dark blue tail. Covered in "scars" and missing a part of one ear, Zamazenta's Hero of Many Battles form matches Zacian's for battle damage. Also like Zacian, Zamazenta can turn itself into a statue to slumber when it is not needed to protect the Galar region.
When given the Rusted Shield, Zamazenta makes a regal transformation. Its missing ear is healed and much of its body is hidden behind the also tranformed shield. It's ponytail is set loose and its pelt takes on much brighter hues. Its impenetrable armor allows Zamazenta to withstand brutal attacks while it charges into battle. Along with it's elder sibling Zacian, Zamazenta is capable of negating the powers of Eternatus even in its Eternamax form.
Core Games
Zamazenta in the core games
Hero of Many Battles
Sword Pokédex: In times past, it worked together with a king of the people to save the Galar region. It absorbs metal that it then uses in battle.
Shield Pokédex: This Pokémon slept for aeons while in the form of a statue. It was asleep for so long, people forgot that it ever existed.
Base Stats
92 HP
130 Attack
115 Defense
80 Sp. Attack
115 Sp. Defense
138 Speed
670 Total
Crowned Shield
Sword Pokédex: Its ability to deflect any attack led to it being known as the Fighting Master's Shield. It was feared and respected by all.
Shield Pokédex: Now that it's equipped with its shield, it can shrug off impressive blows, including the attacks of Dynamax Pokémon.
Base Stats
92 HP
130 Attack
145 Defense
80 Sp. Attack
145 Sp. Defense
128 Speed
720 Total
Moves by Level
Metal Burst (lv 1)
Wide Guard (lv 1)
Metal Claw (lv 1)
Howl (lv 1)
Quick Attack (lv 1)
Bite (lv 1)
Slash (lv 11)
Iron (lv 22)
Iron Head (lv 33)
Laser Focus (lv 44)
Crunch (lv 55)
Moonblast (lv 66)
Close Combat (lv 77)
Giga Impact (lv 88)
Moves by TM/TR
TM08 Hyper Beam
TM09 Giga Impact
TM11 Solar Beam
TM15 Dig
TM17 Light Screen
TM18 Reflect
TM19 Safeguard
TM21 Rest
TM24 Snore
TM25 Protect
TM26 Scary Face
TM39 Facade
TM40 Swift
TM41 Helping Hand
TM42 Revenge
TM44 Imprison
TM57 Payback
TM60 Power Swap
TM61 Guard Swap
TM66 Thunder Fang
TM67 Ice Fang
TM68 Fire Fang
TM76 Round
TM79 Retaliate
TM84 Tail Slap
TM85 Snarl
TR12 Agility
TR13 Focus Energy
TR20 Substitute
TR21 Reversal
TR26 Endure
TR27 Sleep Talk
TR31 Iron Tail
TR32 Crunch
TR42 Hyper Voice
TR46 Iron Defense
TR53 Close Combat
TR64 Focus Blast
TR70 Flash Cannon
TR74 Iron Head
TR85 Work Up
TR86 Wild Charge
TR90 Play Rough
TR92 Dazzling Gleam
TR97 Psychic Fangs
Moves by Tutoring
Damaged normally by
Hero of Many Battles
Normal 1×
Fighting 1×
Poison 1×
Ground 1×
Ghost 1×
Steel 1×
Fire 1×
Water 1×
Grass 1×
Electric 1×
Ice 1×
Dragon 1×
Weak to
Fire 2×
Psychic 2×
Fairy 2×
Immune to
Resistant to
Damaged normally by
Crowned Shield
Flying 1×
Ghost 1×
Water 1×
Electric 1×
Psychic 1×
Fairy 1×
Weak to
Fighting 2×
Ground 2×
Fire 2×
Immune to
Resistant to
Normal ½×
Rock ¼×
Bug ¼×
Steel ½×
Grass ½×
Ice ½×
Dragon ½×
Dark ½×
Pokémon Go
Pokédex: Not Available Yet
More information
Casian Holly has been writing about gaming at iMore since 2019, but their real passion is Pokémon. From the games to the anime, cards and toys, they eat, sleep, and breathe all things Pokémon. You can check out their many Pokémon Go and Pokémon Sword and Shield guides and coverage here on iMore.
Get the best of iMore in in your inbox, every day!
Thank you for signing up to iMore. You will receive a verification email shortly.
There was a problem. Please refresh the page and try again.