Pokémon GO lets you catch, battle and bond with Pokémon in the real world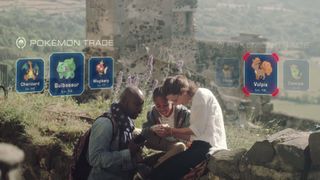 The Pokémon Company and Nintendo announced a new Pokémon game today, accompanied by quite the launch trailer. Pokémon GO is a brand new game by Niantic for supported smartphone platforms that bring the universe of Pokémon to the real world. You'll be able to catch, train, battle against and bond with the little creatures once Pokémon GO is eventually released next year.
Not only will players be able to use their smartphones to interact with Pokémon found around the world, but a Pokémon GO Plus will be made available for purchase too. The optional accessory will light up and vibrate when events are detected (like a nearby Pokémon). By pressing nothing more than a single button, Pokémon can be caught and a variety of other actions can be performed - all without looking at your smartphone screen.
As touched on already, Pokémon GO will be available in 2016. We'll be sure to inform you all once the title is readily available in the store. While the game itself will be free, there will be a variety of in-app purchases.
That's so cool
If only they were real
They'll make quite a delicacy
Yummy Posted via the iMore App for Android

This has me really excited for 2016 and I feel will be the first game where I would be willing to spend money on for in-app purchases.

Mega Sceptile!!! Posted via the iMore App for Android

My son is a huge Pokemon fan. He trends more towards the video games (console & gameboy) than the cards but will play the card game when there's a prerelease or special event. I'm really happy to see this because it seems part geo cache, part community part gaming. I like the fact that it can be done away from the house and out in the real world. In fact, it's a refreshing concept and hopefully we'll see more like this in the future.

I can just see little kids running out on to busy streets or dangerous back alleys etc. Hope the game is designed to prevent all that.

This looks so interesting...love the social factor!
Get the best of iMore in in your inbox, every day!
Thank you for signing up to iMore. You will receive a verification email shortly.
There was a problem. Please refresh the page and try again.