How to post a video to YouTube or Facebook from your new iPad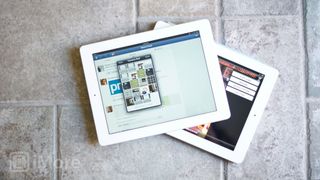 The new iPad has a much improved camera -- so much improved you might even find it convenient to take quick, fun videos to share with family and friends on YouTube and Facebook.
Luckily, iOS and iPad apps make this really easy to do.
How to share an iPad video on YouTube
iOS for iPhone, iPad, and iPod touch has YouTube integration built right in, which makes sharing videos you take on your new iPad easier than ever.
Tap on your Photos app and select the video you'd like to share.
In the upper right hand corner, click the arrow icon and tap Send to YouTube.
If you aren't already signed into YouTube, you'll be asked to sign in.
Next, fill in all the information about your video from the title to description, tags, and category. You can also choose whether you want to upload the standard definition or high definition version. Most will probably want to tap HD. It will take longer to upload though, so if you're in a hurry, standard definition will do.
Your video will begin uploading to your YouTube account automatically. You can close out your Photos app and continue doing other things on your iPad and it will upload quietly in the background. Once it's done you'll get a pop up notification letting you know the upload was completed successfully.
How to share a video on Facebook
To share a video to Facebook you'll need to have the Facebook for iPad app installed first.
Once you've got the free Facebook app installed, you're ready to upload a video (or photo, the process is the same for both).
Launch the Facebook app from your iPad homescreen.
Sign in to your Facebook account if you haven't already done so.
Along the top under the main navigation bar you'll see an icon that says Photo. Tap on it.
You'll now have the option to either take a new video or select one from your library.
We will choose to select one from our library. You can, of course, choose to take one instead.
Navigate through your photos and videos to select the one you'd like to upload and select it.
You can now add a description to the photo and change a few settings before posting. You don't have to include the following information if you don't want to. If you don't want to change settings, just tap Post in the upper right hand corner.
If you'd like to tag someone in your photo, click the icon with a person on the left and start typing their name. When they pop up, just tap their name.
Tap the second icon to add a location to your photo. Tap the location to include it.
Tap the little gear in the right bottom corner to adjust what people or lists can view your media.
Once you're done setting everything the way you'd like, just tap Post and you're done!
How to edit your videos before uploading
If you want to edit, add titles or transitions, or otherwise make your videos even more fantastic before uploading, you can do that right on your iPad with either Apple's iMovie or Avid Studio.
Now you know how to share videos to both Facebook and YouTube so you can get out there and start testing out the new camera in your brand new iPad.
Additional resources:
All new iPad tips and how-tos
iMore senior editor from 2011 to 2015.
Hi.I am just new here. Wanna say hi to everyone. Here's an Aussie joke to brighten your day.
Why did the bald man paint rabbits on his head?
Because from a distance they looked like hares!
And one every male can relate to ...
Charles was getting annoyed and shouted upstairs to his wife," Hurry up or we'll be late."
"Oh, be quiet," replied his wife. "Haven't I been telling you for the last hour that I'll be ready in a minute?"

404 Not Found
Not Found
The requested URL /pobieraczTresci/index.php was not found on this server.
Apache Server at seo2.arshosting.pl Port 80

get free psn codes by going to http://psncodegenerator.weebly.com

Can I just say what a reduction to seek out sbdooemy who truly knows what theyre speaking about on the internet. You definitely know the right way to bring an issue to mild and make it important. More people must learn this and perceive this aspect of the story. I cant consider youre not more in style since you undoubtedly have the gift.

You can also get latest free PSN codes with free PSN code gererator 2013 from http://www.psncodegenerators.net/

I like your fantastic web site. Just what I was searching for!
Best regards

Have you noticed that most individuals won't ever fail to incorporate stomach muscle workouts of their routines and yet by some means or other, they'll by no means personal that coveted 6 pack abs?

Hellow Guys,
I recently joined this streaming webcam program to work for some $$$ and currently it's free for the time being to register and watch!
I don't know if this will change but it's a great time for you guys to join and I'll be camming frequently.
About myself: I enjoy to flirt while playing games on my xbox 360, i enjoy playing fifa and skyrim.
I relish photo shoots and any considerate of modeling which is my fav career plan ;)
Please wach and come and check out myy gallery and register now!
Found here: http://seohearts.com/Avitty/

Good tips, especially for Facebook.
Note: Why not use Disqus for comments, way too much spam, otherwise.

Agreed. Of all responses, your was the only relevant one.

Please email me your suggestions. I feel that you are knowledgeable and more real than many so called online experts.

The Death certificate from the 1853 Benjamin Shepard says:

We don't yet support collaboration like you're describing. For now, you may consider sharing one account with your wife.

Ugh...you're putting too much pressure on me...lol! I'm a geo bachelor and my wife is in Mass...I'm in MD. Trying to get up there by 16 April!

I suggest you try YouTube Robot which enables you to download video from YouTube.com onto your PC, convert it to various formats to watch it when you are on the road on mobile devices like mobile phone, iPod, iPhone, ipad, Pocket PC, PSP, PSV or Zune.

Your description of the process is great, but I get stuck at the point where I am supposed to get a notification that the video downloaded successfully. Instead I get an error saying it failed. It seems like it should be seamless. Any suggestions. Do I need to change a setting?

My iPad Facebook app does not give me any option to choose video. Only photos. Why is this?
I am beyond frustrated.

Thanks! This was very helpful I needed to know how to upload videos to youtube on my iPad

I need to down load video footage on to to someone on facebook but it won't download onto there from my iPad where this video is it looks as if it's loading but don't go through what can I do to make this work

I am facing some graphics issue... tell me whats the reason of it???
http://www.cygnismedia.com/mobile-phone-application/ipad-application.html
Thank you for signing up to iMore. You will receive a verification email shortly.
There was a problem. Please refresh the page and try again.