#RateFriday: Go to the App Store and rate 5 great apps right now!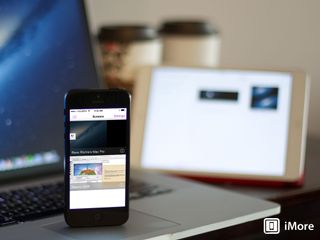 A while ago we asked everyone to take a moment and rate their 5 favorite apps. We really wanted to do something more regular to encourage everyone to give great developers and great apps the great feedback they deserve, but weren't sure how to go about it. Well, Luc Vandal came up with a brilliant idea: #RateFriday.
And we're going to steal it! Every Friday we're going to help encourage you to check out their Home screens, see which apps meant the most to you that week — the ones that helped, delighted, encouraged, entertained, informed, or simply made you smile — and rate them in the App Store.
Not only does it help the developers, but it helps us by rewarding the best apps — the ones we want more of! (If you really love an app, and really want to help out even more, take a moment to gift it to a friend or family member who'll love it too!)
Some weeks we'll do this as a blog post, some weeks as a Tweet, or Facebook, ADN, or Google+ post, or YouTube video. Whatever it takes to help get the word out!
Once you've rated your apps, let us know which ones you rated in the comments below. We'll pick one of you at random, and give you a $10 iTunes Gift Card just to say thanks for being awesome (and because who doesn't love gifts, right?)
Ready? Set? #RateFriday!
Rene Ritchie is one of the most respected Apple analysts in the business, reaching a combined audience of over 40 million readers a month. His YouTube channel, Vector, has over 90 thousand subscribers and 14 million views and his podcasts, including Debug, have been downloaded over 20 million times. He also regularly co-hosts MacBreak Weekly for the TWiT network and co-hosted CES Live! and Talk Mobile. Based in Montreal, Rene is a former director of product marketing, web developer, and graphic designer. He's authored several books and appeared on numerous television and radio segments to discuss Apple and the technology industry. When not working, he likes to cook, grapple, and spend time with his friends and family.
I just rated: Philips Hue Sonos Controller for iPhone Tripit Delivery Status Touch Screens VNC (thanks Luc!)

Tweetbot 3 5/5. #1 Twitter app for me. Instagram 5/5. Need I say more? Messenger (Facebook) 5/5. Makes it a lot easier to chat on Facebook. Soundcloud 5/5. Where I listen to trance, updated by the DJs themselves. Infinity Blade 3 5/5. Been playing this game since it was released.

My top five:
Sonos controller for iPhone
Instagram
Untappd
Tapatalk
Soundcloud

By this same account shouldn't we be rating 5 crappy apps as well?

I didn't take this to mean the apps must be five star apps. I think 4 stars is perfectly fine for an app that is great, you enjoy, but has a few things that would take it from a great app to an app that you "can't live without. Is perfect in every way" app. That is, generally, how I think about it. 4 stars is a great app, has room to be even better. 5 stars is a great app, that you can't imagine it any better. Bonus points come in to play for things like exceptional customer service. Example, shopkick. To me, the app is, currently, a 3/4 star app, but because it is an exceptional experience anytime I contact them, 5 stars, no question. Sent from the iMore App

Great idea! My five for this week: iMore
Smallworld 2
Bible (life church.tv)
Accuweather
Evernote

My five apps this week:
• Fantastical 2
• Reeder 2
• Tweetbot 3
• Riposte
• Scanner Pro

My five apps this weak
•tweetbot3
•djay2
•camera+
•1password
•ecoute

Love this idea. I have a few staple apps that were recently updated, so started there, as each version needs updated reviews/ratings for updates. My list for this week? D Point DVC Point Calculator - the perfect app for Disney Vacation Club Members. (Reviewed it as well) Southwest Airlines Shopkick - I use it a lot, deserves a rating. Upgraded from a prior low rating as they have been terrific about fixing issues and responding to problem tickets Verizon FiOS Mobile The Adam Carolla Show Sent from the iMore App

My five apps:
• Tiny Wings HD - best iPad game, I played this game thousands of times and still can't get to island 11
• Retro for Instagram - best Instagram app for iPad
• Tweetbot 3 - Use this 10 times a day, would gladly pay for it twice
• Alien Blue - My reddit pleasure
• Mailbox - Swipe swipe swipe

My latest 5 rating contributions include: Vert 2
La Luna: The Story Project
Clumsy Ninja (review update)
Mactracker (review update)
ClassDojo (review update) (* 99% of the time, I only rate an app if I have I have constructive feedback that I feel can assist the developer to improve their app. The other 1% is reserved for app developers that are obviously attempting to milk people of their hard earned cash.)

Great idea Rene, if you see a problem, find a solution, think 5 is too many though. I've done 3 and it took about 5 mins. Get everyone to tweet their choice as well. Just need to offer a random prize a comment or tweet with #ratefriday and it will take off.

Perfect Weather 4/5, Video 2 Photo 5/5, Amazon 3/5, PBS Kids 5/5, Genius Scan 5/5

I just rated:
TD Bank
Spotify
Shazam
Pocket
Evernote (I actually updated my rating and gave it five stars explaining a fantastic experience I had with the customer service team!) Sent from the iMore App

Love the idea! My top 5 this week...
Fantastical
OmniFocus
Mailbox
Downcast
Lose It

FitnessKeeper 5
Instashare 5
Scanner Pro 5
Evernote 5
Mail Pilot 4 Sent from the iMore App

I rated Twitter, Snapchat, Minecraft PE, Multiplayer for Minecraft PE, and of course the iMore App :)

I don't think any app deserves a 5/5 simply because that means the app is perfect and never needs another update. I rated some 4/5 because there is still room for improvement. Sent from the iMore App

I really like the idea. Here's mine:
Clear+
Fantastical 2
CloudMagic
Convertible: The Perfect Converter
Dots

I rated 12 Days of Gifts and Jake & Amir giving them both 5 stars.

Happy to participate in #RateFriday and congrats to imore for this initiative step.
Here is my list: Tweetbot 3
Simpleplayer music app
Vesper
myMail
Amount

> Apps Gone Free (*****)
> Converti (*****)
> DEVICE 6 (****)
> Filterstorm Neue (****)
> Movies by Flixster (*****)

As a parent, I rates to family apps that may not be on most people's radar. Pearson PowerSchool 3/5
iAllowance 5/5

I rated my top five apps of the week
1. Ten
2. OLO
3. Angry Birds Go
4. Apps Gone Free
5. Yahoo! Weather Sent from the iMore App

My top five this week:
Letterpress
IFTTT
MotionX
SportsCenter
Flipboard

I rated these apps and games 1) Angry Birds GO 2) SoundHound 3) Rayman Jungle Run 4) Tiny Thief 5) Flipboard
Get the best of iMore in in your inbox, every day!
Thank you for signing up to iMore. You will receive a verification email shortly.
There was a problem. Please refresh the page and try again.