RockMelt Social Browser hits App Store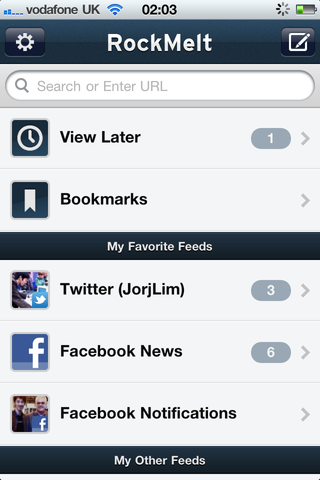 RockMelt has released a free iPhone version of its popular desktop app, a social-network, orientated web browser, that integrates with your Facebook/Twitter accounts, to share sites with your friends/followers as you surf, or you can update your social network statuses directly from the app. RockMelt for iPhone, brings all of these to the iPhone.
Since RockMelt uses your facebook login, the iPhone App offers real-time syncing for your bookmarks, RSS feeds or social networks, between your iPhone and other computer. As well as offering their new "View Later" feature, which allows you bookmark specific items, like sites or tweets which you can read on your computer.
Unfortunately, there is no iPad app, as of yet.
Are you a RockMelt user? Will the iPhone app be replacing your current iPhone browser? Check out screenshots and a video after the break.
[gallery link="file" columns="2"]
[FREE - iTunes Link (opens in new tab)]
Writer for iMore, YouTube Vlogger, and Host for [TEChBrits]
The Rockmelt browser is quite handy,given the cloud transfer of bookmarks and links, although I would never use online banking or other secure websites through an application that has cloud functionality. The App version is a very well done interpretation of a browser, navigation seems quicker and easier than in Safari. I am tempted to put it into the dock of my iphone. The only thing I do not understand is what kept the Rockmelt team from making this a universal app with native resolution for the ipad. On the larger device this browser would shine even more...

Yay just add to the stack of other apps we dont need. Cool concept but I prefer web UI for Facebook, Tweetbot for twitter and Safari for web browsing.
I get my news via Reeder.

Dude, stop whining. There are actually a LOT of people who use Rockmelt on their computer and would like to have it sync to a mobile app. Just because YOU don't wanna use it doesn't mean the app is worthless. Get off your high horse.

I use the RockMelt browser on my laptop and I gotta say that it totally "rocks"! Looking forward to having it "all" in one place... And specially being able to share, cuz we all know... Sharing is caring. :-)

I wish SocialScope for iPh would come out already. I loved it on Bb. It does Fb, twitter, and 4sq

Well, I like RockMelt at work, because it keeps Facebook in a place where people around me don't recognize the edges as being Facebook. I still had to bring FB up in the actual browser to write on friends' walls, and the way the bookmarks were organized made me crazy. Finally, RockMelt failed to retail my login info for Facebook and other sites, so every time I restarted the browser, I had to reenter all that, whereas Safari just handles it. I have the RockMelt app, and it's OK. But the FB app is pretty cool already and I think I'll probably stick with Safari (which I almost never need) and the FB app.

What kind of a craptastic name is "RockMelt"? What's next, "CheeseFlap"?
Get the best of iMore in in your inbox, every day!
Thank you for signing up to iMore. You will receive a verification email shortly.
There was a problem. Please refresh the page and try again.