Mail shortcuts for iPhone and iPad: 11 gestures to speed up your email!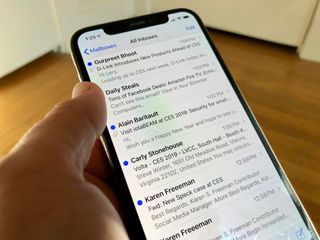 (Image credit: iMore)
You might think using the Mail app on your Mac or MacBook has more advantages, and you're partially right. But there are tons of mail shortcuts for iPhone and iPad in the Mail app, sometimes it's easier and faster to control your emails. Try these gestures and start mastering your Mail app.
Quickly add Documents to your email
You can attach files to your mail messages by touching and holding the message to bring up the edit menu. Once it appears, tap the right arrow to get more options, then tap Add Document. You'll see your most recent documents, or you can also quickly browse your iPhone, or your iCloud folder.
Pull to refresh your Mailboxes
Pull-to-refresh, originally created by Loren Brichter for Tweetie, is now one of the most necessary and basic mail shortcuts for iPhone and iPad. Any time you want to check for new messages, just touch the mailbox screen and pull down until you see the refresh spinner.
Swipe to go back
Another system-wide gesture, any time you're in a message or mailbox, you can swipe from the left side of the screen to the right to go back to the mailbox the message is in, or the account the mailbox is in. It's especially handy for those with bigger phones.
Mark an email as unread
To quickly mark a message as read, touch it and swipe from left to right. To mark it as unread again, just repeat the gesture. You can swipe just far enough to see the big blue button, but if you keep swiping all the way across, you can skip the tap and really speed things up!
Quickly Flag and Archive an email
To quickly archive or flag a message, touch it and swipe from right to left. You can tap the red flag button to flag it, or the purple Archive button to delete it. You can also just swipe all the way across to save yourself a tap and send it straight to the Archive folder.
More options
When you touch and swipe a message from right to left, in addition to flag and archive, you can also tap the big gray More button for additional options, including reply all, forward, flag, mark as unread/read, move message, and notify me...
Hide the keyboard while writing an email
Sometimes, where you're responding to a message, you want to see more of it. Maybe you forgot the exact question you're trying to answer, or you want to refer to something specific. No matter the reason, all you have to do is touch the message above the keyboard and swipe down to hide it.
Stack multiple drafts at once
When composing a mail message, touch the title bar — where it says New Message — and swipe it down to temporarily store it as a draft while doing or checking something else. You can create a new draft and repeat the process to stack them. You can see your multiple draft cards open at a time, and tap them at the bottom of your screen in the Mail app to open them up to get a Rolodex interface just like tabs in Safari.
See your drafts instead or writing a new email
You can tap the compose button any time to start a new mail message, but if you tap-and-hold on the compose button, you'll be shown a list of your recent drafts so you can pick up right from where you left off.
Move an email address to a different field
If you have a contact in the To: field but you want to move it to CC: or BCC:, you don't have to delete and re-add it. Instead, just touch it and drag it right to where you want it.
How to change swipe settings in the mail app
Flaggin or Archiving your email is just one of the many options you have when you swipe an email left or right. You can customize these mail shortcuts for iPhone in the Mail app Settings. Here's How!
Open the Settings app.
Scroll down and tap on Mail.
Tap on Swipe Left or Swipe Right and change the action.
Any questions?
Now you know more mail shortcuts for iPhone and iPad than ever. If you have any questions, drop them in the comments below!
Updated October 2020 The post is up to date with the latest version of iOS.
Get the best of iMore in in your inbox, every day!
Once you know of these hidden gestures they are handy and useful. But I remember when I first started using an iOS device and getting frustrated to no end because of the over simplistic interface and lack of menu buttons or option menus on long press that would normally be present in competing platforms. I had to Google how to delete music from my iPod touch for crying out loud. That's why I don't understand why people rave about how intuitive and easy to use iOS is as I personally found it the complete opposite when I first started using it because of these hidden gestures. I still get frustrated with it at times to this day because of some lacking options.

I quite often find myself saying why isnt there such an option, it should be done like this... Oh wait, it is done like that. Well good Sent from the iMore App

It totall depends on the age of the users. There is nothing intuitive about tons of menus for older users and young users They wouldn't even accept any PC OS pre-Windows 7. Everyone else between ages of 15-50 can go either way since they've been trained on both PC and Mac systems. There is no going back to PC from here. Mac has a long way to go too but nothing in older PC operating systems even looks like mobile. OS and functions will only get simpler and easier. Power users must adapt or die off.

I was very interested to read this and slightly excited to be able to sort my horrible mess of an inbox, the swipe options have never had trash as a choice for me which was incredibly annoying and I couldn't for the life of me find any settings to switch it, it never occurred to me to check in the phone settings. So now I'm armed with this new info, i go into mail settings, swipe options, but trash is not on the list! Why! Will i ever be able to fix this mess. Sent from the iMore App

Of course dear, all you have to do is look around a little.
If you want the "delete" option instead of "archive", go to phone settings --> mail, contacts, calendars --> choose the email account --> select where it says "account" --> advanced settings --> in the "move discarded messages into" select if you prefer to archive or delete them and voilá :) Sent from the iMore App

Oh my gosh THANK YOU! I would never have found that on my own. Sent from the iMore App

Of course you can! All you have to do is look a little further into your settings: If you want the "delete" option instead of "archive", go to phone settings --> mail, contacts, calendars --> choose the email account --> select where it says "account" --> advanced settings --> in the "move discarded messages into" choose between archive or delete. You can do this for every email account you setup :). Sent from the iMore App

No still can't not sure how URS lets U or if u even went back to check or not but it does not let u put delete on the left! It always says archive even after I "changed" it. Unless it just says archive and sends it to trash but why not change it to just say trash? This was a fail on this one. Sent from the iMore App

Wow! Super thanks!! Oh what a feeling to be able to send junk to the trash when you want it to go to the trash, and not see that archive button come up. Now I know —and that's half the battle :-)

I find all these little "secret" articles very helpful.

Is there a way to see if a sent mail has been opened/view? I sure can't find any... Sent from the iMore App

If I move it to junk, will that flag the senders email as junk from then on? Sent from the iMore App

I'm not sure if it learns after one time, but if you keep move junk email to the Junk folder it is a great help over a little bit of time. Conversely, if you do not move them to Junk, they keep arriving in your Inbox.
Once in the Junk box, I never do anything but delete it every now and then. I never open junk mail.

Anyone know if there's a secret tip for bulk deleting mail? Been waiting a long time for a way to quickly send a bunch of email to the trash all at once instead of deleting them one...by...one..., or selecting them one by one then deleting.

Just hit edit once in trash then delete and it should do the trick

Pretty apt typo in the title, I must say (screenshot proof: http://s29.postimg.org/dod02ewmf/2016_02_14_011939_779x145_scrot.png). You're right. The stock Mail.app is pretty p*ss :-P

I peed up all over my phone!

Weren't most of these specifically mentioned in past keynotes? Making them not secret.

I've been waiting for Apple to add a "return to inbox" or "snooze" feature like those found in the now defunct Mailbox or Google's Inbox. Until that happens, I'll not be using this app, even though its connectedness all things Apple is a good thing.

I like the draft stack feature. I wasn't aware of this until now, thanks! Sent from the iMore App

Good article/tips Rene. I'm hoping Apple enhances their own apps w/iOS 10. I currently use Microsoft's Outlook app for the majority of my mobile email. Any idea if Apple is working on a game changing app of their own or are they satisfied to leave it to 3rd party developers?

Found this one on Drippler - I get a ton of emails and I have them all go to Unread and then can easily move them. Go to Mailboxes and click edit and you will see Unread and other options. Click Unread and any others you want to add and then save. All Unread emails from your inboxes will go there then

I use most of these swipe gestures. Very helpful 👍
I wish the swipe left and right gestures between apple mail and gmail an be made consistent. When in all inboxes, swiping in either direction can have the opposite effect depending on whether it was a gmail or apple mail.

All I've ever wanted out of the iOS Mail app is for it to go back to the inbox after I delete a message I'm reading instead of going to the next message (which marks it read). Why will Apple not give me that? It's such a simple request!
Thank you for signing up to iMore. You will receive a verification email shortly.
There was a problem. Please refresh the page and try again.