The Sims FreePlay takes a relaxing trip to the spa in latest update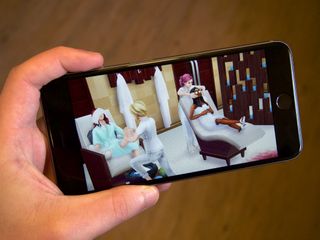 The Sims FreePlay fans can now take a relaxing trip to the spa thanks to the latest update to the mobile game. In the Spa Day update, you'll be able to take your Sims on a tranquil retreat with massages, meditation and much more.
Here's a quick rundown on just some of the activities your Sim can take part in with the Spa Day update:
Create a sanctuary with everything you need to soothe your Sims' senses
Wrap up in comfy robes and awaken the mind with healing facials
Enjoy relaxing massages and elbow out those back knots!
Invigorate the soul with meditation, or sit by the water finding inner peace
Treat yourself with manicure and pedicure stations
Get steamy at the sauna or relax in the hot springs
You can grab the latest update to The Sims FreePlay at the App Store link below. And be sure to let us know what you think in the comments!
I don't see the attraction of this game, it's so censored and stilted. Why not make a game where you can manipulate simulated people and environments that's actually *realistic?* Why not make it so that you can move beyond a few heavily scripted and censored interactions? Why not let the viewers create their own experiences or make their own houses, clothes, towns and villages? Think of the possibilities and the imagination that could be unleashed. Don't people want to be free anymore?

Free play games have one purpose: Milk money from simple people
Get the best of iMore in in your inbox, every day!
Thank you for signing up to iMore. You will receive a verification email shortly.
There was a problem. Please refresh the page and try again.