Siri just became the best Pokedex around, a perfect companion to Pokemon X and Y!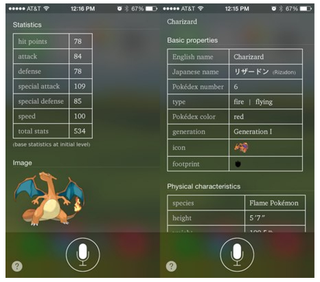 Pokemon X and Y is here, and if you have an iPhone or iPad, Siri might just have become the greatest Pokedex you could ever ask for. Thanks to Wolfram Alpha adding details of a staggering 649 Pokemon to its database, each and every one of them is at your fingertips with Siri, as TUAW describes:
Activate Siri
Ask "Search Wolfram for [insert pokémon name here]"
Watch as Siri provides you with a ton of information, including its history, physical characteristics, stats, and even full-color images
It's even sleeker than that red fold-up piece of gadgetry from the show, and is a great companion to players of the latest two games in the long running series. So, Pokemasters, how does this grab you? Gotta catch 'em all!
Source: TUAW
Editor at iMore, part time racing driver, full time British guy. Follow him on Twitter and Google+
Woo! Now they just need to add the X & Y info.

Wow, if this spreads, Siri servers are going to get overloaded.

Impossible because according to iMore, nobody plays Nintendo games anymore (just ignore the piles of money they are making right now).

Unfortunately, this probably won't be all that useful. Siri won't recognize most of the Pokemon names, and even when she does, the entry is missing important information.

Exactly. This is a good start, but like Siri itself, it's half-baked. There are no entries from the three Kalos Pokédexes, no learnsets, etc., etc.

But does it have the X/Y pokemon...that's the kicker.

Yeah one search for Mewtwo Ex. Ehhhhhhhh.

No, this terrible Siri search system doesn't even have squirtle.
The pokédex from the anime show is way better. Just
Use the pokémon website. Better.

That's awesome! Dexter, move out of the way for Siri!
Get the best of iMore in in your inbox, every day!
Thank you for signing up to iMore. You will receive a verification email shortly.
There was a problem. Please refresh the page and try again.