Five features we need to see from HomeKit at WWDC 2023
Let me run more hubs please Apple.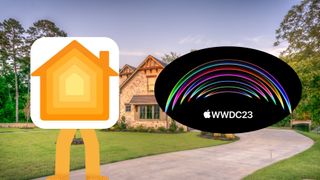 (Image credit: Tammy Rogers)
HomeKit is one of Apple's most exciting projects. It brings together more than just your iPhone, Mac, Apple Watch, and iPad, and creates a complete experience that includes items in and around your home. Matter, which has come out since, has added even more tech to the pile, making it more possible than ever to make a really well-integrated smart home with HomeKit at the core.
But there are still things missing. Features that would make HomeKit truly the best Smart Home option for Apple users, and not just an option. These are some of our most-wanted features, and with WWDC 2023 just around the corner, we're hoping to see Tim Cook talk about them soon.
Let other things be Home Hubs
At the moment, you can make a Home Hub out of one of only a few things. That's an iPad, an Apple TV, or one of the HomePod devices like the HomePod 2. You can't have a Mac be a HomeHub, or one of the best iPhones, or even a device from another company. Open the floor to third parties, as much as you might hate to do Apple, and you'll see how much more open things can be.
I, for one, don't like the way that the HomePod sounds, so don't really want one hanging around the house too much. An iPad is too expensive, and an Apple TV is something I'd likely only use for HomeKit – I already have plenty of streaming boxes under my TV. I do, however, have a multitude of different smart speakers, like the Sonos Era 300, with microphones built-in, just begging to be asked to turn a light off with HomeKit.
Allow other smart speakers or even other devices to be Home Hubs, Apple. I promise that it won't dilute the experience, and it will make it easier for more people to use the standard.
Strengthen and smarten Siri
As it stands, Siri is a glorified light switch that tells jokes. It's not very smart, and while semi-useful, it's not got much use beyond turning up the thermostat or asking for a Kitchen timer. Let's see Siri become not just the center of the smart home as a vocal controller but as a core part of making HomeKit a more central part of our lives.
With the influx of new, more powerful assistants thanks to advancements in AI, it's likely that Siri could see an upgrade that might help it become something more than it is now – but until then, we're left wishing that Siri had more power to help out.
More offline features
At the moment, HomeKit needs to be online and connected to the internet in order for everything to work properly. That's cool because it means you can control certain things when you're not at home, like security cameras and even coffee machines. The trouble is that if the internet goes out, so too does your HomeKit stuff. When I lose the internet, I lose my HomeKit doorbell.
Instead, make it so that there are more things that can be done offline. Once everything is connected to my router, they can still make contact with each other, even when the internet is out. let them converse, and keep my smart home going when the internet is gone. It could be useful for starting timers, for example, or playing music from my offline library controlled by voice commands. Even just doing some light math would be useful – especially when not connected to the internet, and my hands are covered with cake mix while I try to convert American cups to UK grams.
More reliable updates, and clean up the Home app
Updating HomePods at the moment is a bit of a fool's errand. Sometimes they happen without you needing to do anything, but other times you need to check to see if they need updating yourself. Make this easier for everyone and just make all the updates automatic.
On the note of the Home app, that needs some serious work as well. The UI is currently super convoluted, making it really easy to lose some of your most useful items. Clearly label items, and make it easier to have custom sorting so that it's easier to find these things when you're looking for them in a hurry.
HomeKit widgets
Do you know what would make HomeKit even more convenient? Adding in some widgets for the Home Screen or the Lock Screen of your iPhone. You could turn on the lights without even having to call Siri with a light switch under the clock on the always-on iPhone 14 Pro screen, or a thermostat dial sat between Twitter and Instagram in the app drawer. It would be a small addition, but one that could make things a whole lot easier in the long run. Widgets are one of the best bits of iOS 16 – lets bring HomeKit into the fold.
HomeKit is great, but let's make it better
I love HomeKit, I really do, but there are some things it could do far better. These are just a couple of ideas of what kind of things that HomeKit could do, and features that might make the standard a more useful method of controlling things in your home. After all, anything that makes using the best HomeKit devices better is always welcome.
Get more iMore in your inbox!
Our news, reviews, opinions, and easy to follow guides can turn any iPhone owner into an Apple aficionado
Buying Guides and Deals Writer
As the Buying Guides and Deals writer for iMore, Tammy puts over a decade of experience in finding the best prices of Apple products to work, helping you save money on the equipment that you want. An audiophile at heart, she loves all things audio and visual, but you'll also find her drooling over the latest Macs and MacBooks. With a Masters in screenwriting, Tammy likes to spend her free time writing feature-length and TV screenplays or driving digital cars around virtual circuits, to varying degrees of success. Just don't ask her about AirPods Max - you probably won't like her answer.