Some Bank of America customers getting charged twice with Apple Pay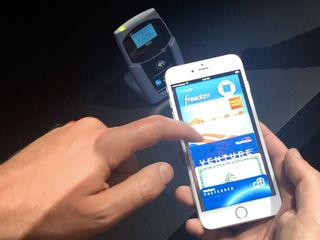 Some Bank of America customers are reporting that they are being charged twice when using Apple Pay. A small subset of customers have noticed that payments made through Apple Pay with debit cards issued by Bank of America. There is apparently an issue with the banking end of Apple Pay transactions that is causing the problem, according to CNN:
Bank of America says that refunds will be issued for all duplicate charges made with Apple Pay. Have you run into this problem? Let us know in the comments.
Source: CNN, Reddit, Cult of Mac
Joseph Keller is the former Editor in Chief of iMore. An Apple user for almost 20 years, he spends his time learning the ins and outs of iOS and macOS, always finding ways of getting the most out of his iPhone, iPad, Apple Watch, and Mac.
I have Chase, hopefully they'll get it right Sent from the iMore App

Yes, I just noticed that my Bank of America debit card was charged twice for an Apple Pay transaction at Walgreens this morning. Thanks for the article letting me know about the problem.

Yay.. a bug someone can blame Apple for. LOL.. granted, it's BoA's fault.. but still. I'm sure someone will do a connect-a-dot and blame Apple for even 'EXISTING!'

It's apple pay. Who else you going to blame? its their baby.

some people will excuse Apple for anything.

IT IS ON THE BOA SIDE, NOT APPLE!!!!!!!!!!!!!!

Then why does it only happen when using Apple pay? Posted via the iMore App for Android

Probably. And then other companies will mock apple a little in order to promote their products. Sent from the iMore App

I know what you mean about blaming Apple. I almost would have been shocked if nothing had gone wrong. Newer tech included in the iPhone 6 that hasn't been widely tested by the masses.

For the first time maybe there's an error arise and after they will fixed it and soon became all smooth. Sent from the iMore App

I had bank of America for many years and always had issues with them, didn't like them at all but I was too lazy to close my account. Finally did a few years ago and have been with chase and haven't had the issues I've always had with BoA, that being said I'm pretty sure it's no Apple's fault in this instance lol Sent from the iMore App

Yikes. I don't use a debit card for any purchases, so hopefully my amex or discover (when it's available to use) doesn't encounter an issue.

I just noticed this!!!!!!! Oh well, as long as I get the credits I don't care :-) which I am, I see 2 debits from Walgreens but then a credit today so idc as along as I get it Sent from the iMore App

I worked for BoA for several years as a VP of process improvement, and this doesn't suprise me. They are usually very unprepared for any sort of new product roll out. I've since moved on to a competitor and it is worlds better here. BoA is just a disorganized organization from top to bottom.

I was charged twice at Walgreen's last night, and just now I see a refund is pending for one of the charges.

I kinda figured this was a disaster waiting to happen Sent from the iMore App

Usually people die in a disaster.. No one died!! Posted via the iMore App for Android

I actually had that issue with a purchase. But fit the refund today.

Not a bug, it's a feature. Sent from the iMore App

HA!!! Sent from the iMore App

It seems that CNET are intent on twisting the story to blame Apple for the problem, not only that they took a statement from another party that was an 'aside' comment talking about a problem that occurred in iOS 7 and the iPhone 5S and twisted it to make it sound like it was related and a cause of the problem. I've come to the conclusion after this that CNET needs to deal with a problem of Hack Journalism. They take others stories and then without comprehending the stories they merely grind up the contents and spew it out and twist it to imply something else. Whether the journalist had an agenda or not I don't know but it seems she possibly has one against Apple. I'm glad that I took the time to look on here and elsewhere and get a consensus of the details rather than rely on that one source.

Yes, Walgreens charged me twice, then refunded one charge once posted. The receipt just showed 1 purchase. The authorization numbers were identical.

BoA will say people were holding it wrong.

I am having no problems with my Chase account.

Walgreens charged me twice as well and automatically issued a refund the day after. Sent from the iMore App
Get the best of iMore in in your inbox, every day!
Thank you for signing up to iMore. You will receive a verification email shortly.
There was a problem. Please refresh the page and try again.