Spectacles v2 launch for $150 with sleeker design and improved features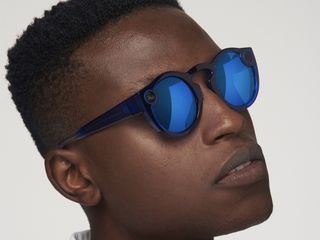 In November of 2016, Snap Inc. threw a curveball at everyone with the release of Spectacles – those funky sunglasses that allowed you to record videos and post them to Snapchat. It was an incredibly novel idea, but a handful of first-gen quirks kept them from truly catching on with the masses.
Fast forward to April of 2018, and we now have Spectacles v2 – a new and improved version of Spectacles with a tweaked design, higher price, and – most importantly – fixes for all of the issues we had with the previous generation.
The new Spectacles look mostly the same compared to the 2016 model, but there are a couple subtle changes that help them look a lot more mature. The matte plastic on the front has been swapped out for a more subdued clear finish and all of the three colors (Onyx, Ruby, and Sapphire) come with two lens styles to choose from.
In addition to looking better, Snap Inc. also ensures that Spectacles are more comfortable to wear. The glasses are slimmer and lighter and the accompanying charging case is also considerably smaller.
Holding down on the capture button will now allow you to take a still photo (something you couldn't do on gen one) and Snap Inc. says that the transfer process of sending content from Spectacles to your phone should be three to four times faster. Videos see a resolution bump of 25% to 1216 x 1216 and photos are captured at 1642 x 1642.
The new Spectacles are available for purchase now with a price of $150 – $20 more than what the previous version sold for. Snap is also partnering with Lensabl to offer custom orders so you can get your prescription added right to Spectacles out of the box.
I enjoyed the heck out of the first Spectacles when I got my hands on them last year, but that enjoyment quickly faded after just a few weeks thanks to the cheap build and ungodly slow transfers to my phone. Snap seems to have made all the right moves with v2, and the slightly higher price justifies (at least in my book) all the improvements we're seeing.
If you already own a pair of Spectacles, will you be upgrading to the new version?
See at Spectacles
Get more iMore in your inbox!
Our news, reviews, opinions, and easy to follow guides can turn any iPhone owner into an Apple aficionado
When Joe isn't acting as the News Editor for Android Central, he can be found helping out with articles here and there at iMore. He was last spotted at Starbucks surrounded by peppermint mochas. Have a tip? Send an email to joe.maring@mobilenations.com!