Spirit untethered Jailbreak for iPad 3.2, iPod touch, iPhone 3.12, 3.13 now live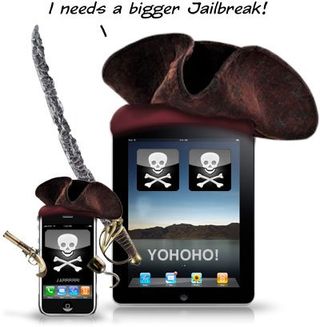 Spirit, an untethered jailbreak for iPad 3.2, and iPod touch and iPhone under 3.1.2 and 3.1.3 is now live. If you want it, go grab it via the link below.
A word of warning for iPad users:
Also, not an unlock solution. This is a jailbreak.
As always, if you don't know what any of these means, stay away.
[SpiritJB, thanks to everyone who sent this in!]
Get more iMore in your inbox!
Our news, reviews, opinions, and easy to follow guides can turn any iPhone owner into an Apple aficionado
Rene Ritchie is one of the most respected Apple analysts in the business, reaching a combined audience of over 40 million readers a month. His YouTube channel, Vector, has over 90 thousand subscribers and 14 million views and his podcasts, including Debug, have been downloaded over 20 million times. He also regularly co-hosts MacBreak Weekly for the TWiT network and co-hosted CES Live! and Talk Mobile. Based in Montreal, Rene is a former director of product marketing, web developer, and graphic designer. He's authored several books and appeared on numerous television and radio segments to discuss Apple and the technology industry. When not working, he likes to cook, grapple, and spend time with his friends and family.
Too bad it doesn't work :(

I was able to get into his site, but not download for now.
mirrors are needed already :p

For those having trouble, run it in Windows 98 compatibility mode. It worked for me after trying that (found the tip on Twitter).

Any word on if it works well on 3.1.3 iPhones?

I sent this in. I don't know how many other people did but yea.…

http://www.mediafire.com/?g3kouqddynk
mediafire mirror for the windows version
the win98 compatibility worked for my friend (i have no idevice now :P )

works well on 3.1.3
proswitcher isnt working on ipad

Excellent. Works on 3.1.3, seems to lag a bit but works! On to reinstalling all the JB apps. How i missed them! :)

We need ipadmultitasking!!!!

Woot!!! I'm gonna go try it!! Will post results in a bit!!

so this works with 05.12.01?

My 3GS on 3.1.3 is now jailbroken and I'm untethered! Just run spirit in Win 98 compatibility mode.
(It doesn't unlock, just jailbreaks.)

Just downloaded and jailbroke!! Woot! Very quick and easy!!!! Thank you thank you thank you!!!!! Let's see if there are any major glitches! I'm just so excited about the untethered factor!!!!

I think I'll wait to JB my iPad till people make apps for it.

Mirror for Mac users:
http://www.mediafire.com/?ogod2gvdhyv

I had read before that iTunes 9.1.1 doesn't work with this new jailbreak method, is that true?

I have the brand new iphone 3gs mc model on 3.1.3, and spirit worked like a charm!!!!!!!... I did have to run spirit in windows 98 compatibility mode but it worked!!!!!!.... And yet another victory for the hacking scene!!!!!

My antivirus picked up "TR/Dropper.Gen (Trojan)" after downloading this from the site. Anyone else getting this?

Can you still unlock with blackra1n if you jailbreak with Spirit?
http://www.diverse-group.com/menu/blog.html

OK, downloaded and installed. LOL, now what do I do with it?
Can I use Cydia apps, or do you have to run blackra1n for that?

Nevermind, Cydia is installed already...

Well ur name explains ur question @lazy

I currently have my iPod Touch 32Gb 3rd Gen jailbroken with blackra1n but its tethered.. in order to jailbreak with spirt all i have to do is run it and all my jailbroken apps will stay in tact correct ? or do i have to restore my ipod touch..?

how long does the jailbreak take?

@Amit if u take 1 mn and read it gives u the answer! http://spiritjb.com/

Done. iPad successfully jail broken. Backgrounder works great. Woohoo!

Word of caution - backup your photo roll before applying Spirit j/b. This is the only negative to this j/b.

It works! Was as fast as blackr1in was. I have Rock App back on my 3GS 3.1.3 I've been waiting months! It cleared my camera roll photos though....

Just worked on my 3GS late model newest bootrom 3.1.3 awesome!!!! THANKS!

Anyone having problems with sbsettings?

iPad had problems found simple solution: stuck on reboot spinning thing
Device: iPad Computer iMac running latest OS and latest itunes
steps I took:
turned of iPad by holding power and Home button..left iPad OFF
Connected to computer and turned on Spirit and turned on iPad. It would not recognize as connected at first
turned on itunes thought maybe had i waited a little then spirit would have eventually recognized iPad connected
iPad was recongnized by Spirit and ran spirit. After it said jailbreak complete I manually rebooted by holding down power and home button at same time. The ipad went into the jailbreak mode again it seemed because the screen showed the Spirit program running Jailbreak. Then when done Spirit was able to roboot me successfully this time.
I confirm it does work on iPad and it will erase your photos as warned.
Hope this helps someone.www.backtype.com/wolfmore

i have tethered jailbroken 3GS 3.1.2 unlocked with ultrasn0w, now when i update the firmware to 3.1.3, will i lose my unlock? that would blow -.-

Yeah, this software is for JAILBREAKING ONLY not for CARRIER UNLOCK if you encounter error c0000005, change the compatibility mode to windows 95/98. that should do the trick. to install cracked apps, use Appsync 3.1.2

Btw, Spirit is untethered, meaning you won't have to reconnect to the computer every time the phone restarted.

Can someone help me out please...
My mam bought an iPhone 3gs on vodafone, I am using this now tethered jailbroken and unlocked on 3.1.2 with my vodafone sim. If I use spirit and jailbreak the iPhone on 3.1.3 is there a need for unlock since I am also on vodafone? Basically is an iPhone locked down to ANY SPECIFIC CARRIER SIM? or one specific sim? (all vodafone sims?)

Here's a complete tutorial on how to jailbreak your iPhone/iTouch 3.1.3 and iPad 3.2 using Spirit tool. http://bit.ly/djZvwX

Can a jailbroken phone still sync with Outlook through iTunes?

It works awsome, took merely three seconds to do it yaayyyyyy!!!!!!!!!!!

Works great for me. I did it at work with my office laptop without iTunes being installed. Will have a mirror up soon.

How do I make my windows vista windows 98 compatible to so the jailbreak?

Mirror at http://spirit.c2wifi.org/Spirit.exe

I downloaded Spirit 4 hours ago and I jailbreak my iphone 3.13 (3GS version 5.12.01)with no problem except that now I have no more network service and cannot dial a number. The wireless works fine w Cydia and the sim card used during the jailbreak is fine,( I tested it in another phone) ,therefore the glish comes from the Spirit program. I have tried different ways to get back a network service but to no avail: on and off, reset network setting, Reset all settings and get same result: no service.
Any help will be greatly appreciated and many thanks to those behind Spirit.
Mo

I say EVERYONE should give a donation!

Clicked on spirit. Clicked on jailbreak. I am running the new boot rom on iPhone 3gs 16 and it took about 3 seconds. And phone rebooted. Not jailbroken. Yahoooo..

Hi,
Here is a step by step way of jailbreaking your iphone running 3.1.2, 3.1.3 and ipad 3.2
goto: www.spiritjb.com
download for Windows or MAC
For Windows Users Strictly:
Right Click on the file and in the compatibility mode set it to Windows 98/ME
For MAC Users:
You are fine how the file itself is.
Now open the downloaded Spirit Jailbreak File (Should be an exe file)
Connect you iphone, ipod or ipad:
Close itunes and press the button jailbreak
The Process of jailbreak would take no more then 10 seconds
Now you have you i device jailbroken!
I did it for my self twice just to try last night as soon as this jailbreak was released! Mine is iphone 3.1.3 and it worked very good! No problems at all!
May God Bless Comex!

One other issue I found is your wireless networks need the key typed back in to use WiFi again. I've verified this on 3 iPhone's so far with the lastest bootrom and 3.1.3 3GS

Is Cyndia timing out for anyone else since jailbreaking?

This is being picked up as a Trojan, anyone else?

great video.... i jailbroke my iphone 3gs 3.1.3 and the cydia home page wont load and when i try to add sources like sinfuliphonerepo or hackulo.us it just stops and says downloading packages... i let it run but nothing!! what can be done? please respond asap! thank you

Worked for me. It took about 45 seconds.

Works perfect if you follow the directions!

Run with 98 compatibilty mode
works fine with win7 64-bit
Jb my 3.1.2 with new iboot
Thank you spirit team!

For those of you who already ask many times I would say avoid this if you have a 3GS and use an unlock since its pretty much useless if you don't have an AT&T sim to unlock the iPhone and use the jailbreak.
If you have 3.1.3 installed then this doesn't unlock your 3GS but just jailbreaks so pretty much you guys have to wait for a new jailbreak tool that unlocks baseband 5.12.01.

This is amazing, I thought I would never see an untethered JB for my 3GS. This worked 100%. I just run in normal compatibility mode on Windows XP. I have no need to unlock as I am happy with my carrier....
Good work Comex or whoever made this!

I have restored my iphone ( 3GS 3.13.1 ) after the lost of signal and have successfully jailbreak again and the network signal is on.
I believe that the glitch which made the network access unavailable came from one Cydia app.
This far the best jailbreak program...so clean and smooth...like an ice cream... like sailing in a quite river....!!! Thanks again..
the funny and ugly Apple greed is that their iphone is by law sold unlocked in Europe. We should force Apple to do the same thing here in the US..if not you never own your phone..but you lease it indefinitely...

jailbroke 2 3GSs tonight, works great. thanks spirit!!

Worked Great. Cleared my camera roll but there was nothing there I wanted to keep.
On XP and didnt need to run in compatibility mode.

Doesn't work with iTunes 9.1.1 ?

Can I downgrade to iTunes 9 ? If so, how ? Also I download Spirit before I upgraded iTunes. I'm gonna try downloading Spirit again later tonight to see if that helps. Any hints ?

Works fine with iTunes 9.1.1
you have to run on compatibility mod

Did anyone else lose te ability to see and navigate to their iPhone via Windows Explorer? I used Windows Explorer to make a copy of my photos, thinking I would copy them back after the jail break, but Explorer does not show the iPhone anymore. iTunes syncs fine.

Works great for me! Using an iPhone 3GS that's less than 2 months old!

WORKED PERFECT FOR ME FIRST TIME, EVEN THOUGH i WAS WAITING FOR IT TO FAIL ....... ACE WORK..... HAT'S OFF TO THE SPIRIT .... LOL
I can now get on and install all my Cdia stuff I missed so dearly.

Here is what you need to do. This is very simple and 100% if you follow the directions. This is assuming you already downloaded the file you need. I used this on a 3GS, firmware:3.1.3 and Itunes 9.1.1.
Step 1: Back up Iphone in Itunes as you will lose the pictures on your camera roll
Step 2: Right click on Spirit. Click compatibility tab. Select to run in Windows 98 mode and click run as administrator. Click Apply then OK.
Step 3: Connect Iphone to your computer and close Itunes if it comes up.
Step 4: Double click on Spirit.
Step 5: Execute
Step 6: Phone will reset and you will see a colorful screen for about 5 seconds. DO NOT TOUCH YOUR IPHONE
Step 7: Enjoy your Jail Break.

Well I lost my camera roll, I'll live. Thing is I backed up before I used spirit and now I still can't get my camera roll back even after syncing again. I want to jailbreak the girlfriends phone but I can't lose her camera roll. I was going to simply move all those into iPhoto but it won't recognize her phone due to another issue. Anyone else been able to get their camera roll back after using spirit and then syncing again afterwards?

@mo moua
Which Cydia app was it? I too am having some network issues since the jailbreak. Nothing as extreme as you however mail is taking longer to synch.
Thanks

I'm running Windows XP, with iTunes 9.1.1 and I did not have to switch Spirit into compatability mode. It worked flawlessly the the first time. I popped my jailbreak cherry with this one and it was f'n worth it.

By the way, I have a 3GS with the latest firmware and I didn't lose a single picture off of my camera roll. But be sure to backup just in case.

Sorry forgot to mention that compatibility mode is for Windows Vista and 7.
For those that are losing your camera roll... it says right on the site there is a problem with this. Please make sure to read the site before you do anything.
For network issues. Reset the iphone and network settings. Should fix the problem for you.

I have my precious sbsettings! my iPhone is once again whole. no problems.
on a side note my 3gs actually seems snappier post JailBreak, go figure...

First time potential jailbreaker.
If JB is successful, are all contacts, Photo Library (not Camera Roll), ringtones, etc. intact or do I need to resync to get all this stuff back on the phone? I guess what I'm asking is does JB wipe out anything?
Also, if I use Cydia to download apps, do they get backed up with future iTunes syncs?
Thanks!

wow Spirit was even easier than blackra1n!!! has anyone run into the file system issue? I can't seem to access my themes folder via sftp, ssh, diskaid or even iphone browser on my 3gs 3.1.3. it's not tha i'm complaining, just i have a ton of themes i made myself and would like to put them back on my phone eventually LoL
Tthanks to all for any help with this!!!!!

You will not be able to access your files like a proper jailbreak ... this one , like Blackrain only places Cydia into the frame, so you can download 3rd party apps.....
If you want a full 3.1.3 jailbreak, you would have to have one of the older 3gs phones. or wait till OS4 comes out./

If they are good themes, submit them to Sauric, or Cydia and see if they put them on for you ....... than download them from Cydia ........ sorted !!

@Graham and @Evil_tiki
Geohot explained ever since he released blackra1n if you wanted to access your files you need to download afc2add from cydia. All the other jailbreak tools in the past would have this already installed with cydia, but geohot decided not to have it included with the jailbreak and had you download it instead.

SPIRIT ROCKS THAMKS!!!!!!

Ahrian u rock!! Great info u made my day that afc2add from cydia helped.

Ok I got JB'd now how do I unlock?? Can any one give me straight forward ideas? I tried Black rain, does not work on my cpu (Vista 34) Tried for a pay program what a joke, it didn't work either. Tried redsnow and it goes through the whole process and nothing. Is there a Cydia program that helps with unlocking since I have that on my iphone 3.1.2 now?

The jailbreak part is really easy. Done in 30 seconds. Unfortunately it does not unlock my iPhone. When will there be a solution for unlocking the iPhone 3.1.3? Thanks a lot!

No extra setup needed just a subscription to dsIDXPress and then you fill your info on the admin to retrieve all your listings.