Starbucks releases keyboard packed full of caffeinated emoji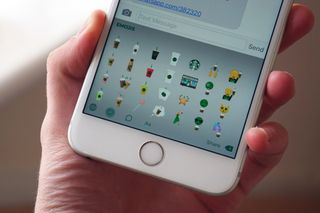 Starbucks has launched a new app for iOS and Android. The Starbucks Keyboard offers a unique way to share some emoji love with friends on various messenger platforms like iMessage, WhatsApp, and more. Should you be a massive fan of hot beverages, this app will be ideal when it comes to expressing your espresso love with friends and family.
There's everything from a unicorn sipping a coffee to official Starbucks logos. More emoji are said to be planned for the app as the year progresses. If your emoji fix has not been catered to by other offerings on the store, be sure to give the Starbucks Keyboard a try.
Not sure I can take any more keyboards! :)

This keyboard was released by Starbucks. The iOS Store says Snaps Media Inc. created it. Snaps Media has done many emoji keyboards.

Not even a real keyboard. It makes you copy/paste the icons into your message.

That's the only way it can be done, these are non-standard emoji and not part of the unicode set, they are just pictures
Thank you for signing up to iMore. You will receive a verification email shortly.
There was a problem. Please refresh the page and try again.