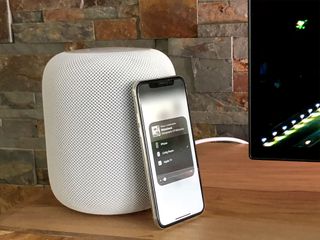 (Image credit: iMore)
Apple's new HomePod speaker is a musical marvel. Packed with all sorts of fancy audio technology and — let's be honest — wizardry, the small-yet-substantial speaker is bound to knock your socks off … especially if you're used to listening to music on a smart speaker from Google or Amazon. If you're rocking a Sonos setup, my colleague Rene Ritchie says the HomePod is on par — if not better — than his Sonos speakers. I'll leave that comparison up to you. Regardless of the whys, you're still going to need to know how to make the switch. This guide can help with that!
Preparing to make the switch
Before you make the switch to HomePod, you need to take stock of your current audio-listening setup:
What services are you using to listen to music or play podcasts?
How much do you rely on streaming services for your media consumption?
How do you actually listen to audio in your home?
How many speakers do you have in your home?
Do you rely on multi-room audio?
Are you streaming from an AirPlay-compatible device (iPhone, iPad, Apple TV, etc.)?
In answering these questions, you'll be able to determine what it's going to take to recreate your audio listening experience using HomePod. If you need multi-room audio streaming, you'll have to keep in mind that multiple HomePods won't support multi-room streaming until the feature ships later this year. If you use Spotify for music streaming, you'll need to consider making the switch to Apple Music.
Once you've figured out what it's going to take to make the switch to HomePod, you can use that game plan to dive right in!
Transferring your audio library
Given that you'll mostly be using your new HomePod to listen to music and other audio, your first and most important step is to transfer over your audio library. If you use a music streaming service like Spotify or Google Play Music, it'll be relatively easy to make the switch to Apple Music. Most streaming music services have similar music libraries, so you should be able to find most, if not all, of your music on Apple Music. If you've got a lot of tracks that you've ripped from CDs or acquired through other means, you can use iCloud Music Library to store that audio and make it available to HomePod.
There are some apps and services that claim to help you transfer your playlists and music libraries between music streaming services, but most of them have poor reviews, claiming the transfer process ends up creating half-complete and messy playlists. My advice: Take the time to rebuild your music playlists and streaming library on Apple Music when you make the switch. Your locally stored audio can be added automatically using iCloud Music Library.
If you're a streaming music subscriber, it's probably a good idea to switch to Apple Music. Apple Music is built into HomePod, meaning you don't use a separate device to stream to HomePod. You also don't need a separate device for control — your voice is the controller. Apple built the HomePod specifically for Apple Music; if you want to get the best experience possible from the speaker, you're going to want an Apple Music subscription.
How to sign up for Apple Music on your iPhone, iPad, or Mac
Subscribe to iTunes Match
If you've decided Apple Music just isn't for you (you're the person who's painstakingly created a perfectly curated music library filled with b-sides, rare live recordings, and secret mixtapes), you can use an iTunes Match subscription to sync your music library to iCloud and listen to those tunes with HomePod.
Check out this guide from my colleague Serenity Caldwell to learn how to subscribe to iTunes Match:
Everything you need to know about iTunes Match
Enable iCloud Music Library
Once you've subscribed to Apple Music or set up iTunes Match, all that's left is to enable iCloud Music Library. iCloud Music Library stores your iTunes Library in iCloud, making it easy to sync your music to all your devices. Whether you're working with a personal music library via iTunes Match or a streaming library via Apple Music, iCloud Music Library is the big bucket in the sky from which HomePod picks out your personal jams. If you ask Siri on HomePod to play a playlist you've created, it looks in the bucket for your playlist and starts playing Songs To Dance To In The Shower Without Slipping And Breaking My Wrist, Part 2 The Reckoning without hesitation. Also, that is an incredible name for a playlist! Your creativity knows no bounds.
Check out this guide from my colleague Serenity Caldwell to enable iCloud Music Library:
Everything you need to know about iCloud Music Library
How to unsubscribe and/or delete your other accounts and services
OK, let's run the checklist:
You've taken stock of your music listening experience ✓
You've created a game plan to recreate that experience with HomePod(s) ✓
You've got your HomePod(s) set up ✓
Your music library has been copied over using Apple Music and/or iTunes Match ✓
Now all that's left is making the decision to get rid of your old accounts and streaming services. This isn't necessary, of course, but it's certainly a possibility. I am ashamed to say I — for some inexplicable reason — subscribe to both Spotify and Apple Music. Trust me when I tell you I've tried unsubscribing to Spotify multiple times and I always come up with a reason to keep it around. OK, that was a huge digression; let's move on.
If you're saying sayonara to your Sonos speakers (please tell me you're going to try to sell them or gift them to a family member or friend!) and want to get rid of your Sonos account, it's going to require a little work. According to the company's troubleshooting guides, you'll need to call the Sonos support line to request to have your account deleted.
Sonos Support: 1-800-680-2345
Deleting your Amazon account
If you want to completely delete your Amazon account (I don't know what I'd do without my sweet, sweet Prime shipping), you can do that! But, like Sonos, you'll need to contact the company in order to delete your account.
It's more likely that you want to remove the data associated with your Amazon Echo or cancel your Amazon Music Unlimited streaming account. You can do that!
Amazon's Alexa-enabled speakers keep voice recordings when you use the devices. Why? To improve the experience. Amazon uses this voice data to help the Echo better answer your queries and carry out your commands. If you're not keen on the idea of having this data available, you can delete it. Here's how:
Go to the Manage Your Content and Devices page on Amazon's website.
Click the Your Devices tab.
Choose your Alexa-enabled device from the list.
Click Manage voice recordings.
Click Delete.
That will remove all of the voice interactions tied to your account. It's important to keep in mind it could negatively impact the accuracy of your Alexa-enabled device.
Want to cancel your Amazon Music Unlimited subscription? Check out this guide from my colleague Joe Keller:
How to cancel your Amazon Music Unlimited subscription
Deleting your Google account
Much like Amazon, you probably don't want to delete your Google account. That said, Google makes it a little easier to completely delete your account. In fact, they have a page called Delete your Google Account that lets you do just that! If you — like me — are a little nervous about even visiting that page for fear of accidentally deleting your account when you click the link, you can read about deleting your account at this support page.
If you'd just like to remove the data associated with your Google Home smart speaker, here's how you do that!
Go to Google's Voice & Audio Activity page.
If prompted, sign in to your Google account.
In the top left edge of the page, click Delete activity by.
Under the section titled Delete by date, choose All time.
At the bottom of the list, click Delete.
That will remove all of the voice interactions you've had with the Google Assistant using the account tied to your Google Home. It's important to keep in mind it could negatively impact the accuracy of the Google Assistant.
If you just want to unsubscribe from Google Play Music, you can check out this guide from my colleague Joe Keller:
How to cancel your Google Play Music subscription
If you're ready to give up your Spotify subscription 'cause you're all-in on Apple Music (teach me your ways!), you can check out this guide from my colleague Luke Filipowicz. He'll walk you through the process and show you how to reactivate your subscription should you so choose!
How to cancel your Spotify subscription
Questions?
Making the switch to HomePod is about preparing for a mostly Apple audio experience. You can use AirPlay to stream almost any audio from your Apple TV, iPhone, iPad, Apple Watch, Mac, and iPad, but the easiest, most seamless music listening experience requires Apple Music. Once you've got that figured out, you'll be set to make the switch!
Come across any other problems while making the switch to HomePod? Need help with any steps of the process? Be sure to leave a comment or gimme a shout over on Twitter!
Master your iPhone in minutes
iMore offers spot-on advice and guidance from our team of experts, with decades of Apple device experience to lean on. Learn more with iMore!
Mikah Sargent is Senior Editor at Mobile Nations. When he's not bothering his chihuahuas, Mikah spends entirely too much time and money on HomeKit products. You can follow him on Twitter at @mikahsargent if you're so inclined.