Tim Cook talks larger screen sizes, says Apple picked the right one at 4-inches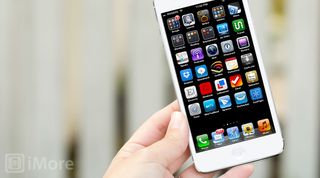 During today's Q1 2013 conference call, Apple's CEO Tim Cook was asked about larger screened iPhones. There were two separate questions, one about price and screen size variants and how they might effect Apple's business outside the US, and the the other concerning how competitors use screen size to differentiate from Apple, and whether there are dynamics or long term cases for a bigger screened iPhone.
Cook, not surprisingly, stuck to Apple's talking points. He said Apple had already introduced the larger, 4-inch iPhone 5, and that it had the most advanced display in the industry (perhaps referring to its in-cell technology), and that no one else comes close in terms of quality. He also said that the way Apple went to 4-inches, which involved increasing the height but not the width, changing the previous 3:2 aspect ration to 16:9, preserved the iPhone's one-handed ease of use. Cook said that Apple put a lot of thought into the iPhone's screen size, and he believes they picked the right one.
These questions likely arose due to rumors of a larger screened iPhone being in Apple's pipeline for 2013 or 2014. Earlier this week, I outlined several ways Apple could go to 5-inch display size if they ever felt it was a market segment worth addressing.
However, given they sold 47.8 million iPhones at 3.5- to 4-inches this quarter, including almost 2x as many on Verizon as all other smartphones combined, even large screened Android phones, Apple may believe customers either prefer smaller phones, or prefer iPhones so much they'll put up with a smaller screen to get it. If it's the former one, a larger screen might not be coming for a while. If it's the latter, a larger screen may not come until Apple believes hey can sell tens if not hundreds of millions of additional units by adding the larger screen size.
So, don't quote "Tim Cook said" to rule out future, larger iPhones (because, iPad mini), but do consider it as a statement of what Apple's doing now, and what they want competitors and customers alike to focus on Apple doing now.
More notes of interest from Apple's Q1 2013 conference call
Rene Ritchie is one of the most respected Apple analysts in the business, reaching a combined audience of over 40 million readers a month. His YouTube channel, Vector, has over 90 thousand subscribers and 14 million views and his podcasts, including Debug, have been downloaded over 20 million times. He also regularly co-hosts MacBreak Weekly for the TWiT network and co-hosted CES Live! and Talk Mobile. Based in Montreal, Rene is a former director of product marketing, web developer, and graphic designer. He's authored several books and appeared on numerous television and radio segments to discuss Apple and the technology industry. When not working, he likes to cook, grapple, and spend time with his friends and family.
I want this for free : ) please give me one

Did you really expect him to say anything else? I mean this is apple even when they are wrong they won't come out and admit it.

Wait. How are they wrong? Because you say so? Perhaps you are wrong. Maybe you should admit it m

Well let's see we can start with antennagate( you're holding it wrong), problems with iphone5 coming scratched out of the box etc, people not wanting a larger sized phone( yet they went with a larger screen) smaller tablets never being wanted by the consumer( words of Jobs)... You can't deny all of those as being wrong, especially with them specifically changing and making a product that goes into that category.

I get what you are saying, but the statements are absolutely true at the time. When the crappy 7" tablets came out, because it was the easiest way to get something out. And until the kindle fire? No one was really buying them. And, to be technical? Jobs said they would never build a 7" tablet. To date, that still holds true. The mini is 7.85" I will give you that he did say they felt 10" was the minimum. But not that they would never make smaller than 10", just that they would never build a 7" one. Again, still true today. "Commenting on avalanche of tablets heading to market. Just a handful of credible entrants. Almost all use 7" screen, compared to iPad at nearly 10" screen. 7" screen is only 45% as large as iPad's screen. Hold an iPad in portrait view and draw a horizontal line halfway down. What's left is a 7" screen...too small. There are clear limits to how close elements can be on the screen before users can't touch accurately. We believe 10-inch screen is minimum necessary."

Jobs said that the minimum size is 10" "Commenting on avalanche of tablets heading to market. Just a handful of credible entrants. Almost all use 7" screen, compared to iPad at nearly 10" screen. 7" screen is only 45% as large as iPad's screen. Hold an iPad in portrait view and draw a horizontal line halfway down. What's left is a 7" screen...too small. There are clear limits to how close elements can be on the screen before users can't touch accurately. We believe 10-inch screen is minimum necessary" http://www.macrumors.com/2010/10/18/steve-jobs-criticizes-7-inch-tablets...

From my previous post: I will give you that he did say they felt 10" was the minimum. But not that they would never make smaller than 10", just that they would never build a 7" one. Again, still true today.

the are nearly 48 Million reasons why Tim is NOT ...wrong... DUDE

Let's hope it's not true. I need a bigger screen. I don't want to go Android.......

Then don't, Windows Phone has big screens and works great.

They do the basics OK --- had an 822 for about a month. Sold it and I'm back to the iPhone 4. I've learned my lesson. Nothing beats the touchscreen typing experience on the iPhone. There is a reason they sell so darn many --- they are te complete package.

Welp, there is that little matter of the iphone 5S and waiting through it's cycle. We wouldn't see a bigger phone until at least a year after that. I'm guessing Apple has some things in mind with iOS 7 to give the 5S a push in sales.

"Cook said that Apple put a lot of thought into the iPhone's screen size, and he believes they picked the right one." Tim Cook, clueless as ever.

They sold 2/3 of the phones on Verizon last quarter, how is that clueless? You may prefer a bigger phone, but that's not the same as Apple being clueless.

Apple could come out with whatever phone and whatever size no matter how good or bad it is and millions will still buy because "its an iphone". Everyone wants an I phone because it's an I phone. Specs aren't as important to most....

Picked the right size, until consumers see literally every other phone on the planet.

They have. Over 60% on Verizon chose to buy the iPhone instead of all of them combined. That might suck if you want a big phone (or if you sell a big phone), but those are the real numbers.

If that's the case Tim Cooke then Samsung wouldn't have sold millions of galaxy S3s and Note 1 and 2s which intimidated you. Apple needs to stop being so ignorant and adapt to market changes. Your ignorance and arrogance (Tim Cooke) will keep driving Apple's iPhone sales down. Oh and how many iPhone 5s were sold last quarter? Why wasn't it reveled today? Why bundle up all iPhone sales and not individually? Were the sales that disappointing that you had to hide it from the world?..

Apple sold almost 50 million iPhones this quarter. Samsung has only sold 100 million Galaxy S phones (1, 2, and 3) over the last few years. Note is a rounding error in that. I'd like a big phone option. I'm sure many would. But Apple is selling more small phones than anyone is selling big phones. That's the reality we're facing.

Well I think that's more to do with if you want a device running IOS and large screen the 5 is the only option users have.

The answer to "how many iPhone 5s did they sell last quarter?" Short answer: Virtually every one they could make. Long answer: Judging by AT&T and Verizon numbers that say the iPhone 5 is basically half of all iPhones in the quarter, let us surmise that holds true everywhere. 47.8 / 2 = 23.9 million iPhone 5s. Or, in Samsung Galaxy S series terms (1, 2, and 3) -- 23.9% of the total Galaxy S series sales to date (June 2010-December 2012, so 31 months) in THIRTEEN WEEKS.

I'm glad Apple has kept their phones at normal sizes. I would like them to make the phone more proportioned though, right now it is to tall imo. The Note may be okay for Lebron James hands but not for most people. Also I would love if they offered the color choices available for iPod touch.

I would love to see a high end 4" Android device so we can see how it affects purchasing. Today you cannot buy one. You can buy 4" Androids, but every high end Android is much larger. I personally know 2 people that have purchased older Android devices simply because of the size. Personally I love using my iPhone one handed, and hope they never go larger. But this is all anecdotal.

What Apple have to loose at introducing a 4.8 inches iPhones... Dev will adapt. and all of us wanting a bigger screen phone will be happy. More Market share , more happy camper.
The same apply to Mac Pro , why ignore and wanting to kill a small segment of your consumer, why not offering a new GPU and CPU in the meantime a bigger makeover come? It's nonsense!
Loosing many pro user because they ignore their consumer.
Same thing for a lower cost MacBook.... all my nefew going to college in the lst 2 years choose PC Laptops (about 500$) , All of them wishing to buy Apple but can't afford an Air at twice the price... Those guys will continue with windows for decade ...Why Apple crap on those less fortunate... White Macbook for education at 650$... iPad still not enough for them ....
Apple , by nature, by their action will soon enough return to niche market share....
Selling Mercedes to single digit market share.
I hate myself often loving those awesome products but my next Phone will be at least 4.7inches.

Add cellular to the iPad mini and we'd be in bizness.

iPad mini has 3 cellular models... DUDE...???

I think he means the ability to use it as a phone, not just data, on cellular. Leo was floating that idea on his shows too. I know there's probably geek demand for something like that but I personally doubt that Apple would move in that direction because it would look ridiculous. I think iPads are going to be limited to VOIP alternatives that will allow you to make calls.

There could still be small hope for a larger phone after the 5S. Cause once the iPhone "6" comes out it'll be 3 phones with the same screen size again. And like I commented on a previous post Rene wrote, I don't understand why the iPhone, the biggest selling product they have, doesn't have choices like any other product in their line up. Plus this may be the year of the budget iPhone. Apple and Cook have blinders on right now to get a big share in these emerging markets and China where cheap phones are taking a big piece of the phone pie. I hope that Apple doesn't take another 6 years to update the screen size again. I believe there is a market for bigger screen phones. And honestly 2 of the biggest reasons iPhones are doing so well are because of the hype of saying "I have an iPhone," and this "Apple may believe customers either prefer smaller phones, or prefer iPhones so much they'll put up with a smaller screen to get it..." kinda backs that up. People just want to say they have an iPhone. But most importantly the App Store. That is the main draw to the phone and OS, and only reason I don't want to leave the iPhone is cause the apps every where else are nothing compared to what's on the App Store. There's a market for bigger screen phones and apple could easily take that market by storm. I just hope they realize it sooner rather than later.

In my experience, people who want an iPhone genuinely believe they're better (whether that's true or not). I have a friend with a Galaxy s3, total tech noob but the only reason she got it was cost. She'd prefer an iPhone. This thinking will keep Android on top, but it's not thinking Apple cares to compete with. It's not just 'I want to be seen with an iPhone'.

And it's funny cause 2 of my friends got iPhones strictly for the reason of its an iPhone. My one friend is going to get a 4s cause its cheaper. I said for $100 more you can get a 5 and she told me she didn't care about having the latest thing she cared more about just having an iPhone. I'm sure the cost issue is a big factor. That's why the budget iPhone will have a better chance of hitting the market sooner than the big screen iPhone will. But I know a lot of people that said they wouldn't get an iPhone who are now carrying iPhones cause it just seemed that's what everyone was getting. But that's just what I've experienced. Everyone is different.

I have the iPhone 4S on AT&T. I want a bigger screen and WISH I could be patient and wait for the iPhone 6 (not the 5S) if it has a bigger screen. I just don't know if I can wait two more years to upgrade. That's a very long time.

I think these days people are just very narrow minded (including myself) and only see popular brands and argue their points based on what other people have said. In all honesty I use my electronics for videos/photos and other media so MacBooks are the way to go for me. I absolutely love mine and refuse to go back to Windows. I've owned many PCs in the past and they require replacement at least every two years if not every year. I've had my MacBook for nearly 5 years and haven't had to upgrade it once. As far as phones go. I've loved the iPhone for some time but finally went Droid (Note 2). Obviously there are some issues with it (like any phone). It isn't as pleasing to look at like the iPhones, the screen resolution is poop in comparison, the cameras aren't as "beast", S Voice and Google's voice assistant are garbage, the Note line implemented a stylus (the days of the palm haha) & due to the size it's near impossible to handle the phone for most functions with one hand. On the other hand... the UI and interface is beautiful customization wise, viruses and malware are non-existant if you're not constantly rooting or downloading third party apps and such, the size of the screen is much more enjoyable for someone like me who watches lots of movies and edits photos/video on a regular basis through the phone, the battery lasts a hell of a lot longer than my family's iDevices, memory and battery replacements are cheaper/easier if necessary, the OS runs like butter and has 0 noticeable lag at the moment compared to the iPhone 4/4S/5 that people around me all use, features like S Beam where I can send a full 1.5GB movie in 3 minutes or less by tapping two phones together attract us consumers big time, charging cables and other accessories are cheaper and more readily available, being able to take photos while recording and taking the best photos out of the set make for nice selling points as well & Samsung is doing a decent job at popularizing other features through its ads which Apple still hasn't made available to consumers. I love Apple products sans the iPad line but until they release the technology that bests the current abilities of Droid ala Samsung's current lineup; I'll be loving my Note 2. PS: The note 2 easily fits into the front of my pockets with no