Trump signs executive orders banning transactions with Chinese owners of TikTok, WeChat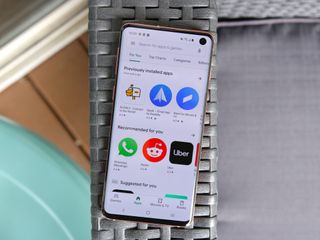 (Image credit: Joe Maring / iMore)
Update, Aug. 6 (10:34 p.m. ET): President Donald Trump signed executive orders prohibiting the U.S. from doing business with TikTok, WeChat, and their owners.
What you need to know
The Trump administration today launched another salvo in its ongoing soft war against China.
An expansion of the Clean Network program may see Chinese apps banned from the Play Store and iOS App Store.
U.S. companies may also be prohibited from using cloud services from the likes of Tencent and Baidu.
In a move that is likely to further increase hostilities between the two nations, U.S. Secretary of State Mike Pompeo today announced an expansion of the Trump's administration's Clean Network program against "malign actors," though the target of these measures is clear: China.
Referring to the Chinese Community Party as a "malign actor" and Chinese carriers as "untrusted," the announcement outlines a plan to "clean" various aspects of the IT infrastructure in the U.S. Most notable among these may be the Clean Store and Clean Apps initiatives, which may see Chinese apps being banned in the U.S. and American companies being prevented from making their apps available on Chinese app stores, respectively.
Though President Trump has already talked of banning TikTok in the country if parts of its operation are not sold to an American company by September 15, these initiatives may target a much wider range of Chinese apps found on both the Play Store and the iOS App Store.
India, too, has launched a wide-ranging campaign against Chinese apps, banning the likes of TikTok, WeChat, and more in reaction to the ongoing tensions between the two nations.
Chinese cloud companies may also lose American's companies' business with the Clean Cloud initiative aiming to "prevent U.S. citizens' most sensitive personal information and our businesses' most valuable intellectual property, including COVID-19 vaccine research, from being stored and processed on cloud-based systems accessible to our foreign adversaries through companies such as Alibaba, Baidu, and Tencent."
Alongside these, the Clean Carrier and Clean Cable efforts will aim at ensuring the United States' telecommunications networks and undersea internet cables are free of Chinese influence.
The proclamation did cite any specific measures or timelines for when new regulations might go into effect, so the extent and impact of any changes resulting from it are unclear at the moment.
TikTok 'smash and grab' won't be taken lying down, says China state media
Update, Aug. 6 (10:34 p.m. ET) Trump signs executive orders
The White House announced Thursday night that President Trump would be signing two executive orders that would ban any U.S. citizen or company to do business with ByteDance and WeChat, and all of their subsidaries. That includes TikTok, which ByteDance owns, and WeChat owners Tencent.
Tencent is a digital Chinese conglomerate that owns or has a stake in a number of companies with ties and locations in the U.S., including many video game ccompanies like Riot Games, Funcom, and Activision-Blizzard.
"The spread in the United States of mobile applications developed and owned by companies in the People's Republic of China (China) continues to threaten the national security, foreign policy, and economy of the United States," the executive order said about ByteDance.
"Like TikTok, WeChat automatically captures vast swaths of information from its users. This data collection threatens to allow the Chinese Communist Party access to Americans' personal and proprietary information," the second one noted about WeChat.
The executive orders will take effect in 45 days. The Associated Press notes that the wording of the executive orders are vague, so it leaves the possibility open "that hosting the apps in the Apple and Google app stores could be covered by the ban."
Master your iPhone in minutes
iMore offers spot-on advice and guidance from our team of experts, with decades of Apple device experience to lean on. Learn more with iMore!