Uber will now deliver food from your favorite restaurant straight to your door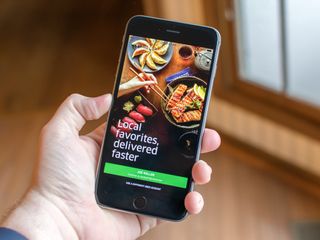 Fancy eating out at that incredible restaurant both yourself and friends really enjoy, but can't quite muster up the effort to get dressed and head out the front door? No worries, simply fire up the new UberEATS app and have the company deliver food from said establishment straight to your door. Uber has offered food delivery in the past, but now there's a dedicated app.
Available for iOS and Android, the new app offers this unique service to those who reside in Chicago, Houston, Los Angeles, San Francisco, and Toronto. Think of the experience as ordering a private vehicle, but instead of transporting people, you're having the driver bring your dinner to your house. And since it's Uber, ordering the vehicle itself is convenient as ever.
The company notes that Atlanta, Austin, Dallas, Melbourne, New York, Paris, Seattle, and Washington, D.C. will be added in due course. Download UberEATS and let us know how you got on with regards to ordering and receiving your meal.
I wonder what part of this service the cabbies will complain about. Maybe because this app exists you don't have to get ready to hail a cab to get to said restaurant thus they lose money? Or maybe Pizza delivery establishments want to get in on this and join the hate parade? Great work as always, Uber. ~TheRealFixxxer

One of my co-workers that lives in Maryland told me she started ordering food this way about a year ago. Some Uber drivers wouldn't do it, but others were perfectly happy to get the $11-12 for the ride. I am now assuming she was one of many folks doing this.

As someone with an infant, I would love to see this service is my area. The extra fee would more than be made up with convenience.

A Chicago Tribune article on the subject mentions a 9% "service" fee and $5 delivery fee tacked on by restaurants. No thanks, microwave EasyTots for me.

I've never understood delivery of food. This is something I am going to ingest. I really don't want multiple strangers in contact with my food.
I've never even had a pizza delivered. Posted via the iMore App for Android

Man, you have to live on the wild side some Sent from the iMore App

If you eat anything you've not grown yourself, multiple strangers have touched your food. Sorry to burst your bubble. Sent from the iMore App

You… can't be serious, surely?
Thank you for signing up to iMore. You will receive a verification email shortly.
There was a problem. Please refresh the page and try again.